The Connected Lab
The Connected Lab is a peer learning programme for those leading or managing the activity of Local Cultural Education Partnerships (LCEPs) in London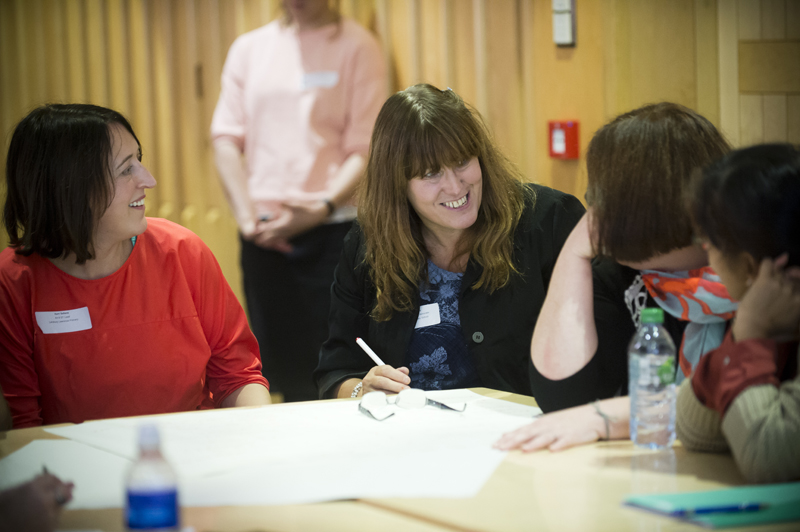 The Connected Lab is a facilitated peer-learning programme that enables leaders and change-makers to collaborate and learn from each other about how to create systemic changes at a local and regional level. Following a successful first cohort of the Connected Lab in 2018/19, we are delighted to share details for the 2019/20 programme.
Led by independent facilitator Lawrence Becko, Connected Lab sessions include an inspirational guest speaker presenting on a key theme, group-problem-solving using a format developed with previous participants, and time for networking with peers. This is accompanied by a range of supporting activity including buddying and optional development opportunities.
[The Connected Lab] has allowed me time and space to reflect on what we are doing. I have been able to consider alternative approaches. It has been invaluable in supporting me to support our [partnership]

- Connected Lab Participant, 2018-19
The Connected Lab is a key part of A New Direction's support offer for Local Cultural Education Partnerships in London and is open to representatives from partnerships at all stages, whether you are just starting out or more established. One place is available per partnership.
Find out more
The Connected Lab 2019-20 will take place across 5 sessions between October 2019 and June 2020:

Session 1 – Induction: 10am – 12.45pm, Wednesday 16 October 2019
Session 2 – Embedding partnership working locally: 10am – 12.45pm, Wednesday 04 December 2019
Session 3 – Funding and investment: 10am – 12.45pm, Wednesday 05 February 2020
Session 4 – Profile and branding: 10am – 12.45pm, Wednesday 22 April 2020
Session 5 – Legacy and evaluation: 10am – 12.45pm, Tuesday 16 June 2020

We expect participants to attend all scheduled sessions, as well as participate in self-led supporting activity between sessions. If you are unable to attend any of the dates above, please let us know in your Expression of Interest Form. All sessions will take place in central London venues.

As part of the programme you will also be matched with a 'buddying' group with up to four other participants from London-based partnerships. Buddying is an opportunity to connect with each other and discuss key themes, as well as to provide additional peer-support beyond the structured sessions. How you work with your buddies is self-directed, however you will be encouraged to meet your buddies at least once per term and we will always provide space directly before or after Connected Lab sessions for you to connect.

Supporting activity may also include one or more 'shadowing' exchanges to share practice, sharing learning at Connected Network meetings or contributing resources to the Powerful Partnerships Library.

There is space on the programme available to one representative from all London LCEPs.

It is entirely up to each LCEP to decide who is best placed to represent the partnership on the programme, however we would encourage you to nominate a representative who:

Is involved in leading the development or managing the activity of your LCEP
Regularly attends your LCEP steering group meetings and is able to share learning from the Lab across your partnership
Is able to fully commit to attending the five Connected Lab sessions between October 2019 and June 2020 listed above

However, your partnership does not already need to be in touch with A New Direction, or describe itself as an LCEP to be eligible for the Connected Lab.

To be eligible, your partnership or consortium must:

Aim to impact directly on children and young people in London
Include representatives from and work across multiple sectors and artforms, rather than on a particular discipline

If you are part of a partnership or consortium that is not already in touch with A New Direction and would like to take part in the Connected Lab, please get in touch with us before applying by emailing connected@anewdirection.org.uk.

Participants who took part in the 2018/19 cohort of the Connected Lab are also welcome to continue on the programme by submitting a new expression of interest form. However, as there is only space for one representative per LCEP, please discuss your continued participation with your partnership before reapplying.
Please note: applications for the 2019/20 cohort are now closed.