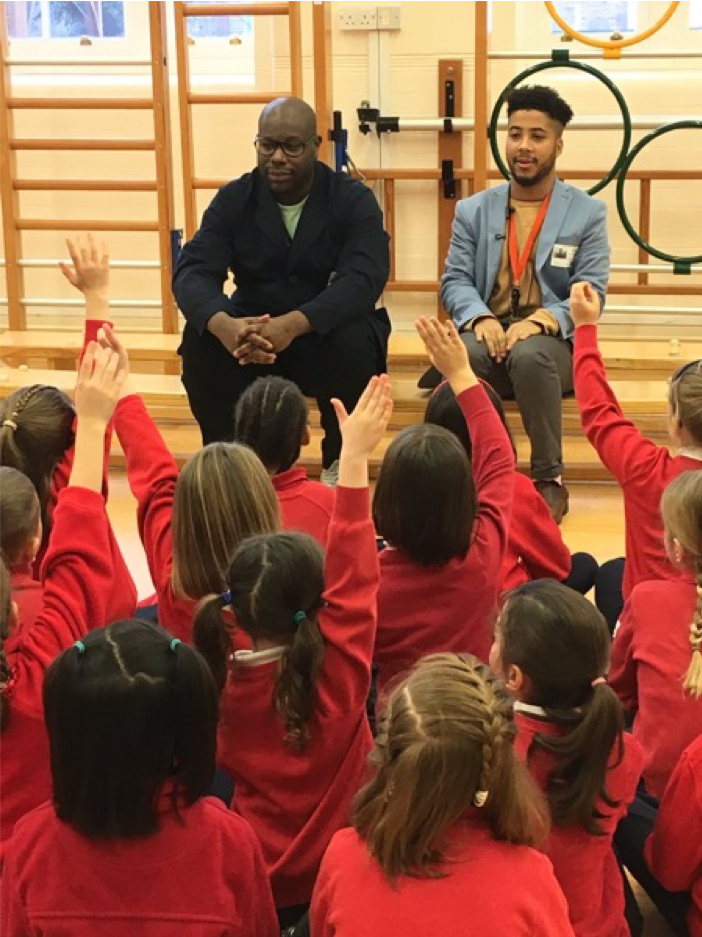 From November 2019 to May 2020, the Duveen Galleries at Tate Britain will be taken over by Steve McQueen Year 3 - a vast artwork featuring thousands of the photographs of Year 3 pupils from across London.
For the past 10 months, a team of photographers has been traveling the width and breadth of London, photographing children in over 1,300 schools. Below, David and Cora give us a glimpse into the life of a Tate Year 3 photographer…
---
A day in the life of a Tate Year 3 Project Photographer usually begins the day before we arrive at a school. Generally, this is the first time we've ever visited each school, so there's a bit of route planning and equipment checking to do; neatly packing the backpack and making sure not to forget the packed lunch! As all the photographers travel to schools via public transport, some from outside London, we rely on apps like Citymapper to help us navigate the transport system. I dread to think how we would have planned journeys which sometimes involve as many as 8 trains and 3 buses a day if Steve McQueen had started this project 20 years ago! Even with technology on our side we tend to only look up the school we're visiting the next morning the night before, so as not to mix up the postcodes. As we visit two schools a day, four days a week, there is always room for human error, and we don't want to end up in Ealing when we're supposed to be in Enfield…
We also need to be prepared for all weather. We've had baking sunshine, thunderstorms, snow and ice, wind and torrential rain, as well as the sticky humid days as of late. David always carries a giant flask of tea, and Cora takes her own camera to snap photos of the different areas along the way.
Once we've arrived at a school, we sometimes have to have our picture taken (David always makes sure he's brought a cheesy grin for his visitor ID badge). Our lead contact then takes us through to the school hall, and often utter the immortal words, "would you like a cup of tea?" - and usually, after a 2-hour journey, the answer is most definitely yes!
Just before the first class arrives in the hall, we measure the distances, set up the benches and prepare the camera settings for the perfect exposure. In regular school photography, different schools' photos won't be displayed side by side, and so there's a variation in camera distance which is set by eye. As this exhibition will have upwards of 3,000 photos all hung adjacent to each other, there has to be a degree of uniformity between each class photo.
Consent issues must also be discussed with the teacher before shooting gets underway, and we're careful to double-check whether any children don't have consent for the photo. If so, they will later become our photographers' assistants, helping to set up the class photo, and maybe even taking a photograph themselves!
During each session we also do an activity with the children; something related to the project to get them moving, thinking and expressing themselves. Sometimes we choose which activity to do based on the vibe of a class. As teachers know, the vibe of a class can change depending on the day of the week, which hall they're in, if it's before or after lunch, the weather, or even what colour the photographer is wearing.
As we photograph two schools a day, we often have a break in between schools. That can either mean travelling halfway across London to a different borough or entertaining ourselves for a few hours within a one-mile radius of the next school. From the sights and delicious smells of Southall's Broadway, to the twenty different types of mangoes on Ilford High St; from leafy Forest Hill and the ever-changing buildings from Clapham North to Balham; to the Thames estuary, investigating what Barking and Dagenham has to offer, and enjoying the vintage feel of the Metropolitan line stations in Hillingdon; zipping around Croydon on their trams and on buses navigating huge roundabouts and dual carriageways in Edgware. We've seen and done it all.
We are in such a unique position to have visited so many schools in every London borough. There are not many people who have as much insight into the differences, similarities, engagements, delights and idiosyncrasies of each school, community and borough. I also doubt there are many others who've seen as many types, lengths and colours of school bench as us!
The afternoon sessions are often slightly wilder - filled with either bursts of energy and engagement or a wee bit of distraction - but we're prepared for everything and have a variety of activities to get the classes moving and thinking about their photograph more deeply. One of our favourite activities is getting students to close their eyes, imagine the gallery, and imagine seeing their photograph for the first time. We then discuss how they will feel. The responses range from shy and nervous, to elated and excited, and then proud and important.
We finish the day with a trek home to upload, select and write daily reports, and feedback snippets of each session. Most days will have included around 15,000 steps, and our phones will definitely need to be charged.
Certainly for me (David), originally coming from Wales, I've learnt a lot about London on all of my school visits. In my primary school, the only languages anybody could speak were Welsh and English. Here in London, I might ask the class and they'll tell me they speak 20 different languages. That afternoon I could be in another borough and they'll tell me 20 more languages! As a child, I visited London many times to see my family. I could see that London was a diverse place, but having now been to every corner of the capital I'm astounded at how integrated it is.
I (Cora) grew up in Tower Hamlets and Hackney. I went to a primary school in Bethnal Green where the majority of the class were Bangladeshi and spoke Bengali. Our school newsletter and street signs were bilingual, so I thought I had a good understanding of the diversity found in London schools. However, being involved in this project has continually blown me away. I went to a Roman Catholic school in Putney, and each child in a class of 35 spoke three languages or more. It truly is something so special, and this project will rightly see it celebrated.
---
A New Direction have played a key role in the delivery and realisation of Year 3, working alongside our partners Tate and Artangel. We have been instrumental in realising the scale of the project, taking responsibility for engaging ambitious numbers of schools in photography sessions across all London boroughs.