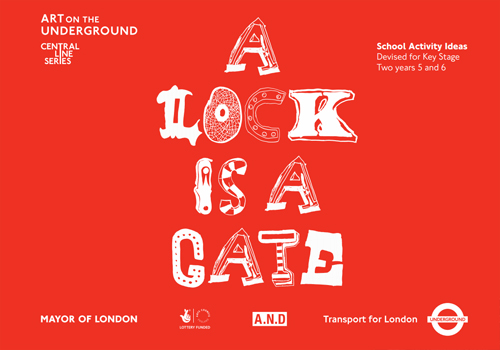 A free School Resource for Teachers of Key Stage 2 years 5 & 6 based on the album 'A LOCK IS A GATE', a drawing and music project by 9-19 years olds from Laburnum Boat Club, Hackney with artist Ruth Ewan, with music producer Kerry Andrew and poet Evlynn Sharp.
The ideas included are a starting point from which to develop lesson plans for Key Stage Two years 5 and 6. The activities should be delivered through a variety of techniques: discussion, exercises, worksheet, historical research, drama techniques, movement, creative writing, music and sound-scaping.
The album and the booklet is the creative expression resulting from an Art on the Underground project of the same title devised and led by artist Ruth Ewan, poet Evlynn Sharp and music producer Kerry Andrew with young people aged 9–19 years at Laburnam Boat Club, Hackney for the Central Line Series.
'A LOCK IS A GATE' explored a group of young peoples' responses to:

A visit to a London Underground station.
A journey on a canal boat.
To undertake the suggested activity ideas ideally your class would visit a London Underground station, and canal for inspiration, and where possible, take a journey on a canal boat and Tube. If a real journey isn't possible this could be a series of drama lessons and therefore become a journey of the imagination instead.

Resource produced by Art on the Underground in partnership with A New Direction.