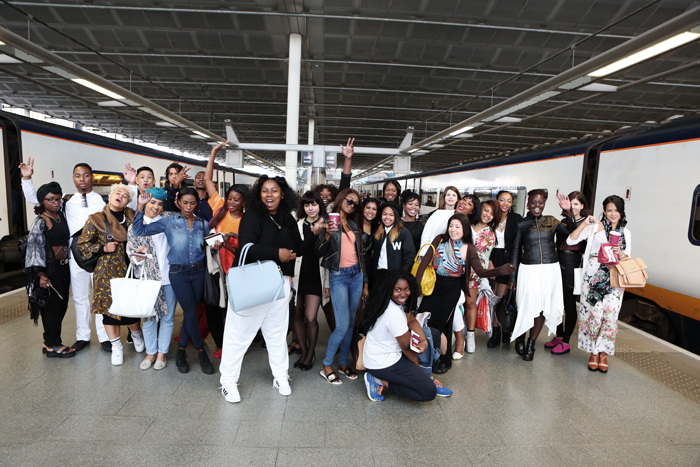 Well, last week was a pretty good week for women. On Tuesday, the internet was flooded with good will towards femininity and womanhood. Southbank Centre put on yet another fantastic WOW festival, building on last year's audiences and inspiring swathes of young Londoners and professionals alike. Across in the US, UN Women also launched HeForShe Arts week, an initiative that will use the arts to leverage gender equality.
At Create Jobs, this has inspired us to think about how we can make 2016 a great year for women. After all, we have some pretty special ladies running our programme - not to mention the hundreds of inspiring young women we meet every year who blow us away with their creative talent, strength and individuality. Where better to start than at home?
Cue The GirlHood, the new programme we're partnering with alongside top creative agency FCB Inferno (the geniuses behind the This Girl Can campaign). They're kicking down doors to create a skills pipeline that focuses on women Creatives.
If you're not sure what a Creative does, they're the ones who come up with the content and messaging in ads (the way it looks and feels, what they say). At the moment, we have a situation where women make 85% of all purchase buying decisions, responding to ads that are 89% designed by men. No wonder 91% of female consumers feel that brands don't "get them".
FCB Inferno Creative Director, Becky Mcowen-Banks, takes these statistics very seriously. She helped set up Creative Equals - an industry-wide campaign to help agencies take proactive steps towards gender diversity within creative departments, especially at a leadership level. Look a little further afield and there's a lot of exciting buzz around this issue in adland (check out the 3% Conference).
So what's The GirlhHood going to do?! I hear you cry. They'll be taking on 9 lucky young females through a unique 5 week training and work experience programme. Those completing work experience will have their expenses covered, and everyone will be guaranteed an interview for a paid position at the end of it. And best of all, each member of the programme will be immersed in agency life, and given the best possible platform to launch their creative careers. It will be hard work, but it's going to be a lot of fun too.
Kati Russell and Natalie Rodden, the two brave females behind The GirlHood say they were inspired by the need to create new spaces for personal development between education and industry. Like us at Create Jobs, they recognised the gap between what education teaches and what industry expects you to know. What they hope to do with The GirlHood is create an advantage for female creatives to counteract the bias the boys have been enjoying all this time.
So what might the future hold? We all know that at the root of gender equality lies in pretty tricky issues like paternity pay, flexible working, family friendly hours etc. Word on the grapevine is that the rise of digital could actually be affecting gender disparity in adland for the better. Digiday's recent article on the digital revolution and gender equality says 'the creativity necessary in digital advertising is driving a more collaborative culture that affords new opportunities for women to not only contribute but to lead.' Great news we say! Bring it on!
For the bigger picture, we don't run programmes that build women in leadership positions and equal pay for top positions. Our currency is in the power of youth and the promise of a more vibrant industry when there is a genuine even playing field for entry-level recruitment. But for the sake of every aspiring female creative we work with that is fresher than a cucumber, we wish all those that do swift success. The future of your industry, and indeed the wider fight for gender equality, resides in your hands.
The GirlHood is holding a recruitment day at FCB Inferno on Thursday 31st March. Complete this form in Eventbrite for your chance to be selected. And check out createjobslondon.org for more opportunities to get your foot in the door in the creative industries.