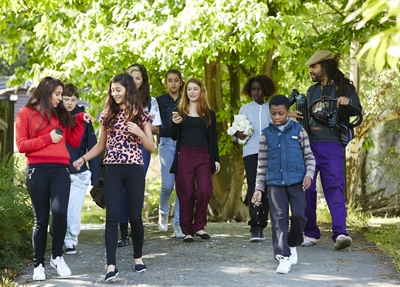 Strong Voices is a national programme funded by the Department for Education to work with 13-19 year olds that have traditionally been excluded from engaging in arts and culture. Working alongside 4 other Regional Bridge Organisations, we have been focusing on different ways of working, establish new partnerships, and ensure that London's cultural offer is as inclusive and responsive to the needs of young people as possible. We did this by working with four core youth clubs; The Avenues Youth Project, Dragon Hall, Haringey Shed and KORI.

What is it all about?
The delivery of the programme ran from July 2013 until December 2014 in four core London Youth member clubs.
We have been examining what professionals from the informal and cultural sector can learn from working in partnership.
We have focused on the benefits of collaboration and asked – How can this lead to resilient and flexible programmes? How can this be used to give young people ownership of their programmes? And what sort of structures need to be in place to support young people engaging successfully?
Through action research, we have explored the importance of shared visions, joint planning, regular reflective evaluations, high quality opportunities, consulting with young people and long term, sustainable projects.

Throughout the programme, we focused on getting young people to think about their social and emotional capabilities based on The Young Foundation's 'Framework of Outcomes for Young People'. The young people completed outcomes webs, charting their own progression at the beginning and end of each quarter.
On the ground
We worked closely with our core youth centre staff in commissioning arts organisations in a bespoke fashion. All the youth clubs aim to challenge the personal, social or educational disadvantages the young people they work with may face. A bespoke programme was necessary, however, as some did this through focusing on inclusivity, for example, whilst others focused on literacy or personal capabilities such as confidence.

It was important throughout the programme that youth clubs were partnered with high quality arts organisations and individuals who had a similar ethos about working with young people who may not otherwise engage. Some of the arts organisations worked with include Ovalhouse, Frantic Assembly, Breakin' Convention, Mousetrap Theatre Projects, Complicite, Photofusion, Zoo Nation, The Southbank Centre and Sound Connections.
We also went on two Residential retreats to Hindleap Warren Outdoor Education Centre where the young people worked intensively on their chosen art forms whilst also participating in outdoor activities targeted at personal and social development. They did archery, zip wire, orienteering, obstacle courses and problem solving activities all whilst getting to know new art forms and working creatively. At the end of our second residential, the groups shared their work to date, whether this was music videos, dance pieces, short films, photography or spoken word.
At the end of our delivery phase, the youth groups came together again for our Strong Voices Celebration event. This was a chance to celebrate with an exhibition of photos taken throughout the programme and an evening of performances.
We also worked with a Steering Group of young people throughout the programme, asking them what the words Arts and Culture mean to them, what experiences they had locally and what they would like to see more of in the arts sector. We experienced a range of Arts and Cultural opportunities together, discussing how accessible they felt and what made them appealing. The young people involved also participated in a think-in at the Southbank Centre, helping to plan the WHY? What's Happening for the Young festival.
What Next?
Moving forward, we see the youth clubs instilling the arts into their wider offers and following up with the reflective practice we have been using. KORI continue to blend the arts with community based youth work, Haringey Shed have successfully received Grants for the Arts Funding, Dragon Hall continue to fuse the arts with digital innovation and the Avenues young people have formed their own dance company; performing around London and applying to be part of Breakin' Convention's Future Elements programme.
Strong Voices has helped A New Direction shape a new strand of research into the Equality of access to the arts. We are also moving towards a Conference in March 2015; Cultural Capital brings together the research, knowledge and practical insights from A New Direction's Strong Voices programme.
Examples from Strong Voices

Check out original songs and music videos made by the young people at Dragon Hall: Happiness, Superhuman and Keep On Going
Listen to a song written by and recorded by KORI's young people
See excerpts from our Celebration event

Listen to our steering group speak about their experience

You can also download the speech below

Download Steering Group speech
(24.06 kB MSWord)
---
Find out more about Cultural Capital, our inquiry into inequality of access to culture for children and young people in London.