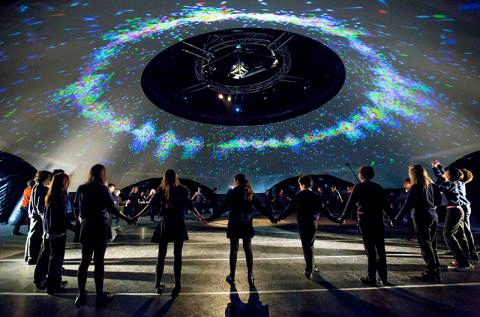 (Image: Arts Council England / Danceroom Spectroscopy at Watershed Bristol. Photo by Paul Blakemore)
Following our programme of the same name, Arts Council England's Cultural Education Challenge was launched today at the Barbican in London. It challenges sector leaders across the arts, education, local authorities, schools, higher education institutions and others to create new ways of working, and encourages them to share resources to create joined-up arts and cultural provisions locally, at a time when public funding remains under pressure.
Through the Cultural Education Challenge the Arts Council wants to make sure that all children and young people everywhere have access to great arts and culture, and that every child can create, compose, and perform; visit, experience and participate in extraordinary work, and be able to know more, understand more, and review the experiences they've had.

A New Direction is the organisation funded by Arts Council England to act as the Bridge organisation for London, and we are therefore charged with galvanising enthusiasm around the Arts Council's renewed ambition for children and young people. We will be working with them, and partners from across the sector in the coming months to explore ways of making this a reality.
Read this blog by Arts Council England's Director of Children Young People & Learning Laura Gander-Howe, or watch the video below:

---
To avoid confusion in London...
In August, A New Direction announced £700,000 of investment to seven initiatives as part of our own three year Cultural Education Challenge, with partners pledging to double the funds to expand overall investment to around £1.4million over the first phase of the programme.
The seven initiatives bring together local partners to address challenges for cultural education in their areas, and model new ways of working together, and we are pleased that this concept is now being expanding across the country today with the announcement of Arts Council's own Cultural Education Challenge.

For details of A New Direction's Cultural Education Challenge go to www.culturaleducation.london
For details of Arts Council England's Cultural Education Challenge go to the Arts Council's website