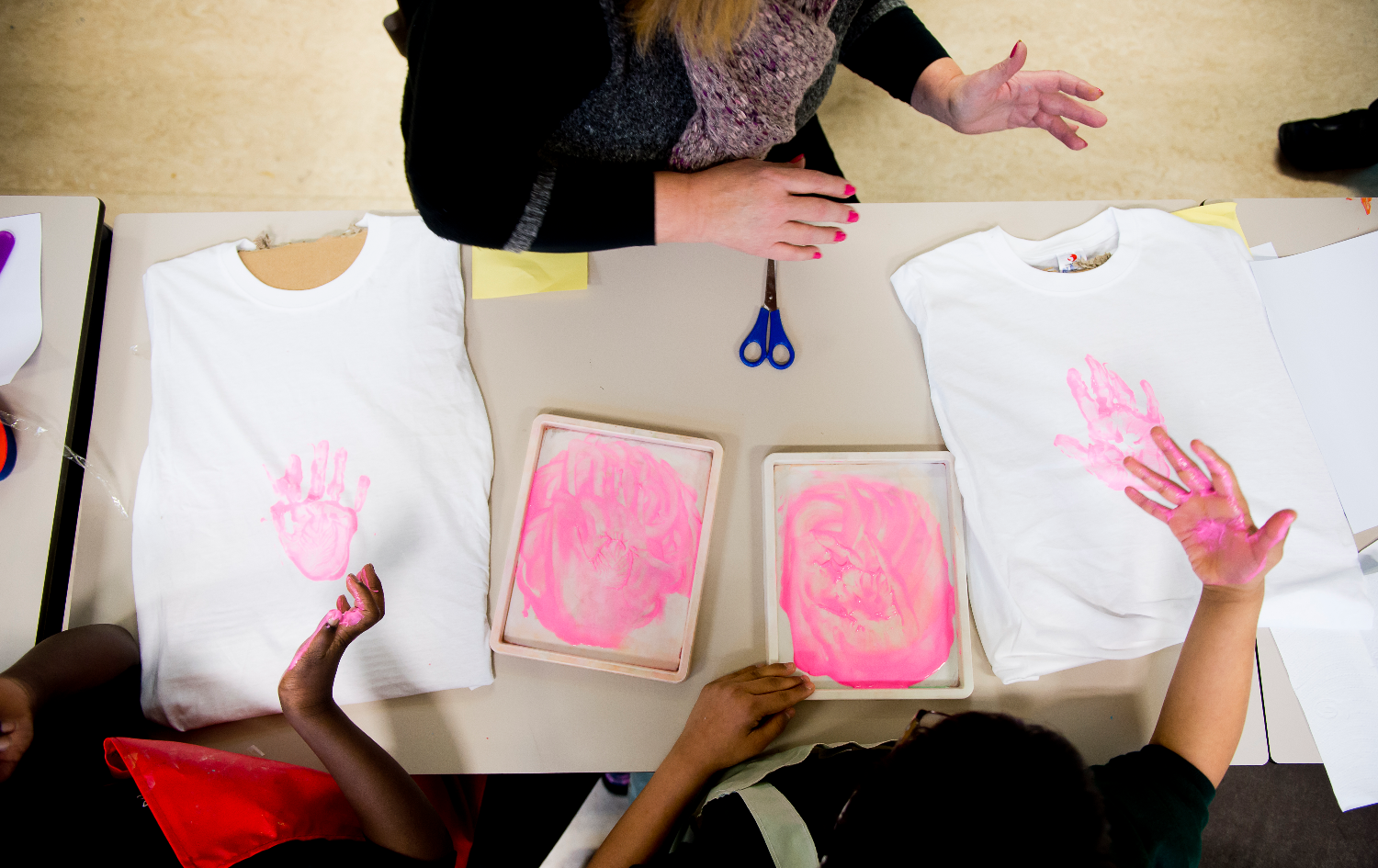 Engayne Primary School are a community school based in Upminster, east London. Originally awarded Artsmark Gold in 2017, the school are now in the process of reapplying for Artsmark, and are working closely with local schools to share their knowledge of the award.
We spoke to Emily Jupp, Reception Teacher and Curriculum Leader for Art and Design & DT, about their Artsmark journey. Emily is also a member of A New Direction's Cultural Leadership Community and has attended a number of our Creative INSETs.
Without the right CPD, I would not be able to help Engayne move forward in their Arts Mark journey. Similar to our school values, we teach our children to always try their best. I am trying my best to implement cultural opportunities for our pupils to make sense of the world from imagination, ambition, creativity and vision as we work towards our Platinum award.
What made you register for Artsmark in the first place? Why are the arts important to you as a school?
Engayne Primary School were awarded Artsmark Gold in 2017. We were proud of our previous achievements for being recognised as a school that offered a high-quality arts curriculum to our pupils. Our arts provision communicates our school values and teaches our children from a young age to appreciate and respect different cultural forms. We ensure our children are given different artistic experiences as they progress from Reception to Year 6. From cooking, our forest school, choir and orchestra performances, dance mornings, to welcoming visitors with poetry, illustrative, musical backgrounds, we encourage our pupils to be brave, work hard, never give up and have fun in their learning.
Artsmark is about celebrating what you're doing well and addressing the challenges and gaps in your arts provision. How did the leadership and range of offer section of the framework help you develop your school's arts offer?
In continuing on our Artsmark journey we hope to use our previous Gold Award to help other settings achieve similar. We believe in integrating all of the arts within the curriculum in both discrete activities and through cross-circular links. For all of the arts to be embedded in our teaching, our subject leaders have committed themselves to reviewing planning, resources and how much time is spent on the arts.
Artsmark has had a significant impact on subject leaders working together and has improved whole school planning. This has also created new staff partnerships within our school and in our local cluster, and we hope to visit other settings to offer guidance on how other leaders can celebrate their arts provision.
What were the challenges you faced along the way in developing leadership and range of offer? How did you get everyone involved? Did anything unexpected happen along the way?
It has been a challenge to inspire some staff to engage in the arts. After questionnaires and staff meetings, it became apparent that some teachers did not always approach the arts with enthusiasm. We now 'team teach' and observe each other across year group phases to ensure staff are evaluating their practice. Teachers have now discovered new ways to present the arts to their children and staff now pair up their classes to demonstrate newly taught skills and experiences to each other.
Engayne have also had to persevere with our communications and use of other organisations expertise. Due to limited budgets, we have also had to make use of free resources and utilise talents of our teaching staff.
We have always tried to value children's ideas and include their artistic views in response to themed weeks and school visitors. For example, pupils asked to cook outside their weekly DT lessons and we now have a Cookery Club with new kitchen equipment. Engayne has previously held themed weeks linked to science, healthy eating and maths, and when our pupils said they wanted a 'Musicals Week', staff were excited to plan their performances, costumes and help the children showcase their talents!
Staff have also reviewed the effectiveness of our school grounds. Our children now go outside to use our forest school once a week and the School Council will soon be planning a Sensory Garden.
What did the Artsmark award mean for your pupils, teachers, families and wider community?
We knew from our previous award that Engayne needed to work more within our local community, and Artsmark has helped us secure stronger links with our local theatre, church, hospital and secondary schools. Our pupils have benefitted the most from these contacts as they have produced murals (watch a video here!), entered competitions and performed to different audiences. It has helped them to understand the arts can make a difference to everyone, no matter what age they are. Our parents and EPFA have also had a greater involvement with hosting film nights, circus and Mother's/Father's Day sales.
---
A New Direction supports London schools throughout their Artsmark journey, offering expert guidance, advice and training.