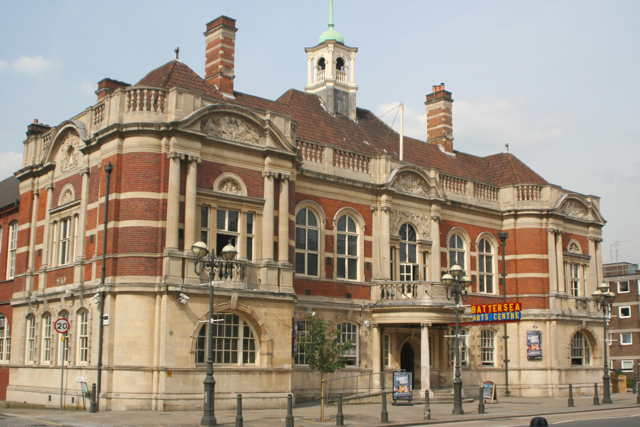 (Image courtesy of Battersea Arts Centre)
At Battersea Arts Centre our mission is to invent the future of theatre. So protecting our planet is important to us, because without it there would be no future, of theatre or otherwise! Over the last seven years we have been working on a Capital redevelopment project that aims to create a 21st Century Theatre in our 19th Century Town Hall.
By a 19th Century Town Hall, we mean the one we occupy on Lavender Hill in Clapham Junction, which has stood there since 1893. By a 21st Century Theatre we don't just mean a place for performance, but a hub that is at the heart of our thriving community. Somewhere people feel welcome; can learn and be inspired; can eat and drink together; and can share ideas. We have come up with a mnemonic for how we talk about theatre:

Town Hall - Theatre buildings can be more like Town Halls: civic spaces for people to congregate, debate, imagine and catalyse change.
Education and Employment - Theatre celebrates diverse forms of intelligence: providing a creative approach to learning and inventing new employment opportunities.
Artists and Audience - Theatre must continue to evolve: relevant, accessible & authentic theatre engages with who is present in the live moment.
Transforming Relationships - Theatre can help transform our communities: asking questions, seeking inspiration on the periphery & helping us re-imagine the way we live together.
Everyone and Everywhere - Theatre can connect everyone & everywhere: it is the everything art form that includes all others & can build complicity between us.
A sustainable and environmental way of delivering a Capital project
So many capital projects develop reputations for having gone wildly over budget, or for blazing rows between clients and contractors and consultants. So many people in the arts do one capital project and then think 'Never again,' so any learning is lost. We wanted to see if we could do it differently. To find a sustainable way of delivering a Capital project, both environmentally, and in terms of staff well being.
We began in 2007, with a show called Masque of the Red Death by acclaimed theatre company, Punchdrunk that took over the whole footprint of the building. This was our moment to rethink entirely how we used the space, taking out the black box theatre spaces and returning the building to its Victorian roots, with each of its 80 rooms flexible for events or performance. We then went on to further develop this process, in partnership with our architects Haworth Tompkins. We call the process Playgrounding.
With all of our spaces we tested ideas with artists and audiences, trying out configurations, building in temporary infrastructure to test insulation options, creating furniture to test in a temporary space what could be then used in a permanent one. Over time we collaboratively built a vision for the building, and implemented incremental changes as we went. We also reduced the cost of the building project from an estimated £26m to £13.3m. The project goes on site for its final phase in September and we can feel confident that the ideas within it are fully thought through and also owned by our staff, artists and audiences. You can find out more about the project here
As well as considering overall sustainability in our project, environmental sustainability has been absolutely central to our approach. We have been hugely limited by the most common environmental measures we could put in place due to the listing (Grade II*) and location of the building. But the way we developed the project allowed us to design excess heating, lighting and mechanical ventilation out of the scheme and instead focus on insulation and people focused solutions.

We are putting in gardens for growing vegetables, easy to use lighting and heating controls and blanket boxes for the winter and hand held fans for the summer! We are also developing an idea called The Building Forecast, where audiences will be emailed with a measure of what the temperature and conditions will be like when they come – to encourage them to dress accordingly!
Most importantly for us, the new development will allow us to reach more of the audiences we think are important. We are working on a development of the Lower Hall area of the building which we are calling the University of BAC. It will help us develop a learning culture where artists and young people are working together on a range of projects from The Agency, a project using the creative process to develop young social entrepreneurs; to Artist Teacher Exchange, allowing teachers and artists to play and learn together; and Homegrown and Beatbox Academy, our programmes for 12-15 years olds. We are always keen to hear from more young people in our area, and further afield so drop us a line!
We believe putting people; our artists, audiences and staff; at the centre of our projects and the way we work to make us more sustainable, environmentally, socially and financially. It's not always easy – sometimes it feels like we are doing things back to front, or taking a long time, but overall we feel ownership of our building and a connection with our community, which we think helps us run a better venue. We would love to welcome you here soon!
---
Jo Hunter worked as Head of Strategic Development at Battersea Arts Centre from 2011-2013. She still works as a consultant for BAC, as well as working with organisations such as Julie's Bicycle and Mountview Academy of Theatre Arts. She is also working on a project called 53 Million Artists, which is about unlocking the creative potential of every human being in England.
---
Like this blog?
We send out a monthly digest of all our blogs, news and updates - sign up here to receive straight to your inbox - www.anewdirection.org.uk/newsletter
You can also follow us at @A_New_Direction