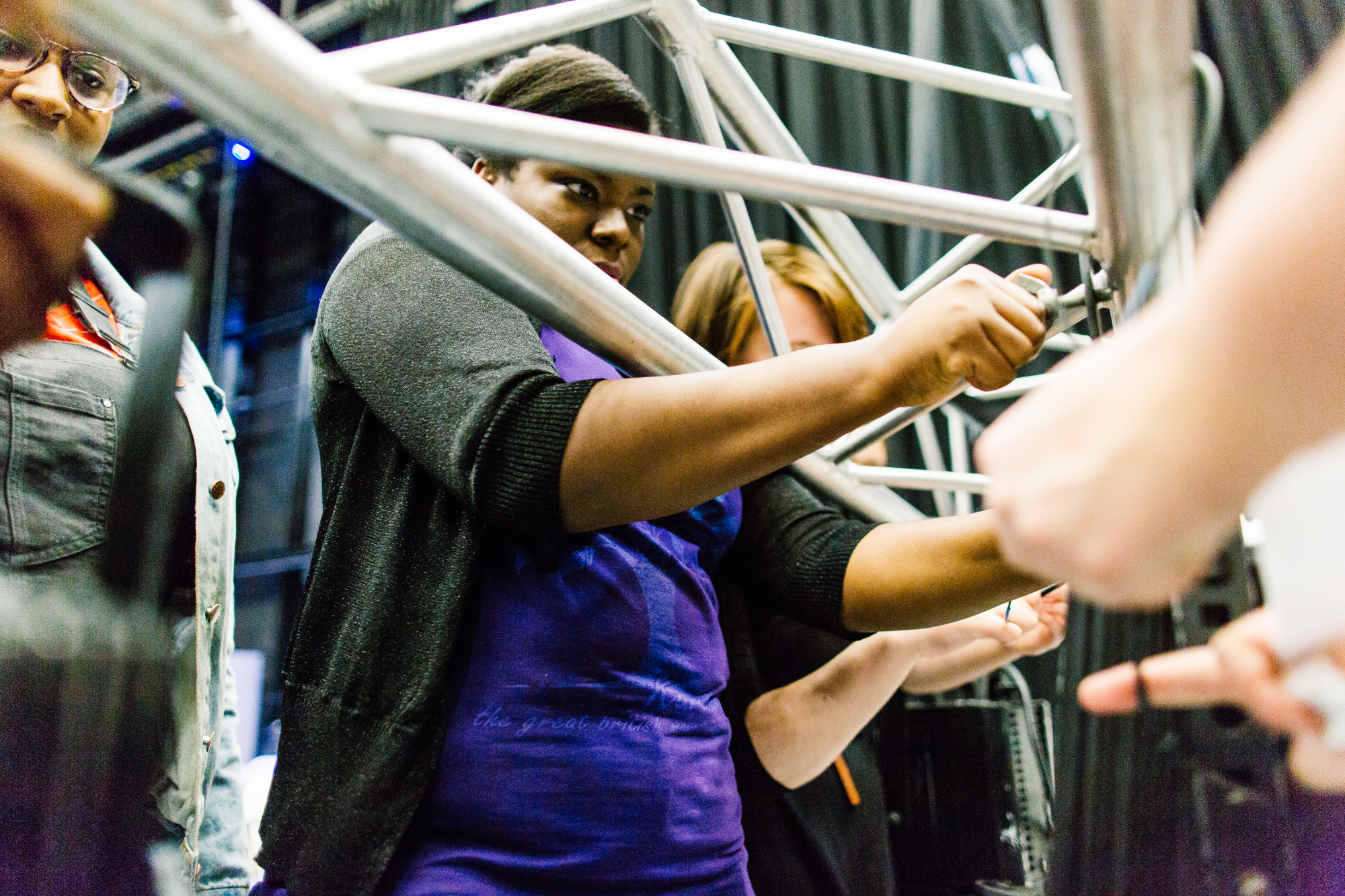 At our second Big Change CPD session for the cultural and heritage sectors, we were joined by Korantema Anyimadu, Freelance Arts Educator and Communities Manager at Arts Emergency. The session explored audience engagement; sharing examples of good practice across small-scale programming with communities, pan-London projects and national initiatives.
In the session, Korantema reflected on approaching audiences as individuals through the lens of privilege. Below, she shares her thoughts on the subject.
---
When I was 16, I remember sitting in front of the careers advisor at school who told me I should do whatever I could to get into Oxbridge. Had I considered Agricultural Science? I remember going home in a huff (Agricultural Science was not my calling in life) and complaining to my family. Then, my sister told me her teachers advised her not to bother applying to Oxbridge because someone like her wouldn't get in. For two young women, brought up in the same household, I had a lot more privilege than my sister. I got a scholarship to a private school, had a careers adviser and was encouraged to "aim high". Reflecting on this now, it makes me think how nuanced privilege is. Privilege is one of those things that can make people feel defensive, uncomfortable, guilty and confused, sometimes all at the same time.
At Arts Emergency, where I work as Community Manager, we have to contend with privilege quite a lot. Arts Emergency is a national mentoring charity and network that helps young people from working class backgrounds pursue their passions in the creative and cultural industries. We believe in social justice and that young people have the right to do what they want for a future career. We help young people feel connected to the creative industries and empowered to exist in cultural spaces.
It's a tale as old as time that there is an issue in the creative and cultural industries with representation and equity. In 2018, we partnered with Create, Barbican, and researches from the universities of Sheffield and Edinburgh on Panic! Social Class, Taste and Inequalities in the Creative Industries. The paper looked at taste and class in the creative and cultural sectors – exploring different factors including ethnicity, gender and class. It showed that only 2.7% of workers in heritage are from a non-white background, and that a mere 12.4% of workers in Film, TV and Radio were from working class origins. One of the main takeaways from the paper, is that it proved meritocracy is a myth. Panic! showed that people who earned the most and had higher positions of power (usually white men) overwhelmingly believe that if you work hard, you will succeed, regardless of your gender, class, race, religion etc. The dearth of representation makes sense when you think about who holds the power.
Another takeaway is that connections are everything. Panic! explained how people in the arts have a restricted social circle, made up of mostly middle class professionals, and creative workers are also more likely to know other creative people. Particularly when you're starting out in the industry, having someone who can sneak you in the back door is often the way to kickstart your career – be it a parent, family friend, or rich, well-connected uncle. The catch is, if you come from a family with more traditionally working class jobs – bus drivers, postmen, factory workers etc. – how do you find that first big break? When Arts Emergency was founded by Neil Griffiths and Josie Long in 2013, they looked at the 'Old Boy Network' (an informal network of private school educated men, fostered in Bullingdon Club-style drinking societies) and thought about how it could be turned on its head to benefit working class young people. As well as overflowing with confidence and carrying a swathe of economic and educational privilege, members of the Old Boy Network also had connections. Now, nearly 7,000 people in the Arts Emergency network have signed up to be that well-connected uncle to hundreds of young people.
The last hard truth from the Panic! report is that people in the creative industries are more left leaning than other industries. We consider ourselves super liberal, welcoming, and all for equality, however in reality the pervasive racist, sexist and classist issues aren't going anywhere. Perhaps it's a case of not acknowledging it, or seeing it and not doing anything about it.
As a result of these issues, doors can remain firmly shut for people trying to break in. I hear all too often from young people how frustrating it is to see those doors, but not know how to open them. How confusing it is when you are doing all the right things but getting nothing from it. The onus is too often put on young people from less-privileged backgrounds to work twice as hard as their peers. We tell them to try harder to make it, despite the barriers that are blocking their way. We can build up our young people – filling them with self-confidence, cultural and social capital – but when the creative and cultural sectors aren't ready for them, there's ultimately no point. It simply isn't enough to set up entry level roles under the label of 'diversity', if the culture in your organisation means those people are neither supported, offered routes to progress, nor made to feel welcome. It means these young people bounce right back out of those doors they've worked for years to open.
It's impossible to understand all of this without acknowledging privilege. One of our manifesto points at Arts Emergency is to be generous, and share your privilege. People sign up to do this every day through mentoring, sharing opportunities and opening up their address books. Everyone has privilege they can share, it's what you do with it that counts.