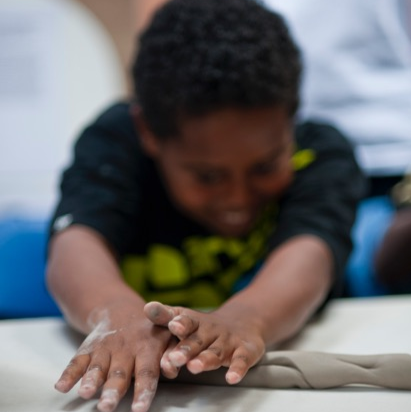 It was a snowy day in late November 2010 when we gathered 35 teachers in the learning space at the Museum of London for a day's introduction to plans for a school's enquiry exploring the question: 'What on Earth is Clay?' Only two teachers didn't make it through the blizzard. As people collected their coffee, one teacher when asked whether she was looking forward to the day replied: "Yes! I'm so excited, I didn't sleep last night!" This surprisingly keen answer was an indication of the enthusiasm with which this A New Direction project, custom-made for each school, was welcomed by teachers. The day proceeded with clay demonstrations from scientists, ceramic handling sessions with archaeologists, basic clay skills tuition and an introduction to other plans we were proposing. This was the first session in our part of The Biggest Learning Opportunity in the World reaching many schools across London during the Olympics year.
'We' are Clayground Collective, an independent arts organisation set up in response to shared concerns about the acute decline of clay and 3D studies in schools. When we began to work together in 2001, we saw clay classes disappearing and widespread closure of Higher Education ceramic departments. With experience in different fields, Duncan in ceramics, Julia in international performance, we set up Clayground in 2007. Acting as creative producers, we set out to devise projects to celebrate the material and renew engagement with clay, expanding an idea of what clay studies in schools could be. Now combining public art, education, research and commissioning, we have engaged over 100,000 people in events, workshops and exhibitions, trained over 200 teachers in 16 UK cities, worked with the Crafts Council and other national institutions[1], museums, galleries, libraries, businesses, as well as many schools and youth groups.
When we set out we felt compelled to ask ourselves: if clay and hands skills are disappearing, beyond training the next generation of potters, why are they still needed? Are we right to feel so strongly that working with clay is an educational right and vital to every child's development?
Our questioning was given further momentum in 2012 during a clay workshop when a nine-year-old showed significant creative talent. When we asked if he worked with clay at school and if he would do more in the future, he responded with a categorical "No!" adding: "because I'm going to be a doctor". He revealed a deep-seated cultural assumption, namely that academic learning is somehow separate from and superior to knowledge gained through the hand, a bias running throughout our education system and reinforced in a digital age. Educationalist Christopher Frayling laments: "It is perfectly possible now for a child to go through primary, secondary and tertiary education without making anything." [2]
Anecdotal evidence indicates the decline of clay studies and hand skills' development in UK schools is probably worse now than when we set out. Figures are difficult to establish definitively. What can be tracked is take-up of art and design at secondary level. Registrations for 2018 arts GCSEs in England are reported as having plummeted by 51,000, taking the total fall in entries to almost 150,000 over the past five years. Data published by qualifications regulator Ofqual show that since 2014, arts subjects have seen a 25.6% fall in entries. Over the same period, total GCSE entries have grown by 3.4%. [3]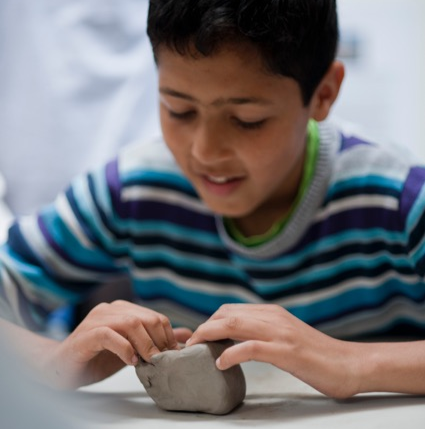 As many will know, the introduction of the English Baccalaureate (Ebacc), the Government performance measure which tracks GCSE results in English, Maths, History or Geography, the sciences and a language, is widely recognised as adversely affecting take-up of all art and design subjects including ceramics. This decline removes a rung in the ladder of progression and take-up of art and design subjects at HE level. Furthermore, the disappearance of clay studies in schools reduces teaching roles for ceramic artists, traditionally a source of income to support individual studio practice, thus further diminishing the chances of skills transfer across generations. Against these odds, a few ceramic departments remain in schools thanks to visionary art and head teachers and management who recognise their educational value.
Similar trends are seen to a greater or lesser extent elsewhere in Europe, North America and Australia. Even in Finland, where "handicrafts are firmly established in comprehensive schools", contemporary economic and social realities are "putting pressure on craft education to remain meaningful".[4]
So does it matter? And if so, why? We were motivated to convene a symposium in 2014 at Central Saint Martins to extend our own sense of the bigger picture. Called Thinking Hands? The Role of Hand Skills' Development in Seeing, Thinking and Learning, we invited experts in different fields to share their perspectives with students, teachers, and professionals in art, design and health.[5]
Roger Lemon, Professor of Neurophysiology at University College London, reminded us: "There are ten times as many channels of information feeding back from your hands to the brain as there are channels going out from your brain to your hands. Feedback or 'sensory re-afference' happens every time you move, handle a tool or explore a new surface. We move, not to move the world, but to generate sensory feedback, called haptics."
Professor Shirley Brice Heath, linguist and anthropologist of learning at Stanford University, USA, noted the dramatic decline of hand skills in early childhood in recent decades coincided with a fall in children's ability to discern visual detail in book illustrations, a critical stage in the development of text literacy. Following her hunch that knock-on effects of this decline might also be showing up in professional fields, she conducted an informal survey amongst surgeons, a group dependent on the skilled use of the hand. Asked whether over the course of their careers they had noted any changes in the abilities of their students, several responded: "Yes, indeed. The medical students I see today have no sense of how to use their hands in diagnostic work, for they have come to rely on technologies as their diagnostic tools. These young people have difficulty seeing and comparing critical details that are there to read in the visual reports that come from their technological tools." In other words, their students have problems recognising pattern, essential in diagnosis, and difficulties translating from 2D screens to 3D bodies. Surgical and medical educators in the UK, such as Roger Kneebone and Jamila Sherif of Imperial College, echo these findings. Sherif explained how clay and touch "open up the differentials" encouraging students to enrich their vocabulary, to use metaphor and analogy in accurate description of subtle differences.

Learning through varied and sustained interaction with a creative medium such as clay is vital not just for the training of medics but for every child. Shirley Heath explained further: "Both evolutionary biologists and neuroscientists link use of the hand to our ability to understand the structure of symbol systems such as language and numbers. …Use of the hand to explore and create, through moulding clay or placing pieces together to build wooden or plastic structures, increases categorization skills in children. They feel, see, and sense differences not only by visual discernment but also haptic exploration that conveys information on weight, texture and density of objects."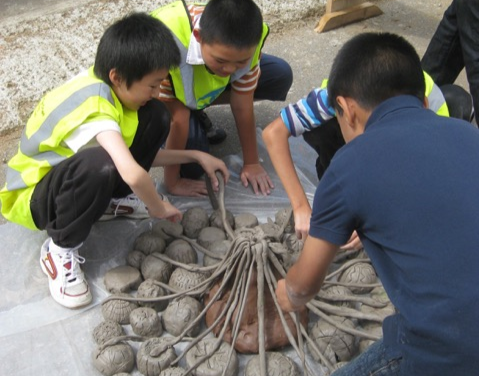 Ceramic designers fluent in use of digital design such as Antony Quinn and Michael Eden, emphasise effective use of digital tools such as 3D printing is only possible through deep knowledge of materials: "Working things out from materials is a fundamental part of design." "Making means embodied, embedded cognition where intelligent behaviour emerges from interaction between brain, body and the world."
Digital skills alone are not enough to embed knowledge of the material world in the brain, contributing not only to knowledge of the external environment but also to the development of language and concepts. All concepts are language based as far as we know. Without access to materials and tools, full use of the hands and forearms and use of grip and manipulation giving a sense of volume, texture, weight, temperature, children are missing out not only on exploration of their creative potential but accurate understanding and articulation of their changing environment.
The acute decline of clay and 3D studies in formal education is unlikely to change soon. We must continue to lobby for urgent change in UK Policy. This is not just about training the next generation of potters – or doctors - but enabling every child to enter an imaginative, specific and nuanced appreciation of the material world through development of their own haptic skills.
Eight years on from that original meeting at the Museum of London, we wonder where that teacher's excitement has taken her in calling on clay's potential to open up learning opportunities for her students. Does her department even still exist? We'd love to know.
We went on to create other projects, many in the civic sphere. All have the potential to breathe cross-curricular inspiration into projects in schools. Offering project ideas, providing advocacy and perhaps giving courage to teachers eager to engage in clay and 3D, you can read about them in our book Clay in Common: A Project Guide for Schools, Museums, Galleries, Libraries and Artists and Clay Activists Everywhere, Triarchy Press, 2018. Available at www.triarchypress.net/clay
---
[1] The British Ceramics Biennial, Canal & River Trust, A New Direction, Arts Council England, Happy Museum Project and Hamlyn Foundation.
[2] Comment at launch of Frayling, C. (2017) On Craftsmanship: Towards a New Bauhaus, Oberon Books.
[3] Hill, L. 'Collapse in Arts GCSE Gathers Pace', May 2018, Arts Professional.
[4] Garber, E. (2002) 'Craft Education in Finland: Definitions, Rationales and the Future', JADE 21, NSEAD.
[5] In partnership with Central Saint Martins, A New Direction, British Ceramics Biennial and Canal & River Trust. The Symposium report is available to download at: http://www.claygroundcollective.org/wp-content/uploads/2016/02/Thinking-Hands-Symposium-Report-Final.pdf
Images credit: Caroline Gervay and Clayground Collective