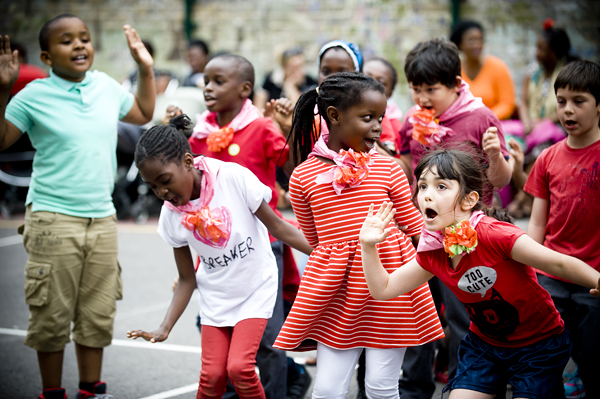 (Image: Comber Grove Primary School. Photographer: Roger Brown)
Congratulations to Invicta Primary School!
We were very excited to hear that Invicta Primary School in Greenwich is the first London school to be awarded Artsmark at the new platinum level - massive congratulations to them!
In the middle of their busy science week, arts leader Eibhlín Goppert found time to give us their reaction:
'We are absolutely thrilled to have received the Platinum Artsmark Award. We began our Artsmark journey with the view to improve the quality and provision of Arts throughout the school, and it is incredible what impact it has already made in just a little over a year. The Arts play a central role in driving our curriculum forward, which provides exciting opportunities for our children as well as creating future career aspirations in the Arts.'
Eibhlín Goppert, Invicta Primary School


How A New Direction helps schools to achieve Artsmark

There are now over 250 London schools registered for Artsmark this year. We have held 22 development days to introduce the new process. These have included lots of activities to help schools audit the great things they're doing already, and then identify areas for improvement and change.
Laura Perrett and artist-in-residence Shaun Dolan from the Chelsea Community Hospital School enjoyed the practical nature of the session and went back to their school to deliver an INSET:
"The Artsmark development day was a brilliant opportunity for us to really learn about the new Artsmark process, to assess our current provision and to plan for how best to complete our Statement of Commitment form and create our action plan... The new Artsmark, with its focus on looking forward and for building on our existing provision, is a really great motivator in helping us plan for the development of art provision at our school.'"
Laura Perrett, Chelsea Community Hospital School

Donna Corbin from St Agnes RC Primary in Barnet said:

Having attended A New Direction's conference and a Discover Artsmark session, St Agnes is a now registered for Artsmark and I have discussed our provision of Arts with SLT and staff, who have contributed to completing the Artsmark Self assessment tool. This has been a useful process for our school to audit our current art provision and plan for future developments. We attended a Development Day, where we met other schools and did exercises to prepare us for making a statement of commitment. Having Artsmark will help everyone enjoy an active involvement in communicating the Arts.
Donna Corbin, St Agnes RC Primary School

Many schools this year, like Comber Grove Primary School (see main image), were new to the award. Head teacher Richard Dax told us:

"The journey to achieving Artsmark status has allowed us to celebrate the many enriching activities that already happen at our school and has opened up our eyes to many more creative opportunities. Over the last year, through the expertise and guidance that Artsmark has provided, the school has begun to re-embed the arts through a newly designed and bespoke curriculum and the sharing of staff skills through an arts market INSET. We have also increased our high quality music and drama provision. Artsmark has reaffirmed our belief that primary success can only be achieved through creative and academic experiences."
Richard Dax , Comber Grove Primary School


In addition to the support surgeries, we have also offered a session on evaluating impact aimed at schools who are preparing their statement of commitment, and for those who are thinking about gathering evidence and evaluating their Artsmark journey for their case study.
We will be offering a full programme of support in the coming year and will be working with music hubs and cultural organisations to enable them to shape their offer and develop partnerships with Artsmark schools.

Find out more about Artsmark and how A New Direction can work with you to achieve it.