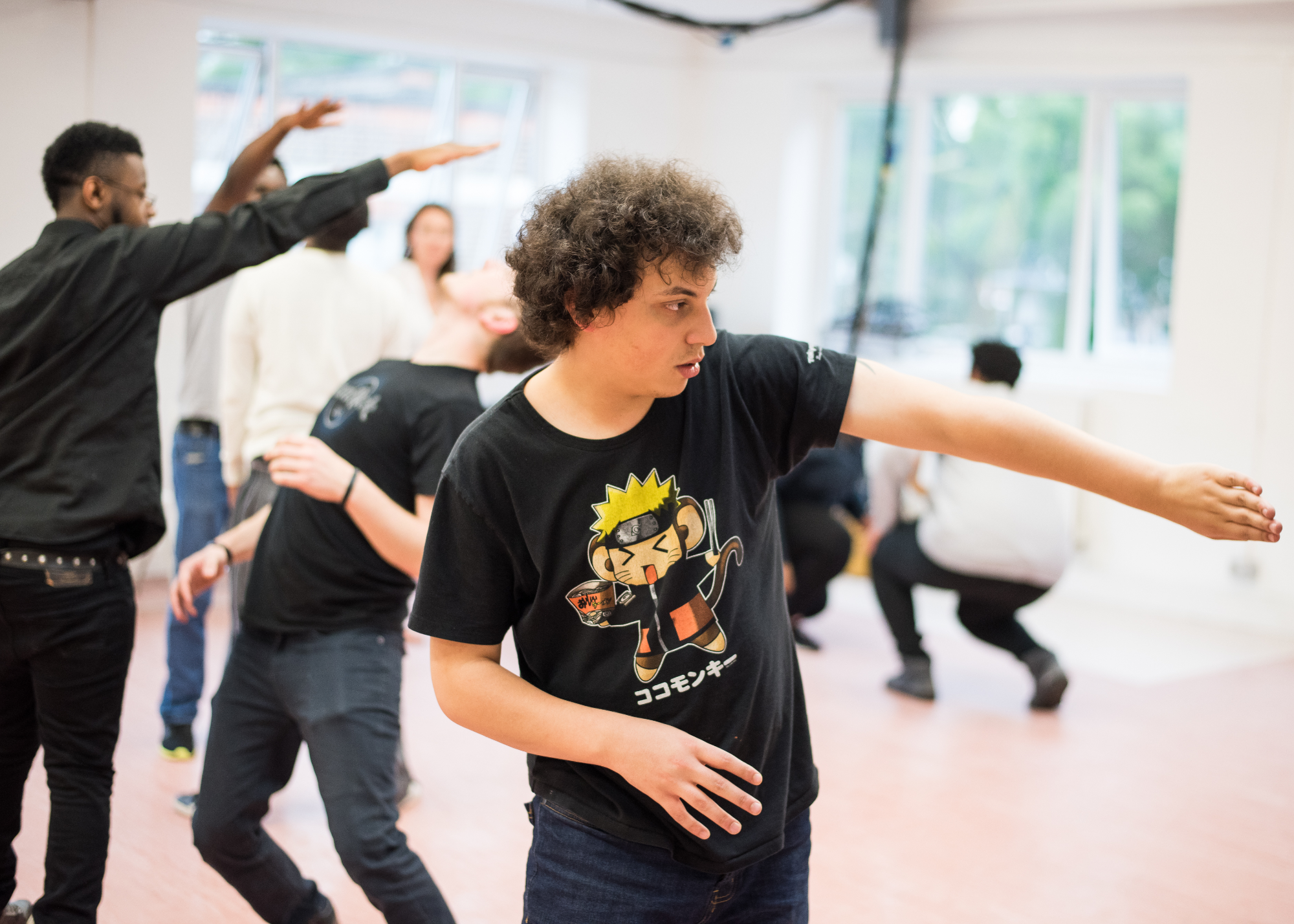 Any artist will tell you it can be a bit of a disappointment when work you are proud of doesn't get seen by a huge audience or take the international press by storm. However, when your artform is making small scale plays with young people in the criminal justice system, your expectations adjust, and it's exciting when ten members of staff from the upstairs office pop down to see what you've been up to!
Imagine their surprise when they step into a fully blacked out room and a small group of highly vulnerable young people present a cutting-edge contemporary story exploring the dilemmas that dominate their lives and minds, complete with lighting and sound. Imagine the surprise of the young people when they hear rapturous applause and engaged discussion from professionals who work with them, based on the theatre they have just presented. It's a joyous atmosphere that sees power dynamics shift, and the players and audience interact on a level playing field.
Creative Voices is a five-week programme that culminates in this way. London Bubble have now delivered twelve iterations of the project over the last four years. Every single time, we witness the young people experience a flicker of pride, however unexpected.
Through creating the characters, developing the storyline, improvising the scenes and deciding on lighting states and a soundtrack, these young people must listen, connect and work together. Not only are they engaging in communication, they are exercising their social and emotional skills, talking about their feelings, and applying empathy. They are reflecting on the world as they experience it and using their expertise productively to entertain and inform. Where else do these young people have a space to engage in debate, to raise topics of interest to them, be listened to and heard as well as gently challenged by supportive adults?
I am constantly amazed by what is achieved in such a short amount of time as well as the complexity of the stories our groups choose to tell. My hope is that they feel heard and valued as citizens, as collaborators, and as creatives, and that this may fuel them to form a wider view of the world as they move forward in it.
Taking off coats, removing earpods, staying until the end, smiling, laughing – even just speaking – are the tiny indicators that we look for week by week. The small signs that show us these young people are opening up; that they are engaged, relaxed and more comfortable expressing themselves. The team from London Bubble thrive on these moments.
When we think about the art we make through the Creative Voices project, we can't judge it on ticket sales or bums on seats or reviews. We must value the impact upon those involved both as artists, participants and audience members. I firmly believe that some of my best shows have been performed in the back room of a council Youth Offending Service building to an audience I can count on my fingertips. Of course, it might be considered a shame that more people can't share in this, but perhaps the intimacy is part of the magic.
Thanks to A New Direction's Challenge London investment, we are now able to go beyond the anecdotal evidence we've been gathering for four years and engage a team of researchers and economists to measure the impact of this project across a sample of participants. We hope this research will be significant in the participatory arts sector and help our peers find a vocabulary to advocate for the great arts work we know is done in the youth justice system around the country. The first step of this research has been to conduct a Rapid Evidence Assessment with reference to existing research in this field. Already we know there is a gap in research regarding arts provision with young people in non-custodial settings in the UK.
Next time I tell someone I direct theatre for a living, and they ask if I have done anything in the West End, with pride I'll reply that I make work alongside young people in the criminal justice system and that although they will probably never see it, the impact of the process on the individuals involved has been proven to be beneficial. At least I hope that will be the case, but even if not, it will still be a vital step in my learning, in the future of London Bubble's partnership with Southwark Youth Offending Service and in the development of our sector.
---
London Bubble are one of a number of organisations receiving investment via Challenge London – our 4-year partnership investment programme supporting cultural education across our city.