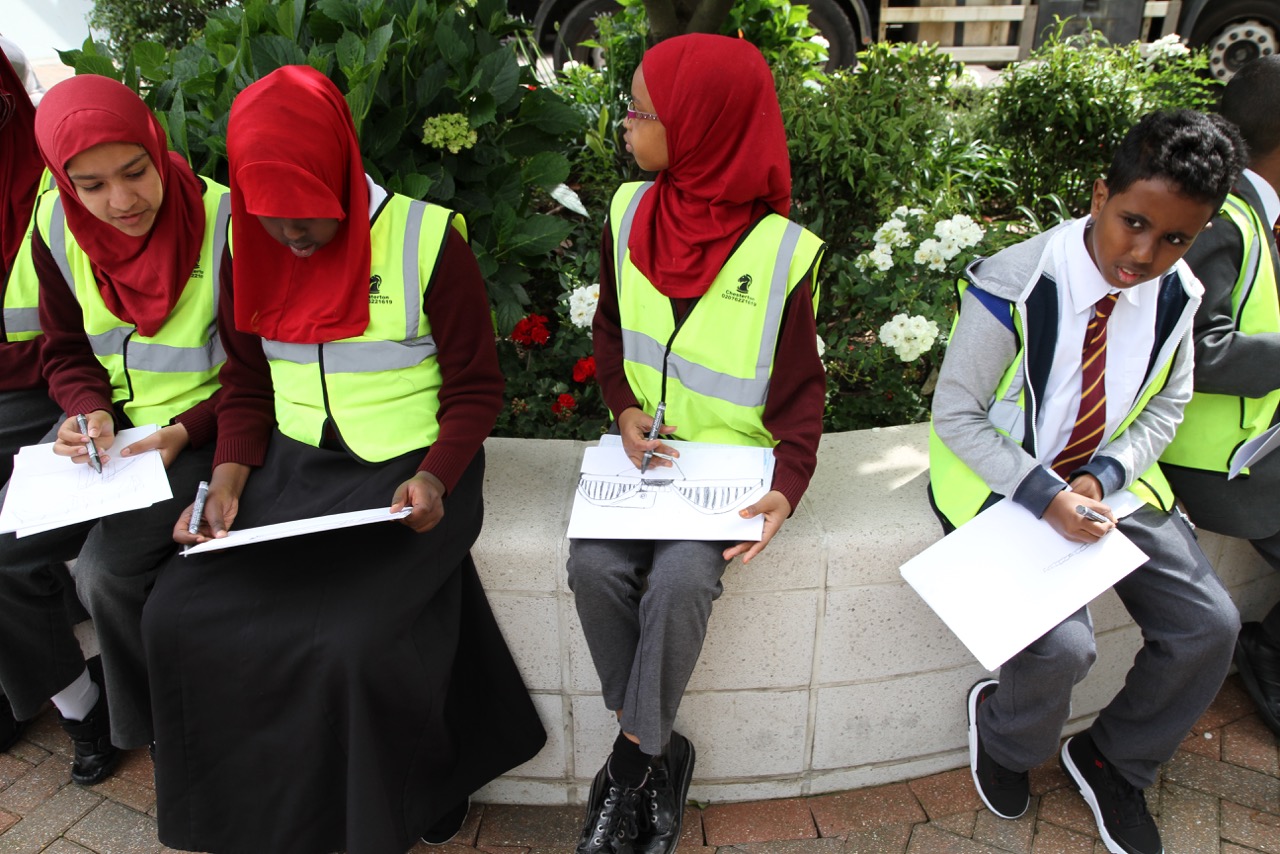 Picture credit: pupils from Chesterton Primary School working with artist Anne Harild at Grosvenor Arch - Photo credit Anne Harild
Nine Elms on the South Bank is a new area of redevelopment between Lambeth Bridge and Chelsea Bridge. The area straddles the boundaries of Wandsworth and Lambeth and encompasses several smaller 'districts'. Over the next 10 years, the physical landscape of the area will change significantly. The current plans forecast 29 redevelopment sites, 18,000 new homes, 2 new tube stations, 2 embassies, 6.5m sq.ft. of commercial space, 30,000 sq.ft. of social infrastructure...but redevelopment isn't just about space, it's also about people. After construction there will be 25,000 new jobs, and the Nine Elms Cultural Strategy aims to create a wealth of venues, parks, public art and festivals.
Alongside all of this, we ask ourselves, what will change for new and existing communities? How will they engage with the new public spaces, infrastructure and culture that will come through the regeneration?
Cultivate is a creative education project for young people, part of a cultural and place making programme focused on the Nine Elms regeneration area. The Cultivate project asks: 'Can good quality projects help young people access culture & place-making of Nine Elms, and gain benefits for their learning and careers?' The main goal of the programme is to shape and harness the impact that the public engagement work linked to the regeneration will have on young people locally, and to celebrate and showcase this nationally to ensure that young people living in Nine Elms feel a sense of ownership and pride in their changing local area.
Cultivate also wants to guide young people to find out more about local arts, culture and place-making, and through doing so, be inspired by the range of professional choices on offer in the creative industries.
Cultivate is conceived and managed by lead partners Enable, leisure and culture providers for Wandsworth Council, and made possible by investment from A New Direction, Wandsworth Council, the Nine Elms Vauxhall Partnership, and developers working in Nine Elms. The coordination and evaluation of Cultivate is overseen by cultural heritage and experience design consultants, Flow Associates (Flow).
Cultivate offers a range of services to our cultural project delivery partners, including brokering relationships between partners and offering ongoing support to developers' cultural consultants, schools and local cultural organisations. Cultivate has developed a series of tools that make up a Quality Framework and we offer this resource to our delivery partners to help them plan, deliver and evaluate cultural projects more effectively.
The third service we offer partners is communication between projects, sharing best practice and celebrating successes. The team has also been working closely with Enable and the Council's careers service, BEST Wandsworth and Young People's Services to help fill gaps - such as providing information about careers in the creative and cultural sectors.
Since commencing our activities in November 2015, we have supported the development of six different developer-led projects - working with schools, as well as delivering a series of three self-initiated participatory artist commissions entitled 'Exploring Nine Elms', involving a total of more than 600 young people in cultural and place-making related projects linked to the regeneration of the local area.
August 2016 sees the launch of a short 6-minute film about Cultivate, made for us by local video producers and social enterprise, Chocolate Films.
In addition to the project website and blog, we have also set up and maintain an active Twitter account (@Cultivate_ldn) to communicate with the wider public and a Pinterest board to gather and share ideas for projects.
The Cultivate Programme is funded until March 2017 and will continue to offer support to new and existing developer-led cultural projects during this period. We are currently consulting with teachers at local schools on how best to deliver our 'Cultivate Routes' project, the strand that aims to raise awareness and provide information about creative and place-making related careers. We are also seeking additional funding to extend the programme further, in response to positive feedback from our current delivery partners.
Central to the Cultivate Programme is an ethos of collaboration and dialogue around the way we plan and deliver our activities. We have been building an advisory network of Cultivate Ambassadors (our school partners) who contribute to the development and planning of the project. We also liaise regularly with the developers' cultural consultants and local cultural organisations, to share information and progress updates. This has provided us with a wealth of information invaluable to our planning, allowing us to be flexible and responsive to the changing needs of our stakeholders.
Cultivate is a very ambitious programme, so it is unsurprising that we have faced a range of challenges. Communicating the purpose and value of the project to potential partners and stakeholders is not the least of these, but it's one that we hope the new Cultivate film will help with.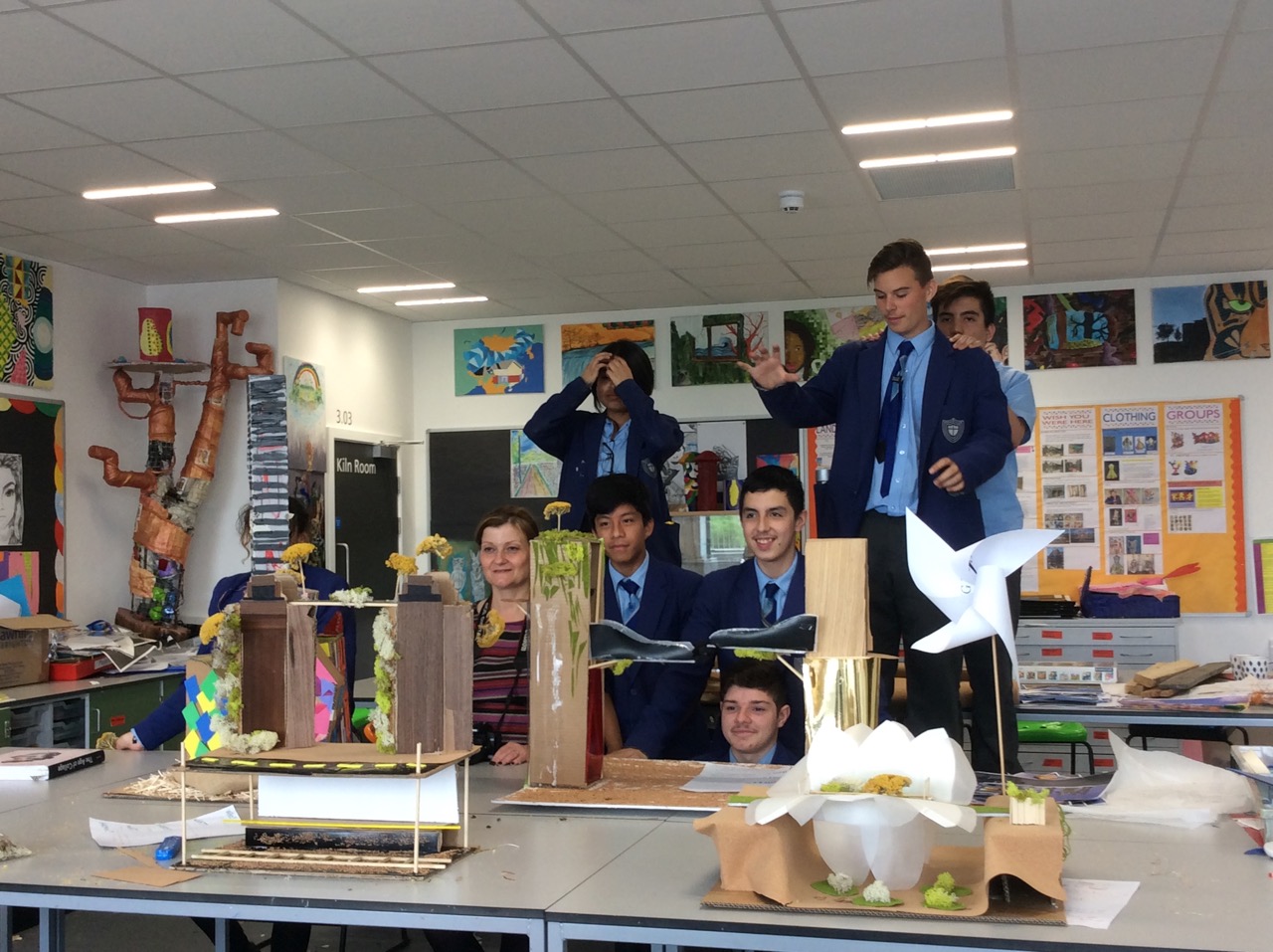 Pupils at St John Bosco College, working with architect Wendy Smith - Photo credit Bridget Mckenzie

Quotes from delivery partners:
"Being involved with Cultivate has provided hugely beneficial resources in finding ways into local schools, getting buy-in from teaching staff and providing us with information on best local learning contacts."

Anna Ramsay, UP Projects, Cultural Consultants for Berkeley Homes




"… A big thank you for the 'Exploring Nine Elms' project…I think the students benefited massively from working with Wendy with her architectural knowledge and passion to share her experience."

Francesca Charlesworth, Head of Art, St John Bosco College