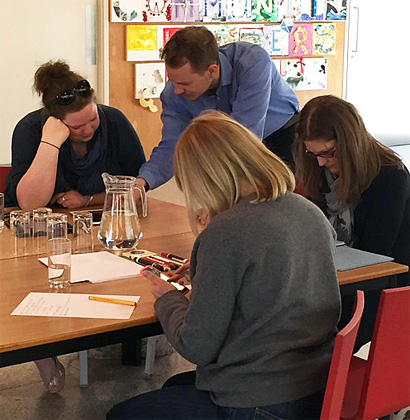 In a world in which we are constantly connected and are making new connections all the time through social media, young people's views have been transformed by the technology they have at their fingertips. What does this mean for our future and how best can educators help young people to become the leaders of tomorrow?
With the General Election less than a month away the Teachers' Forum on 23 April grappled with how to bring out the best in our young people. Jonathan Birdwell, Head of the Citizenship and Political Participation programme at Demos led teachers in an exploration of the current thinking and research about political engagement and social action amongst young people. The discussion centred on findings from 'Introducing Generation Citizen' which presents research about young people aged 14 - 17 and their social engagement. The focus of the session as a whole, however was entirely cross phase and the participating teachers discussed how the ideas put forward by Jonathan Birdwell could be incorporated into their teaching.
To launch the session, participating teachers were given the opportunity to try out Verto - a voter advice tool created by Bite the Ballot working closely with Demos. Verto was created to help inspire the largest turnout amongst young voters (18 - 24) by providing a fun and accessible way for younger voters to understand the different parties' stances on a variety of issues and gain a deeper understanding on the complexity of issues. You can have a go on Verto until election day or you can read more about it on the Bite the Ballot website.
Jonathan Birdwell then went on to present the findings that provided the foundations for the session. He suggested that teenagers are motivated to make a difference in their community but the tools they use and the approach they take is different from those of previous generations. They do not rely on politicians and others to solve the world's problems, but instead roll up their sleeves and power up their laptop and smartphone to get things done through crowd-sourced collaboration. They value bottom-up social action and social enterprise over top-down politics. As digital natives, they are accustomed to speed and responsiveness and desire a politics that engages them at the same pace. If given the right opportunities and support, today's teenagers might just transform our notions and expectations of active citizenship.
The key points in the presentation which you can download (below) in full were:
● 80% of teenagers felt that their generation was more concerned about social issues than previous generations
● 35% of teenagers felt their generation was more interested in 'politics'
● 71% of teenagers & 84% of teachers believe that social media and new forms of engagement can be just as effective as traditional forms of engagement
● 81% feel they are negatively represented in the media
● 77% cited that the ethical record of employers matters to them
"There is a huge shift taking place in how young people are responding to their society; the next generation of teenagers already has the potential to lead a revolution in active citizen engagement. By all accounts they are doing this despite facing a number of difficult challenges. It is time that we as a society recognise this and give credit where credit is due, and support where support is needed. Our future depends on it."
The areas of support or shifts needed to make this happen were identified as:
● Policy makers & the media should lead the way in establishing a new, more positive narrative about the next generation
● Social action should be at the heart of each young person's experience. Volunteering and social engagement brings with it a plethora of benefits.
● Teachers need more support particularly within their schools. The number of young people taking part in social action is still unevenly spread throughout the country with the majority of organisations delivering opportunities outside of school. Partnerships with schools are crucial to success.
The project ideas generated by forum participants can be downloaded below.
Download Engagement and the art of social change - project ideas & useful links