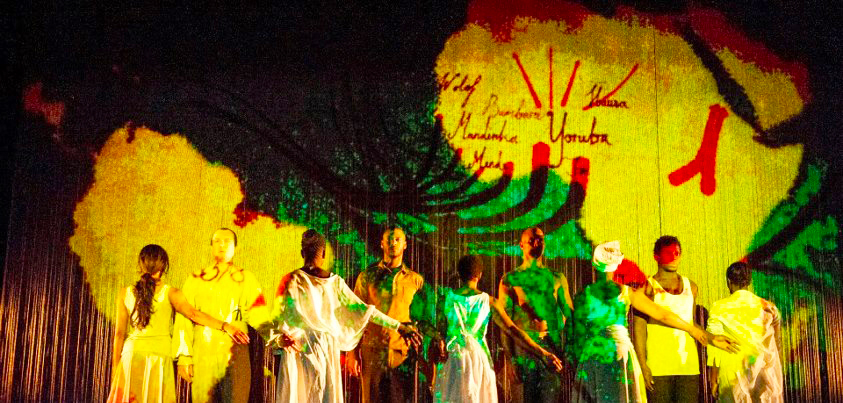 (Image credit: Feast's official Facebook page)
One of the most exciting things about living in the largest and by far most cosmopolitan capital in Europe is the feeling of being constantly connected to the rest of the world. When I reserved tickets to see Feast by Director Rufus Norris I knew the experience would strengthen this feeling.
My expectations were exceeded when I realised that the performance was able to do far more than that, sparking a number of insights on the powerful role that art can have in celebrating ethnic diversity and strengthening awareness of our own (and others') cultural heritage.

A co-production of the Young Vic Theatre and Royal Court Theatre, 'Feast' traces the journey of Yoruba culture and religious belief system across the world, as it spread through the diaspora of West African populations from the abolition of the Transatlantic Slave Trade to modern days.
The story is centred around three characters who are also key entities ('Orixás') in the Yoruba cosmology –Yemanjá (goddess of the sea and mother of all living creatures), Oxun (goddess of beauty, fertility and fresh water), Oyá (goddess of the wind, thunder and lightning); they are joined by the irreverent figure of Exú, guardian of crossroads and spirit of trickery and chaos.
We follow them and their influence unfolding in the human world through a journey that takes us to the most disparate and seemingly unconnected realities across five different countries - from 18th century slave trade ridden Nigeria to post 2012 Olympic Games London.

From a sensory point of view the production is nothing short of a feast. The incredible use of projections suggesting the transformations of Exú into its various human forms, the heartbeat of drums accompanying the call and response of African chants, through to the aroma of the food cooked during banquets that each of the five stories in the plot culminates in make this production one that is very hard not engage with, regardless of your cultural heritage.
From an intellectual point of view, the plot is dense and extremely layered, touching on a variety of themes including freedom, social mobility, language and family dynamics, ultimately all converging to the same question of what it means to be African.

Feast is part of a series of performances produced by World Stages London, an initiative which sees eight leading London venues (Battersea Arts Centre, Bush Theatre, Lyric Hammersmith, Royal Court Theatre, Saddler's Wells, Theatre Royal Stratford East, Young Vic) working with UK and international companies to create performances that celebrate the capital's diverse cultural community. By vividly articulating the essence of what it means for a culture to survive through space and time, there is no doubt that Feast lives up to the spirit of this initiative.

And it would be hard to think of a more appropriate place for it than London, given that the city itself truly is a world stage.
One only needs to take a quick glance at the recent Census figures to realise that the capital is by far the most ethnically diverse geographical area in the whole of the UK, with only 60% of the population classifying itself as being of white background compared to 94% nationally and above average proportions for most minority groups particularly African, Indian and Caribbean. Over 300 languages are spoken in London and data from GLA shows that more than 100 different languages other than English are spoken by pupils at home.

Over the past 20 years the ethnic profile of the city has also been steadily changing and continues to do so. If it's true that we tend to engage best with what we identify, perhaps more so than any other context London has the potential to be a place where art becomes a key vehicle to cement identities and promote cohesion – both within and across cultures.
From my point of view, there was something very humbling and indeed special about being one of the few white faces in the Young Vic's auditorium last Saturday, realising I could only really understand half of the references to African culture that were made and yet still feel I was part of the journey.

One of the key insights for me was that performances such as Feast are a powerful way of encouraging young generations connect with and reflect on their own heritage.
As one of the characters in Feast reminds us at the beginning of the show, according to the Yoruba belief system you can only be who you really are – your 'Onri' (in Yoruba language), that is your ultimate essence, your true self. By getting to know who you are, you will also know where you have come from.
As playwright Obisesan (who was responsibile for writing the segment of the play set in Nigeria) recently told the Guardian "When you step out of the household [in Nigeria] you're not just a representation of yourself as a human being, you represent the whole family, the house you were brought up in. You represent your ancestors."
In the wildly diverse and ever-flowing reality of London, it is clear that Feast calls for new generations to get to know and reflect on their own roots in a way that textbooks very rarely manage to do.

The success of this and other pieces of work created as part of the World Stages London programme has been remarkable. The overwhelmingly positive response from the public (70,000 people are estimated to have seen performances from its programme in 2012) and from the creative industry meant that World Stages Londonhas gone from being a one-off initiative to being one that will continue in 2013 and beyond.
Having had the pleasure of seeing Feast, I am excited at the prospect of this and other productions continuing to contribute to celebrate the capital's diverse cultural scene in the months to come.