Free cultural training programme
Arts charity IdeasTap has launched a free cultural training programme for young people with organisations including the Royal Shakespeare Company, Matthew Bourne's New Adventures and physical theatre company Complicite. Read more

Youth Music funding

The Youth Music grant's programme provides funding for organisations enabling them to transform the musical experiences of young people. To find more about the programme and application deadlines, go here

Big Deal Creative Network

A professional development opportunity for young artists and creative producers aged 14-30, led by Studio 3 Arts. The network offers a regular facilitated space for young emerging producers and artists from any artform to share practice and collaborate with artists and creators from different disciplines.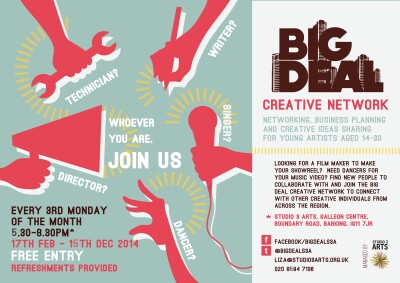 Green Light To Opening Night
Into Film has launched this pioneering new project that enables children and young people from across the UK to follow films from inception to cinema release. Read more
Internships in the arts
A blog from the Guardian Professionals Network that aims to rethink how young people break into the arts industry in the UK. Read more
'Teachers must sign up for drama and sport'
Participation should be included as a formal aspect of a teacher's contract of employment, says a report from the All Party Parliamentary Group on social mobility. The report also embraces the idea that schools should be more than just "exam factories" and place greater emphasis on building their pupils' character and resilience. Read more
London's Creative Industries and the Big Society: What's the Story?
BOP is looking for voluntary/community cultural organisations within the creative sector to know their views on London's creative industries. Read more

Artists working in participatory settings
A survey that seeks to understand and develop support for artists working in participatory settings. This survey is interested in response from practising artists from all artform areas, who may engage to whatever extent with individuals, groups and communities through their practice. Read more
Meeting Points
The Garage is running an event aimed at practitioners and organisations that require more support to engage with the many and growing cultural communities in the region. Read more
---
Like this blog?
We send out a monthly digest of all our blogs, news and updates - sign up here to receive straight to your inbox - www.anewdirection.org.uk/newsletter
You can also follow us at @A_New_Direction