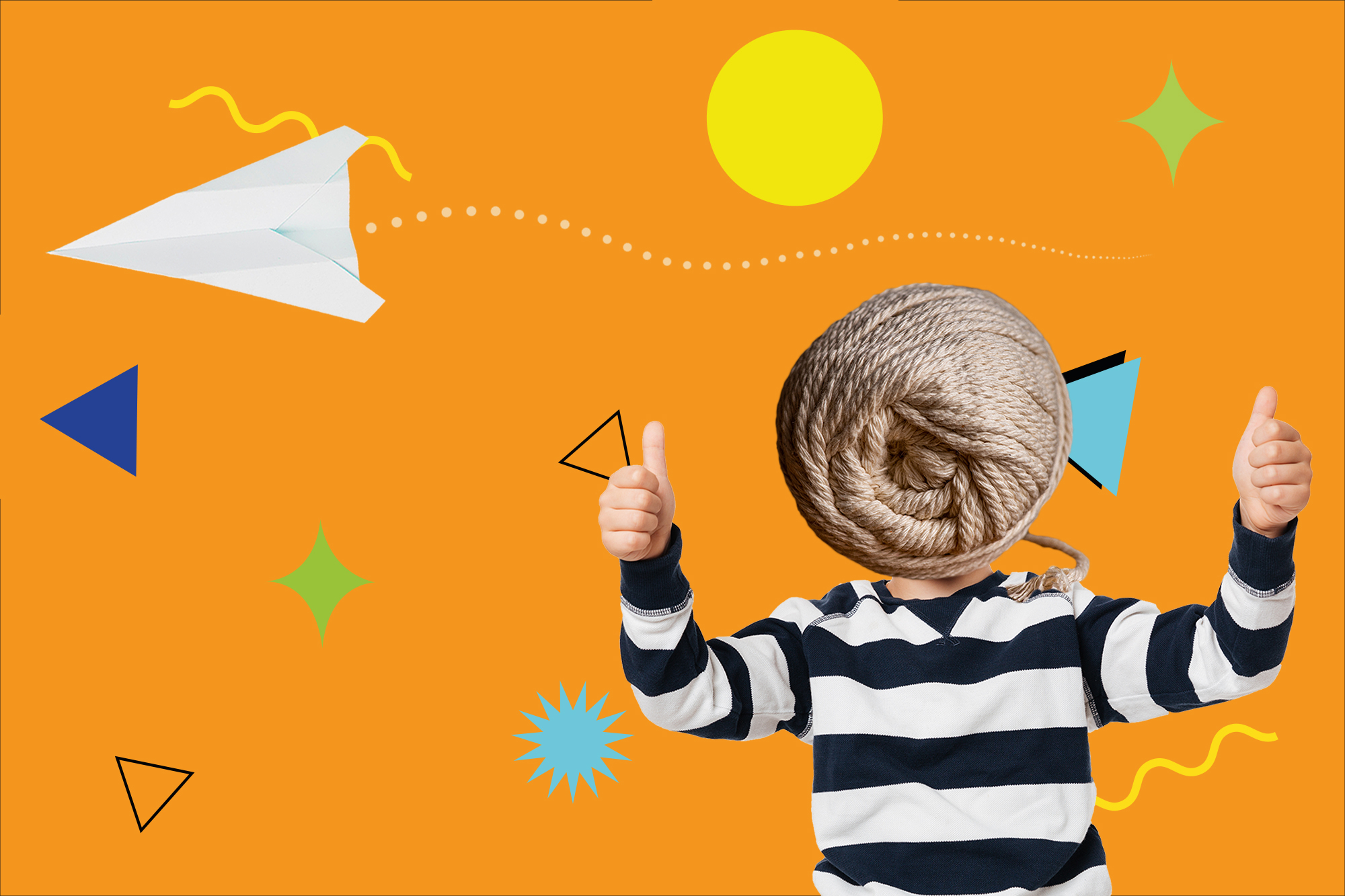 As the days get shorter and the autumn weather takes hold, we're inviting families to get crafty at home with a digest of fun hands-on activities that will hopefully stop your kids bouncing off the walls!
Turn something old into something new
You don't need to buy loads of new materials to start crafting – why not take a look at the things you have around your home. For example, you could gather your children's old toys together and make a wind chime with this resource from Walthamstow Toy Library & Play Centre and Scribble & Smudge.
Have you got some old clothes you no longer wear? Or perhaps clothes your children have grown out of? Why not have a go at cutting up old t-shirts to make yarn, and learn how to knit! Pick out the fabrics which have interesting patterns and textures, and ask your children to imagine what clothes might look like in one hundred years' time. Use your scraps of fabric to design fashions of the future with this resource from the House of Illustration.
Next, try raiding the recycling bin to make something that floats or build a stool from paper cups. Plastic bottles can be turned into flowers with this tutorial from Arts Generation, or a lion mask by following the steps in this video from Art Hoppers.
Use your imaginations
Stretch your children's imaginations by asking them to create their own models and invent a game. Get inspiration from this video by Little Inventors, where artist Anna Bruder shows you how to make up your own game with a ball and stick. Once your kids have invented and mastered their game, get involved by moving the pieces around, adding obstacles and creating new rules to make it more challenging each time you play!
If games aren't your thing, why not have a go at creating a pocket theatre and put on a miniature show with this guide from Little Angel Theatre instead. If you want to go bigger, they also have a range of tutorials for making puppets which you could use to perform your kids' favourite stories.
Get making outside
Don't be deterred by the change in the weather – artists often use nature to inspire them, so wrap up warm, get outside, and be inspired by the autumn colours. The William Morris Gallery and Vestry House Museum have lots of ideas for outdoor craft projects, such as creating a woodland scene and making a model of a bird. If the weather is truly terrible you could always resort to spotting birds in the garden or outside on the street!
Natural materials like leaves and twigs make great materials for crafting. Open Spaces have some great online video tutorials for making eco art to get you started. You could even have a go at making your own paint brushes with this how-to guide from Crafts Council.
Finally, take a walk around your neighbourhood and inspire your children to have a go at designing a community garden using this resource from House of Illustration.
Go further…
If you've enjoyed the activities above and want to go further, you can try some of these easy to follow activities:
Have you crafted something that you're particularly proud of? After a busy week of boredom busting, be sure to share your creations on social media and tag @A_New_Direction (Twitter) or @anewdirection_ldn (Instagram). We look forward to seeing your brilliant creations!
---
This edition of Boredom Busters has been designed to work alongside our Let's Craft art packs, delivered in partnership with Crafts Council and Arts Council England.
This half term, we have distributed packs to 2,500 families via Kitchen Social's network of community hubs. All packs include a variety of arts and crafts materials, along with a selection of the resources linked above.