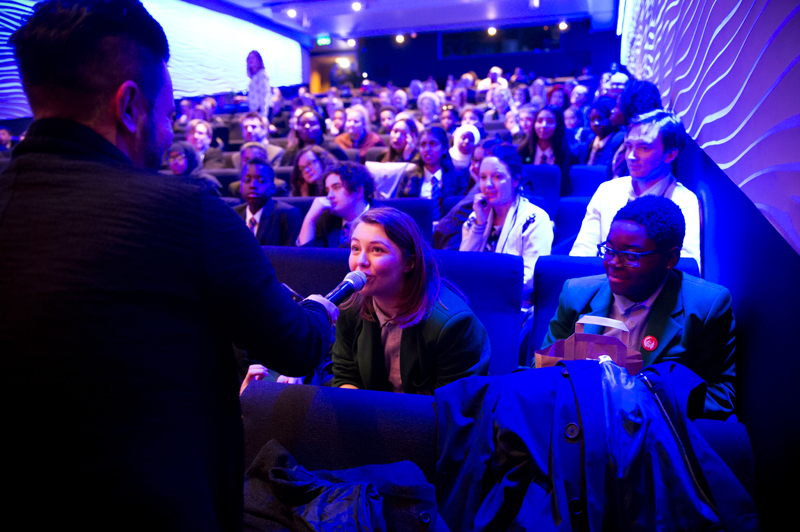 (Photo: Roger Brown for A New Direction)
70 young people from the London borough of Barking and Dagenham joined some of London's leading arts and cultural organisations at the Barbican yesterday (Monday 28 November) to take part in the 'Culture Gameshow', launching the London pilot of the Cultural Citizens programme.
They experienced a range of fun, TV-style Gameshow activities with arts and culture as the theme, before taking part in a treasure hunt around the Barbican.

In August, Culture Secretary Karen Bradley announced three Cultural Citizens Programme pilots in areas of low cultural engagement. The pilots - in Barking and Dagenham, Birmingham and Liverpool and Blackpool - are designed to give at least 200 young people in each area increased access to arts and culture.
In London, the pilot is led by A New Direction (London's leading creative and cultural education agency) in partnership with the Barking and Dagenham Cultural Education Partnership, and delivered locally by Studio 3 Arts and Creative Barking and Dagenham.
A New Direction and Studio 3 Arts will be working with 300 young people from schools in Barking and Dagenham to co-design their own programme of visits and workshops across a range of art forms, with some of London's most innovative and exciting cultural organisations.
They will attend clubs with professional artists supported by local cultural connectors (a network of local adults engaging more Barking and Dagenham residents in the arts), and will achieve an Arts Award Bronze qualification, setting them off on a journey of discovery and ownership of their city.
London Live broadcast live from the event:
Organisations - want to get involved?
Cultural, arts or heritage organisations who wishes to get involved by offering a visit, trip, experience or opportunity to support the programme, can contact Helen Ball at Creative Barking and Dagenham / Studio 3 Arts.
Secretary of State for Culture, Media and Sport Karen Bradley said:
"London has some of the finest arts institutions in the world, and it is so important that young people can access the theatres, museums and galleries on their doorstep.
"The Barking and Dagenham scheme is one of three pilots in the country that will give hundreds of children the chance to enjoy our fantastic arts and culture, and inspire them to build careers in this sector.
"The arts should be available to everyone, no matter where they live or what background they are from, and the Cultural Citizens Programme is a wonderful way to open doors for young people across the country."
Steve Moffitt, Chief Executive of A New Direction said:
"This is an exciting opportunity to explore news ways for young Londoners to gain access to the best of arts and culture. We know that in the city, a young person's engagement in the arts is all too often determined by geography, wealth or luck. This new scheme looks to redress the balance, extending opportunities to see, visit, take part in activities, performances and opportunities that they may not otherwise have experienced."
Richard Russell, Chief Operating Officer, Arts Council England said:
"Through Cultural Citizens, 600 young people in areas where cultural participation is lowest, will benefit from access to some of the country's leading theatres, galleries, museums and practitioners. The scheme complements our existing programmes for children and young people, and we hope it helps to encourage a life-long love of the arts and culture, nurturing the next generation of artists and audiences."
Nationally, the programme will be initially piloted in these three areas and, if successful aims to be rolled out to thousands of young people across the country. It will be led by Arts Council England and delivered by A New Direction, Curious Minds and Kids in Museums with support from Historic England and the Heritage Lottery Fund.

More about the Cultural Citizens programme
The Cultural Citizens Programme is one of the key proposals from the Culture White Paper and will target areas where there is low cultural engagement. The pilots will explore how arts and cultural organisations can provide young people with cultural experiences and increase local engagement with the arts. Young people will be offered a range of cultural activities, such as free visits to local plays, behind the scenes access to museums and galleries, and exclusive trips to world class venues.
All the work will be accredited through the Arts Award so that young people will finish the programme with a qualification to help them progress to higher education or work.

More about the London partners
A New Direction
A New Direction is London's leader in creative and cultural education. We help London think, learn and work creatively, ensuring that all children and young people get the most out of London's extraordinary creative and cultural offer. Through our partnerships we create positive change across schools, education and communities to ensure that young people get the most out of London's extraordinary creative and cultural offer.
Studio 3 Arts
Studio 3 Arts makes outstanding art that is accessible, exciting and transformative, operating at the forefront of socially-engaged, co-created artistic practice. The organisation runs a creative venue for artists, communities and individuals and make work across North East London and West Essex, in all art forms, that creates real change, both in terms of art and society. Go to the website >
Creative Barking and Dagenham
Studio 3 Arts is the Lead Organisation for Creative Barking and Dagenham (CBD). CBD is part of Arts Council England's Creative People and Places programme. Creative People and Places is a national action research programme to get more people involved in the arts in places where evidence shows people are much less likely than average to take part in arts activity. CBD supports people who live in Barking and Dagenham to experience and be inspired by the arts. The programme is designed to test out new approaches to involving local people in creative things to do and see and inspire a lasting passion for arts and culture. Go to the website >
Barking and Dagenham Cultural Education Partnership
In Autumn 2012, Barking and Dagenham was invited to be one of the first three pilot Cultural Education Partnerships in the country, following the recommendations of the Henley Review into Cultural Education in England. It now operates as one of the seven Cultural Education Partnerships in London as part of Arts Council England's Cultural Education Challenge. Find out more >