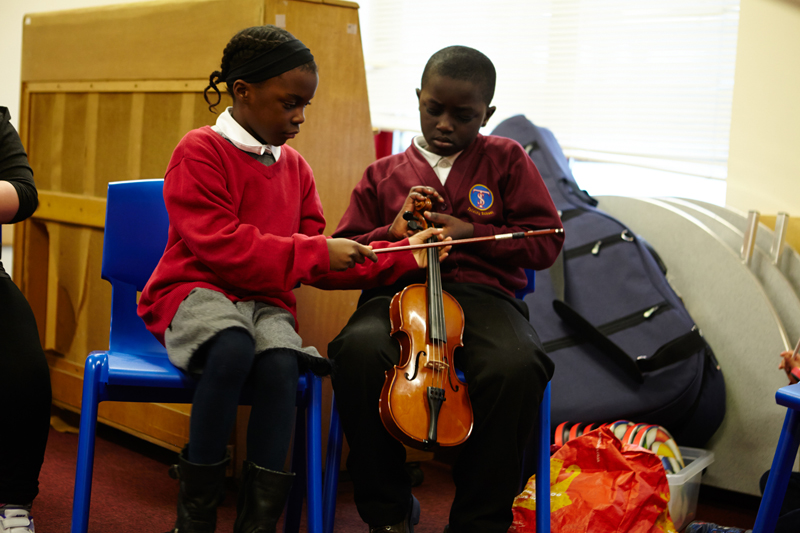 My name is Lucy Claire, I am a composer and soundscape artist. I am also a music practitioner who specialises in music for Special Educational Needs young people and I am incredibly excited to be involved in the ANDInclusive project at Tate Exchange. It is a chance for me to combine my two passions and roles, music education and soundscape composition.
My music practice with Special Educational Needs young people focuses largely on using computer music and recording technology to facilitate creativity, expression, communication and music making. Music technology makes music so accessible for these young people. Microphones are intriguing for all, and delay effects and exciting reverbs encourage non-verbal students to try producing vocal sounds. iPad music apps can help students with limited movement produce beautiful textures and solos whilst a wealth of synth sounds played on the keyboard instantly sound amazing, which motivates young people to keep playing where a traditional instrument might not hold the same attention.
Everything can be turned into an instrument, all sounds are music and most can be recorded. I love to encourage pupils to explore and experiment with anything in the room that might make an interesting sound. I am also fascinated by soundscapes from the natural world and different environments. A recording can transport a listener to a whole new space and can have a very therapeutic effect.
Many of the schools involved in ANDInclusive are taking inspiration from the Robert Rauschenberg exhibition currently being shown. His art work throws images and contrasting styles, textures and medias together. He was a phenomenal collagist, taking inspiration from everything and every art movement around him. He collected everyday objects, everyday images and juxtaposed them with other 'found' objects. Soundscape composition is exactly this; it is sound collection. It is turning everyday sounds into music. It is putting found sounds on top of other found sounds. It is juxtaposing exciting and unusual processed audio with rich natural organic sounds. It is music as a reaction to a space and time. A collage artist such as Rauschenberg is perfect inspiration for a soundscape project.
During my time with the young people at ANDInclusive @ Tate Exchange, I will be in sound collection mode - recording and gathering sound as the young people take part in Studio Wayne McGregor dance workshops, gallery visits, and moving through and around the Switch House and the Turbine Hall. Encouraging vocalisations and other sound and music based expressions and using music technology, I will capture the students' reactions. I will then work with groups to develop these sounds into a sound collage. We will use interesting audio effects to process these sounds and make them musical, creating a balance between the real world and the abstract. Each day we will start from scratch, creating a new soundscape, unique to the young people there. I'm excited about what might happen!
In addition to the work with the students, I hope the public will participate. I will be asking gallery visitors to leave behind a sound, a thought, a reaction. These left behind sounds will be added to the young peoples work. The public's participation in the young peoples' composition is incredibly important and their soundscapes and art work on display in the Tate Exchange over the week will help to raise the profile of these young people and celebrate their creative achievements.
I'm really looking forward to getting started and hope you will come down and make some sound with us!