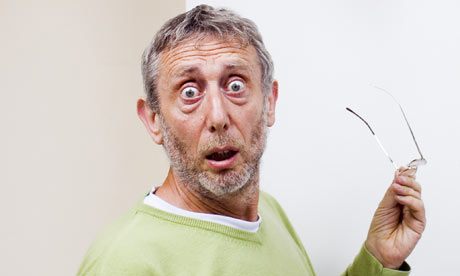 (Photo of Michael Rosen, taken from Guardian website)

This Friday (21 March 2014), the inimitable Michael Rosen, hero of children's literature, will launch The Poetry Potting Shed, marking the start of the 'Earth' inspired second season of Spoke, with plenty of free, fun activities for children and families.

Weekend activities for 3 - 6 year olds and their families
Come to the Poetry Potting Shed - pop in and meet Poet in Residence, Niall O'Sullivan, have a listen to some live poetry, get involved in a workshop, or contribute to the installation created by young local poets.
Dates: Saturday 22 March / Sunday 30 March / Saturday 05 April
Time: 11am to 4pm
Where: Timber Lodge Cafe, Queen Elizabeth Olympic Park See Map
No need to book, just turn up!
Download Potting Shed Family Flyer
For more information about the Poetry Potting Shed, go to the Apples and Snakes website

---
About Spoke
Spoke is the Queen Elizabeth Olympic Park's bold and ambitious poetry and spoken word programme for East London, which has already seen over 3,000 local people involved.

The new season is led by Apples and Snakes, and will see Poet in Residence, Niall O'Sullivan, running free activities and workshops in the potting shed for local families and primary schools until 04 April.
For more about Spoke, go to the Spoke website


---
Like this blog?
We send out a monthly digest of all our blogs, news and updates - sign up here to receive straight to your inbox - www.anewdirection.org.uk/newsletter
You can also follow us at @A_New_Direction