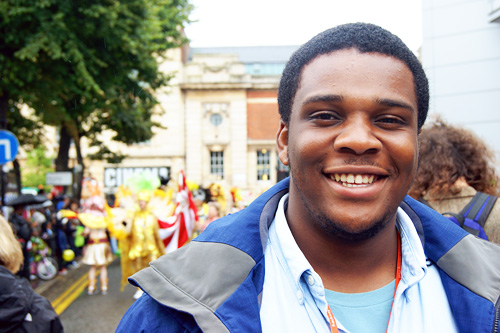 (Photo: Kelvin Ghann (24) Events Assistant Intern through Create Jobs at the Hackney Music Service - London Borough of Hackney)
It's a crisis, not the end!

Life goes on as they say! At Create Jobs, I would like to think we try to keep the hope alive, keep the optimism up because everyone deserves a 'career' job. We certainly want young people to feel enthused about their work, and demonstrate their ability and talent. Alternatively we want employers to feel they have the right employee for the job, a young person with potential and someone who wants to integrate into their team and organisation.
Part of the solution, not the problem
Create Jobs has successfully applied to the Creative and Cultural Skills' Creative Employment Programme (CEP) for wage contributions of £2,000 - £2,500 towards the creation of 50 paid apprentice and intern positions for young people who live in the Growth boroughs (Barking & Dagenham, Hackney, Greenwich, Newham, Tower Hamlets and Waltham Forest). The aim is to create pathways for young people into employment within the creative and cultural sector as well as diversify the work force.
The Create Jobs mission is:
To provide young people with a positive experience of working in the creative industry and cultural sector
To increase young people's employability
To improve young people's confidence and ability to progress their career aspirations
To promote greater diversity in the sector workforce
To provide a framework that supports a young person's career development
Apprenticeship or Internship
Apprenticeships are a year-long "earn while you learn" scheme aimed at non-graduates. Apprentices typically work 30 hours a week with a proportion of their time allocated to learning through training. There are lots of different types of apprenticeship frameworks including creative and digital, community arts, cultural venues and operations, technical and backstage, amongst many others.
An internship is a six month fixed term position where the intern fulfils 'worker status' through the activities they undertake and their contractual relationship with their employer. The intern works full time (35 hours a week) for 26 weeks.
So far Create Jobs has placed young people into various apprenticeships and internships with employers who are committed to helping relieve the youth unemployment crisis. In the past 3 months, young people have found employment through the Create Jobs programme as:
Later this month, 8 apprentices and 3 internships will be appointed with London Borough of Barking & Dagenham, Studio 3 Arts, Masquerade 2000, The Trampery and Oxford House.
---
Young and Employed!
Two young people who have recently started internships through the Create Jobs programme share their thoughts about their new jobs:
Nida Hussain (25)
Marketing & Communications Intern at Bow Arts Trust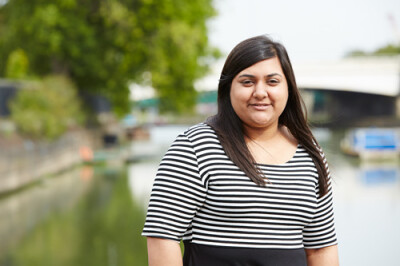 Nida supports the daily delivery of the Bow Arts marketing plan and engages with all communications and social media platforms to promote Bow Arts' messages and events.
What has been your experience of working with Create Jobs?
Create Jobs has been really good in helping me find internships within the arts. They have opened doors to smaller companies in my local area that I was otherwise unaware of.
What were you doing before you got a job?
Before getting this job I had done various unpaid internships or volunteering in the year after graduating from university. Just previous to this job, Create Jobs found me a work placement with a theatre company.
What is your relationship like with the employer?
I have a good relationship with my employer, and have settled in to the company and with all my work colleagues very well. I feel very supported as I have quite a good relationship with my employer and they have made me feel very welcome. I feel like I can discuss any concerns I may have with my employer and have clear goals set out.
Can you explain what a typical day looks like at work?
Work days vary (especially when we are working towards an event or exhibition.) A typical day would usually be spent working in the main office, working on the computer. Typically I would be checking emails, working on the company website and other social media platforms as well as meeting with my line manager and discussing any projects or specific work that needs to be completed.
---
Kelvin Ghann (24)
Events Assistant Intern at the Hackney Music Service (London Borough of Hackney)
Kelvin works between two services within the London Borough of Hackney - the Cultural Development Team and Hackney Music Service. He assists in the production of events for schools and the community, publicising activities and supports the delivery of the Hackney One Carnival and Discover Young Hackney.
Can you describe the creative element to your job?
I get to be involved in a lot of decision-making regarding forthcoming projects and potential pilots. I think this is great as it allows me to bring to the table all the ideas that I have stored up over the months and see them come to life.
What is the most common misconception about your job?
The job role is an Events Assistant role. It sounds glamorous and easy but its not. It is very enjoyable and satisfying, however there is a lot of hard work and staying late after work hours involved in the job role.
What is the hardest thing about your role?
So far I haven't experienced anything too difficult with the role, I receive a lot of support from colleagues, as a result, tasks are as stress free as can be. It is my first time ever doing a full time job, so the hardest thing that I have to come to terms with is pattern of waking up at a certain time and making it routine.
When did you decide what you wanted to do with your life and how did you set out to achieve it?
decided on 31st December 2012 what I was going to set out to do with my life. They say once you have finished university you know exactly what you want to do with your life. I don't think that is always true. Once I graduated I struggled in deciding which road to take. But I always was interested in Music and Events and wanted to pursue that as my aim for the year 2013. It wasn't easy and there were bumpy roads ahead, but I am here now and I think I've made major progress.
What's the one thing you wish you had known at the start of your career that you know now?
I wish I had someone to tell me to not give up and to give me all the support that I am currently now receiving. With this internship I have been giving so much support and 2 months in, I have gained so much skills and knowledge to add to my CV.
Which organisations/websites/resources do you think would be useful for people entering your industry?
I would advice others to seek help from their local community; this is because there is always help for young people with ambitions in the local community. That's where I found my internship and it worked for me.
---
Looking for work?
If you are 16-24 years, live in a Growth borough, unemployed and registered to the Job Centre check out the Create Jobs website for current job and work placement vacancies.
Can you create a Job?
We are currently looking for employers who fall under the Arts Council's cultural footprint who can create apprenticeship and/or internship roles for young people. If you are interested, please contact the Create Jobs team on 020 7608 2132 or createjobs@anewdirection.org.uk