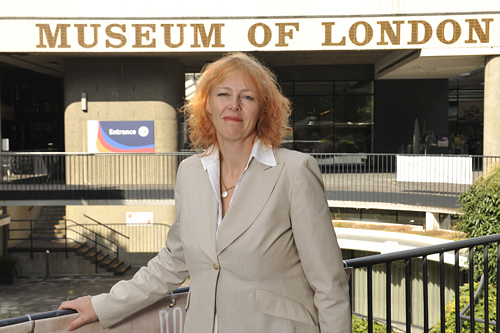 What got you interested in a career in the museums sector?
I have always worked for organisations that had a strong social purpose. From the early days of my career when I did publicity for a wide range of charities, through to working for a wildlife conservation organisation I realised that I could personally make a difference through the organisations for which I worked. That magical ability to impact someone's life, change thinking, stimulate discussion, contribute to understanding is all embodied in a museum. As I worked my way through a variety of cultural science-based organisations I came to the conclusion that I wanted to work for the Natural History Museum. Museums are places that have changed my life and places that I spend many hours in, so when I found a role in one of the world's greatest museums I snatched the opportunity and spent 12 years working to make it more popular and engaging. One of my final projects at the Natural History Museum was the Treasures Gallery, it has just opened to huge acclaim, what better way to end 12 years than to see a beautiful new museum space open and throbbing with people.
What does your previous experience with the Natural History Museum and your success in engaging people and visitors help with your new role at the Museum of London?
My professional life has been spent focussing on people, visitors, customers, donors, the media and all sorts of stakeholders. I will bring a big sense of those for whom we work to the Museum of London, it's what drives me, being meaningful and engaging for our audiences. I aim to bring focus to our activities, a focus that will enable us to have a large impact. During my time at the Natural History Museum I saw visitors grow from 1.84 million to 5.25 million. Albeit that there was a leap when we went free, the main growth has been because we focussed on creating dynamic, brave programming and delivered strongly for our formal and informal learning audiences. I'd like to bring out the inner bravery of my colleagues here at the Museum of London so that we become truly known for pushing the boundaries in all manner of ways. I want us to develop programming that truly engages and is challenging. I want us to more than double the number of people who visit us to 1.5 million across both our sites, thus achieving our mission better of Inspiring a Passion for London.
What in particular attracted you to the Museum of London and what do you want to achieve?
The Museum of London has a great subject matter which is all encompassing and is about the whole of this vibrant world city; its people, its history, its issues, its future. The very concept of London provides a breath of opportunity to engage with so many vital and interesting topics. Apart from the 1.5 million visitors, I'd like to see the Museum being at the centre of discussion and debate, I'd like to see us playing an even more fundamental role in the cultural life of Londoners from the very beginnings of their personal engagement with museums. I want the Museum of London to be a place of ideas and with this in mind we will be connecting better with academics and universities, I want us to foster interdisciplinary and multidisciplinary thinking that brings new insights and finally I want us to be more physically representative of this world-class city. At the moment when you look at the Museum from St Paul's the view is not reflective of a world-class museum.
Why do you think it is important for children and young people to get involved in the work of museums?
Museums have a wonderful ability to inspire children and young people, and to increase curiosity about the world around us. Teachers often tell us that they take their pupils to museums not primarily to learn new fact or to increase their understanding, but to motivate them about a particular subject and to encourage them to look at it from different perspectives. Our collections – 'real things' – have a magic that can't be replicated in schools, and are accessible to children regardless of their age or ability. It's the stories of the people behind museum objects that have so much power to connect with the everyday lives and aspirations of children. Museums are as much about the present and future as they are about the past. Museums provide a reassuring sense of place and community at a time when many children may be developing their own sense of identity and belonging. Museums are also fun, and we all learn more effectively when we are enjoying ourselves!
What's your take on the challenges faced by schools and museums in terms of effectively connecting or working partnership?
Bringing two different sectors together will inevitably present some challenges, different sets of priorities, timescales and vocabularies for example. There are also basics practical issues such as when people are available for meetings or telephone conversations. But in my experience the benefits, for instance in terms of creativity and learning from each other, of museums and schools working together far outweigh any of these challenges. Ultimately the most important thing for both museums and schools is how working in partnership can offer added opportunities for pupils and how these might support learning and enrich their lives.

Do you see the museum as being part of the education offer in London – what might this mean for teachers and students?
Yes, absolutely – last year we worked directly with over 100,000 pupils and the Schools section of our website received over 1.6 million page views – so we are already an important part of the offer and our cross-curricular programmes cater for children from the Foundation Stage to Post-16 students. London has an amazing number and variety of museums, but the Museum of London is uniquely placed to engage London's children with their heritage. The Museum is one of the largest urban history museums in the world and tells the remarkable story of the capital and its people from prehistoric times to the present day, and our internationally important collections include social history, archaeology, art and fashion. We are particularly excited by the role the Museum of London might play in supporting the development and delivery of the GLA's proposed London Curriculum.
What's your aspiration for how the Museum of London could build on its fantastic education work to reach out even more to schools/teachers and young people in the capital?
Our immediate target is be visited by, or run outreach session in, every school in London. However, I would like the Museum to be able to make a real impact every pupil in the city at some point in their school life. This is quite a challenge given that there are some 1.3 million pupils in London and the number is increasing every year, but as the museum for London, I firmly believe that this should be our ambition.