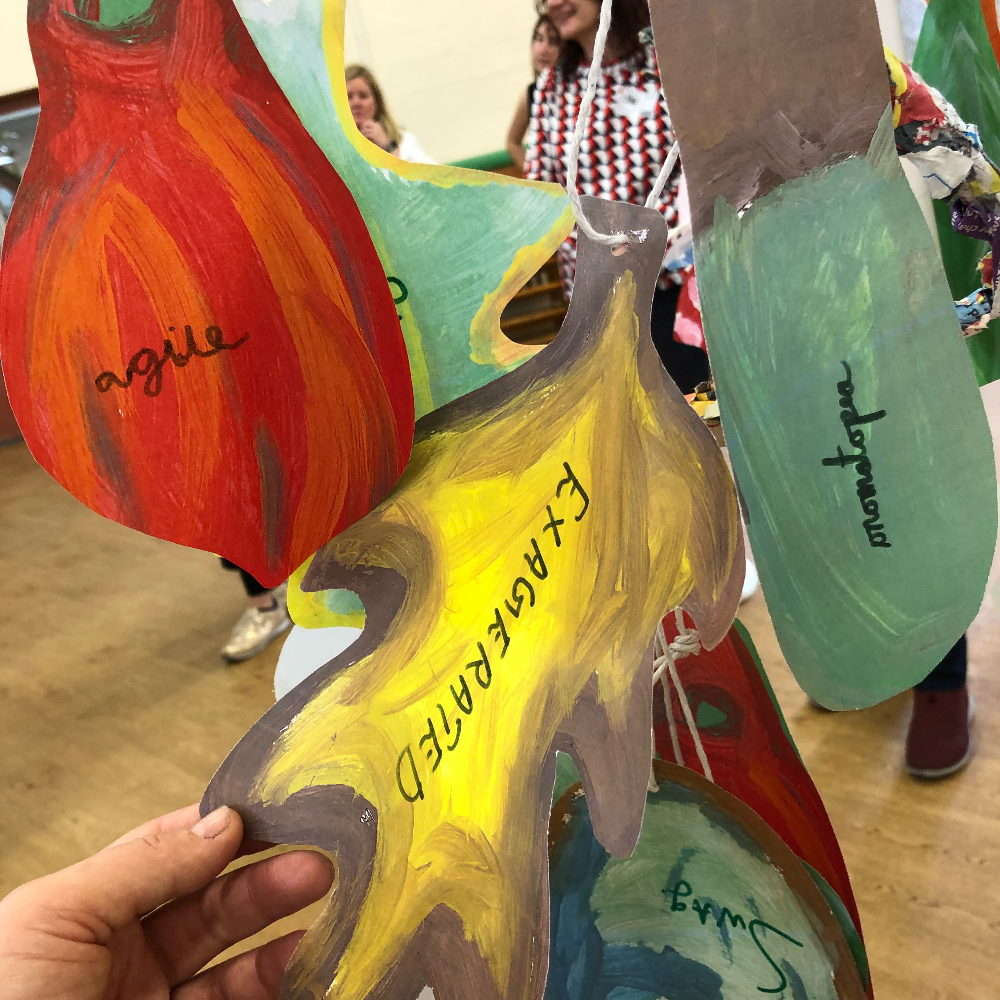 Daniel Nagre is a Year 4 teacher at St Peter and St Paul Catholic Primary Academy, one of the 9 schools who took part in the My Creative School programme. My Creative School was a joint initiative between A New Direction and The Education Commission, with funding from Paul Hamlyn Foundation, which ran across the 2017/18 academic year. It aimed to unlock the potential for teachers' practice, pupils and the wider school community.
Participating schools completed a Creative Catalyst Project - experimenting with new creative approaches to support the school in moving towards their chosen School Development Priority. St Peter and St Paul's project involved the children creating interactive forest soundscapes, and following on from the programme Daniel was inspired to continue this approach to creative learning.
Find out more below...
---
"My feet are cold," was the first thing a chilly Year 4 child said to me as we tried to re-live the Blitz in an Anderson Shelter. The day before, the same structure was used as a cave lived in by generations of Stone Age people. I thought back to when it all started, in the (much warmer) summer months when I decided to enrol in an NPQSL course. I didn't really know what to expect, but I quickly found out that there would be a whole school project involved which I would have to create, plan and implement.
Autumn came and the course started. I looked at our OFSTED targets, and thus our own, and decided that I would focus on writing, in particular deepening children's thinking and learning.
Now the time came to decide how I would achieve this. I was drawn to the idea of drama as it provides a vehicle for children's vivid imagination to be let loose. I also liked taking learning out of the classroom, and after picking up a few ideas from My Creative School, I decided that I wanted to create an Immersive Experience Day. After seeing what children could achieve using creativity as the main medium for learning, I wanted children to re-live key experiences - modern or historical - to increase their intellectual capital.
The tough bit was then deciding how I would resource this. Outsourcing drama workshops is expensive, and transforming a whole classroom to fit a given topic was time-consuming, resource heavy and unmanageable. So, I went on a hunt around the school to find a location to conduct my 'Experience Days.' This is when I saw the school shed. I inspected it, and after a lot of cleaning (and of course a risk assessment) finally managed to turn it into a child-friendly space.
The shed is a large wooden structure that measures roughly 10x12 ft. I now know it can fit 31 Year 6 children on 4 benches. I was initially worried about parental concerns, but all responses from parents thus far have been nothing but positive. The interior can easily be changed to create immersive environments: a Stone Age cave, Anderson shelter, Roman Barracks, even Father Christmas's Grotto for the PTA at Christmas! I use whatever props and objects I could find which relate to the topic at hand - for example, an old deer hide for the cave experience to add texture and make it more of a sensory experience, and candles to light the space giving an ambient and mysterious light. So much descriptive writing came out of discussing the candle's light alone!
The project is still in its infancy, but thus far the children have responded very well; all eager to find out when the next Immersive Day will be. Outcomes in writing have also been positive. I can already see examples of richer vocabulary being used, as well as better use of description as they begin to really use their senses to describe the experience first hand.
It's a great inexpensive resource that the teachers at my school will be using to create immersive environments all year round, and something I'd recommend other teachers try if they can. For those who don't have a shed at their disposal, I'd recommend keeping the location small. If it's too big, it's harder to transform and more resources will be needed. We all have a lot of work on our plates, so it must be manageable, but hopefully you'll find the results will be worth it.