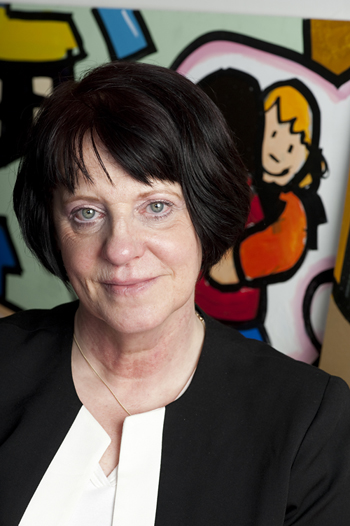 Maggie Atkinson became Children's Commissioner for England in March 2010, a statutory role in which she champions the interests of children in England, and across the UK for issues relating to asylum and immigration. Maggie was previously Director of Children's Services for Gateshead. She is past president of the Association of Directors of Children's Services and has chaired a number of national bodies relating to children's services (full biography below).

A New Direction's mission is to make London the best city in the world for young people's cultural and creative development. Our biggest challenge is that despite London's world reputation as a cultural powerhouse, not all of London's young people benefit from access to the capital's world class arts and culture, and that too often young people's engagement with cultural education and creative learning is dependent on wealth, geography or luck.
We are thrilled that Maggie Atkinson will be working with us as our Chair, to champion the rights of children and young people within this context.
She joins us at a pivotal moment, as we launch the Cultural Education Challenge, an innovative three year initiative designed to develop radical new approaches to revolutionise Cultural Education in London, with £900,000 of Arts Council England seed funding allocated for partnership working between 2015-18.
She will also spearhead the launch of Cultural Capital, a major inquiry exploring inequalities in the cultural engagement of disadvanted young Londoners, and will be available for interview to coincide with the Cultural Capital conference on 17 March 2015.
Professor Maggie Atkinson said:
'I am delighted to have been appointed as the new Chair of A New Direction as it embarks on the next stage of its development. London's children and young people live and learn in one of the world's most vibrant and cultured cities, and London is THEIR city – its history, artistic assets and activities are theirs to enjoy. AND has a challenging and crucial task in assuring they can access and grow within arts and culture, so both become second nature and lifelong joys. I look forward to chairing the AND board so the organisation - and thereby London's children and young people – flourish.'


Steve Moffitt, Chief Executive of A New Direction said:
'We are delighted to welcome Maggie as our new Chair, and look forward to working closely with her to illuminate the rights of children and young people in London, and achieve a more level playing field in cultural education with more relevant, accessible and impactful creative and cultural interventions and opportunities in their lives.'
For media enquiries and interview requests, please email Steve Woodward
Notes to Editors
About Professor Maggie Atkinson
Professor Maggie Atkinson has been Children's Commissioner for England since March 2010, and steps down from the role on 28th February 2015.
She led the Office of the Children's Commissioner following the strengthening of its role in the Children and Families Act 2014.
Maggie is a member of the Department of Health's Children and Young People's Health Outcomes Forum, with a particular focus on challenging England's many social inequalities and their negative effects on children's health. She is also a member of the ministerial task force on children and young people's mental health, and a peer inspector within HMIC's programme of police service inspections in England and Wales.
During that time she was the first solo President of the Association of Directors of Children's Services (ADCS) in 2008-09, leading the development of the 2020 Children and Young People's inter-agency Workforce Strategy whilst in that role.
Her ambitions include learning to speak and write Japanese, and doing more in the arts than her busy career has lately allowed.
About A New Direction

A New Direction connects children, young people and education with the best of arts and culture in London. We believe that together we can make London the best city in the world for young people's cultural and creative development.
We campaign for the value of arts and culture to the lives of all young Londoners, promote practical ways that schools and other institutions can develop cultural opportunities, and work with arts and cultural partners to ensure the highest quality in work with children and young people.
A New Direction is part of a national network of bridge organisations, funded by Arts Council England via the lottery. www.anewdirection.org.uk
Our research tells us that:
Children and young people from lower income households are less likely to engage with arts and culture.
Those who live in outer London are less culturally engaged than those who live in inner London and boys engage much less than girls.
Schools continue to be critical is sustaining a basic level of cultural engagement for young people but schools are increasingly struggling to prioritise arts and culture.
Economically disadvantaged young people are less likely to visit an exhibition or attend an event at a museum/gallery. They are also less likely to take part in music and visit historic or important modern places.
Young people on Free School Meals are 12% less likely to take part in an after school club than their peers.
London is the sixth richest city in the world but more than 1 in 5 pupils in London schools qualify for Free School Meals.
Two in five of children from the poorest homes are read to every day compared to nearly four in five of those from the richest families.
Nearly 50% of young Londoners have not been to a theatre performance, gallery or music event in the last year.
55% of young people in Outer London have seen an exhibition in the last year compared to 69% in Inner London and this pattern is reflected across the majority of art forms
Two in five schools do not believe that pupils' families involve their children in a wide range of cultural activities making schools a vital location for engagement with culture for many young Londoners. Young people from lower social grade backgrounds are more likely to cite teachers and school as introducing them to culture than young people from higher social grades where families typically play this role.