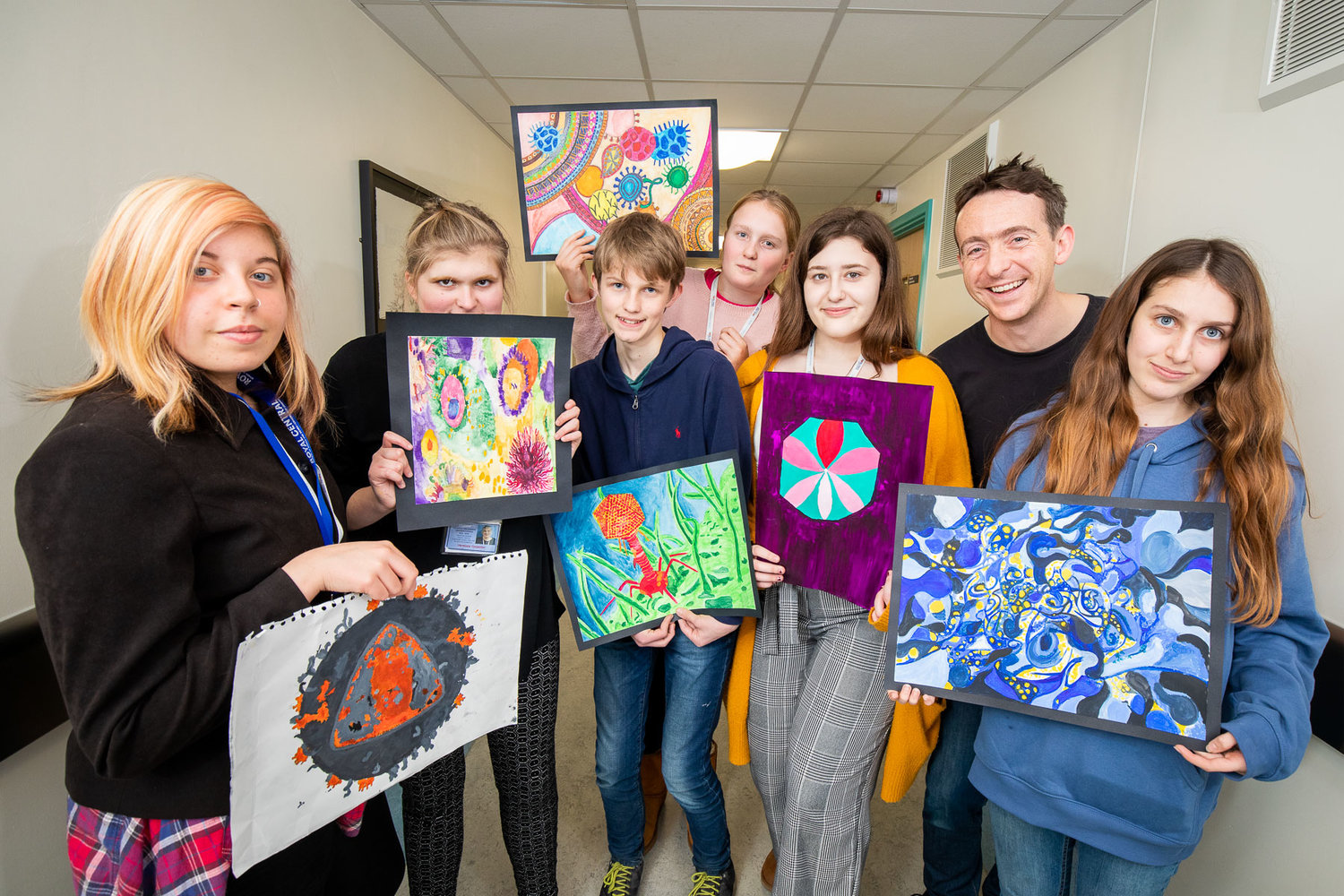 The Royal Free Hospital Children's School (RFHCS) is a community Special School for pupils aged 5 to 16 offering high-quality education for all children who are inpatients at the Royal Free Hospital. We also provide a limited number of places for secondary school children in our 'Day School', for young people who are not inpatients but who are receiving support from medical or mental health services and may benefit from attending our school on a daily basis. Our school operates within a multidisciplinary framework; working closely with a range of professionals including consultant doctors, mental health professionals, physiotherapists, speech therapists and other agencies.
As a result of Artsmark, our creative partnerships now form an integral part of our growing multi-disciplinary team. These partnerships help nurture the abilities of our pupils and share expertise with our staff. The development of the arts is at the centre of our provision, offering a varied and stimulating curriculum for our Day School pupils. Creative opportunities can provide a level of manageable challenge and a chance for self-expression that young people who have missed a significant amount of time at school desperately need. We value the arts for developing our pupils' social and emotional wellbeing, engaging them with a diverse range of cultures and providing them with enriching and inspiring experiences that could improve their mental health.
Our Artsmark journey provided us with extensive opportunities to develop our arts provision and expand our creative status, both in the hospital and in the wider community. As a result of our first 'Arts Week', which included a pupil-lead exhibition, scientists from a new medical research building asked our pupils to respond to their work into viruses and create artworks that will be used to promote the new Pears Building in Hampstead. The pupils' creative representations of viruses are now being exhibited on the hoardings of the building and on the hospital website. This cross-curricular partnership grew even further when the students were asked to create artworks that represented 2018, which were placed in a time capsule at the lowest point of the new site. The pupils were invited to the opening ceremony of the Pears Building as ambassadors for our art provision, and their achievements were highlighted in local newspapers. This was a significant moment in our Artsmark journey and a truly honourable achievement for our school.
The enrichment of the arts has seen both a rise in pupil attainment and the expansion of our practice locally and internationally. We have developed some high-quality teaching resources including our 'Thinking Cards', which use techniques from Cognitive Behaviour Therapy (CBT) and mindfulness. By identifying thinking patterns, the cards encourage young people to talk about mental health and to improve their mental wellbeing. The cards were developed by our senior leader, Mike Kelly, and were recognised with a visit from one of London's Deputy Mayors in May.
During our Artsmark journey, we also embarked on the Erasmus programme, where school staff and governors were given the opportunity to travel to Finland and learn more about the key values of their pioneering education system. Whilst there, they also shared positive aspects of our own UK practice with Finnish teachers, including the 'Thinking Cards'.
Being awarded Artsmark Gold was a phenomenal achievement for our hospital school, after being awarded Artsmark three years ago. It provided us with the recognition of how much we truly value the arts in supporting vulnerable young people to access education. We believe this is the beginning of many more ambitious developments for the arts in our school, and we look forward to embarking on our journey to Platinum very soon.
---
Image credit: Virus vs Antibody