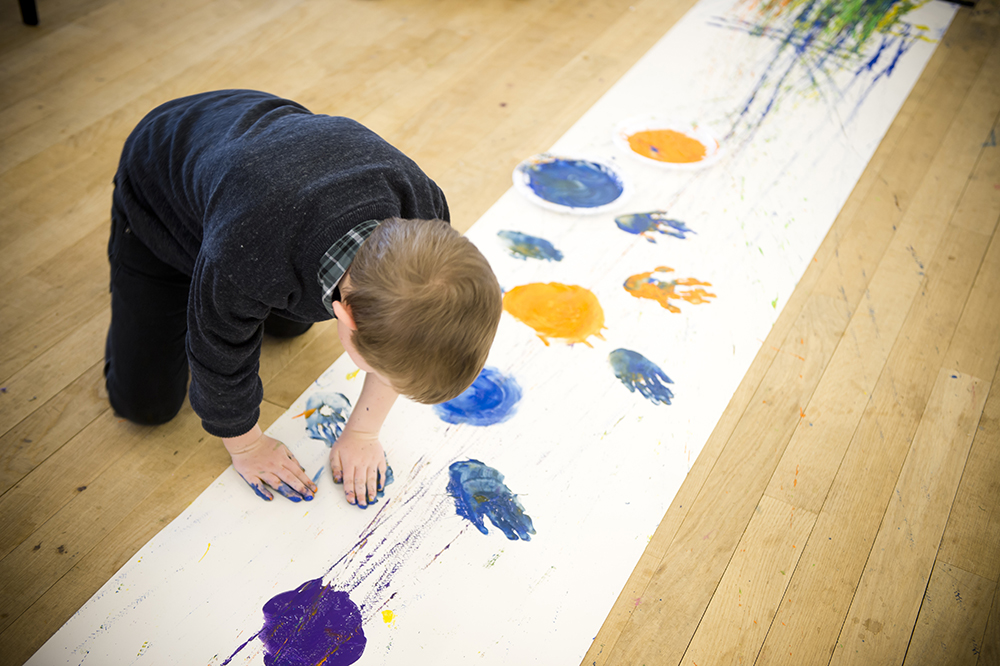 St Giles is a school for 100 pupils aged 4 – 19 who have complex medical, physical and sensory needs. The arts have an important place in our school. They are an indispensable tool to promote communication for the two-thirds of our pupils who are non-verbal. Wide-ranging successful partnerships support the school to ensure that all pupils engage with each art form in meaningful ways.
We were excited about using the new Artsmark framework to develop our outstanding provision of arts in the school. This involved reflecting critically on our provision and realising the difference we could make to the Special Educational Needs and Disabilities (SEND) landscape. We wanted to strengthen and develop our already outstanding creative provision to share how creative our students with very complex needs can be, and use the arts to change perceptions of other practitioners, community partners, parents and families, and society.
Our recognition as an Artsmark Platinum school by Arts Council England has been in part due to the forward-thinking and outward-facing direction we have taken on our Artsmark journey. Through this process, we have influenced opinions through successfully collaborating with Studio Wayne McGregor to devise a dance and perform for families, adult SEND education practitioners, gallery and museum education professionals, and the public at the Tate Modern.
We also used the Artsmark process to reflect on our areas of expertise, realising that, as a hub of excellence in the creative arts, we could raise expectations of what children and young people with SEND can achieve by offering high-quality specialist training to other education professionals. Our Middle Leaders worked to identify and hone their strong creative practice, incorporating them into a training day unlike any other available. With the support of the leadership team, the middle leaders created and facilitated an inspiring day of training to practitioners from London and Cambridge. We achieved our aim for the day, which was to support others in understanding how children with the most complex needs can engage with the Creative Arts through multi-sensory approaches. The feedback we received was phenomenal, highlighting the rich creative skills our staff possess and how inspired the delegates were to go back to their settings to begin making changes to their practice.
Because of the Artsmark process, there has been a development of SEND provision in the borough and we are proud of our influence on this.
Seeing the way music is used as a form of communication in your school has helped me understand how it can be used with everyone in this way for all children and young people.
Graeme Smith, Head of Croydon Music and Arts
There are now adapted peripatetic lessons for pupils with SEND and an inclusive Saturday ensemble is being planned. Additionally, our expertise is now valued in the wider London community and key members of arts staff have presented at conferences. Recently, our music lead spoke to delegates at the Music Without Limits Conference at Roehampton University. The delegates from eight boroughs developed their knowledge around how music can be used as a tool to promote communication in pupils with complex needs.
We are an inspiring setting and are proud of our achievements. The feedback from those who were part of our Artsmark journey and Arts Council England on our Artsmark case study has inspired us to continue leading the way in innovative arts practice in the field of complex SEND.
The panel were impressed by your school's firm, and sustained, commitment to the teaching of the arts, and the development of your partnerships with nationally recognised arts and cultural organisations during your Artsmark journey.
Arts Council England
As a school, we have stretched ourselves to make a difference not only locally but also regionally. We are proud to be a positive addition to the Artsmark family of schools and would recommend the judicious self-assessment and reflection that the Artsmark process encourages for anyone who wishes to develop the arts practice in their setting to a high level.
---
Click here to find out more about Artsmark, including the ways A New Direction can support your school through the process.