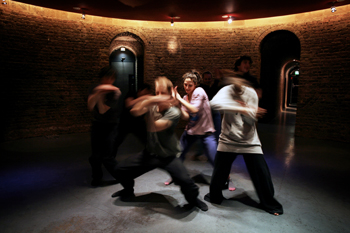 (Image credit: The Dorfman Hub by Sophie Laslett)
Why support?
Because the PE and Sports Premium can now help pay for it. Dance is part of the PE curriculum at Key stages 1 and 2 and dance provision is mostly found under PE in schools.
Cultural education is a no-brainer. Politicians value the arts for its intrinsic and instrumental capital and know it is a vital ingredient for ensuring a skills-based future workforce. The Creative industries have grown faster than any other sector.
Government recognises the importance of the arts in a broad and balanced curriculum – making STEAM from the STEM subjects (science, technology, engineering, maths) by including the arts, as verbalised by acronym lovers. Dance could become part of phase two of the London Curriculum, available in summer 2015.
Arts Council England believes that high quality cultural education in schools will inspire future audiences and encourage the next creative generation.
The Arts Council's 10-year strategic framework states that all children and young people in England deserve to have access to high quality cultural experiences early in life, regardless of location and local circumstances. Success will be achieved if more children and young people receive a high-quality cultural education in and out of schools.
Why dance?
Aside from the link with PE, dance is very popular amongst children and young people, as it combines physical literacy and experimentation, creativity and it develops self-knowledge and social skills. Hard to believe then that less time is currently spent on dance than any other artform in primary schools.
Many schools applying for Artsmark (delivered by Trinity College London on behalf of the Arts Council) indicate that the dance offer is what they most want to develop further. The Arts Council is currently refreshing Artsmark and is considering how the award can encourage schools to use the PE & Sport Premium to pay for dance to contribute to their arts offer, as part of their overall development plans.
How to support?
The PE&Sport premium funding for Primary Schools (now funded until 2020) provides a cogent opportunity and handsome budget for dance in schools. A typical primary school will receive over £9,000 annually. Through to 2020, that is around £54,000 per school!
The funding must be used for improving PE and sport provision (where dance provision is most likely to be found). Its intended purpose is to upskill teaching staff. Whilst dance doesn't necessarily fit neatly in the structures of other sports, schools have the freedom to choose how they want to achieve this, for example by training teachers or by bringing in dance experts to up-skill and develop the range of dance offered in and beyond the curriculum.
Some examples of what schools are already doing include clusters of schools employing a PE/Dance specialist by each paying a portion of their premium funding; schools buying in dance specialists to work alongside class teachers; teachers attending professional development courses such as those from the National Dance Teachers Association, now homed with Dance UK; secondary schools offering specialist Dance and PE packages for primary schools; schools paying for training resources, materials or services from dance organisation; schools providing places for pupils at out-of-school clubs/classes; schools organising dance performances and festivals.
So why not?
If you are a school, would you like to increase staff confidence to integrate dance more in PE and across the curriculum?
If you are a dance practitioner or organisation, would you like to build your organisation's profile and potential income through schools and build more sustained partnerships with primary schools to increase the amount and quality of dance that is offered to pupils?
If the answer is yes to both, why not deliver dance through the PE & Sports premium funding?
There are currently no stats regarding the use of dance through the PE and Sport premium. There is little information at this stage as to how schools are using the funding overall; though Youth Dance England (YDE) has collected case studies to show good practice in schools.
The premium has been allocated since 2013 and good work and thinking is already happening. The Pan London Dance Group is a network of dance venues, arts centres and development organisations and is currently in the process of developing a pan-London CYP dance strategy for the group members.
There is a palpable opportunity, and more to the point, a hefty budget, for bringing the dance sector and schools further together. A New Direction, the Bridge Organisation for London, funded by the Arts Council, can further help with bringing dance practitioners and organisations together with schools.
Why not aim for a more strategic London-wide approach to encourage every primary school to support dance through the PE in Sport Premium?
If you have read this blog until here, many thanks; I look forward to reading about how you support dance in the curriculum through the PE and Sports premium funding.
---
For case studies and information about dance in schools, including the PE & Sport premium, Artsmark, professional development courses for PE school co-ordinators, class teachers, teaching assistants, dance coaches and dance artists delivering the new PE National Curriculum, see below.
National Dance Teachers Association

Artsmark – Trinity College London