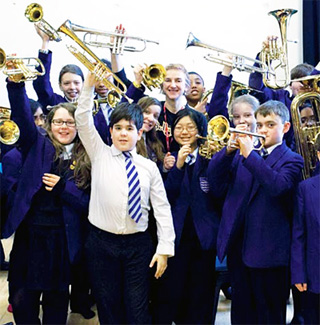 (Photo: Bollywood Brass. Taken from the London Music Pledge)
The five Mayor's Music Pledges are:
School Music Award
A new award has been launched at the London Music Awards celebrating schools who show an outstanding commitment to music.
Find out more and download the application form so your school can apply.
London Music Champions
A team of experienced educators with an outstanding track record will be recruited as part of the pledge to proivde free advice and mentoring to headteachers across London.
Find out more about the London Music Champions.
The Mayor's Music Fund
The Mayor's Music Fund gives instrumental scholarships to talented Key Stage 2 and 3 students who cannot afford to continue their music lessons. There are 280 Mayor's Music Scholars from 240 London schools. Their programme of musical activities is run by London's music education hubs.
The Mayor's Music Fund has also awarded £250,000 to give 6,500 young musicians the chance to learn with top professional musicians and perform in venues like the Royal Albert Hall. Funding applications are made through London's music hubs and the deadline is every November.
To find out more visit the Mayor's Music Fund website.
CPD and Resources for Teachers
Music Excellence London is a world-class continuing professional development scheme for Key Stage 3 music teachers. It is currently free for London teachers.
For more information visit the Music Excellence website.
The London Curriculum is a new resource of Key Stage 3 music teachers. It provides lesson plan examples which bring London's people, places and heritage into daily classroom teaching.
You can also find out more about the London Curriculum on our website here
Jargon-free advice for parents
We want parents to confidently support their budding musicians, so we'll carry out research to find out what information parents need and how they'd like to receive it.
---
To find out more about the London Music Pledge go here
You can also submit your pledge here

Follow the #LondonMusicPledge on Twitter for more updates