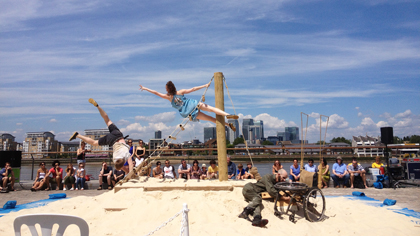 (Photo of (i) Land by Marc Brew Co. at GDIF Festival)
The discussion ranged across many themes, including measurement of impact and quality, however I want to pick up on three elements that are of particular relevance to A New Direction's (AND's) place-based initiative, Connected London.
New Narratives
Story and narrative are at the essence of how we make sense of the world. Art is unique in its ability to forge new narratives about place. In Greenwich, the cultural assets of the World Heritage Site (WHS) are all around and yet the ingredient of place is not just about the buildings; as Nathan Curry, co-artistic director of Tangled Feet, pointed out in the discussion, 'the story can be about the people in front of you.' Chenine Bhathena also noted how developers look to the arts to help take people with them when the fabric of a place is changing. AND's Connected London programme recognises the power of the local cultural assets; the WHS in Greenwich; the William Morris Gallery in Waltham Forest; Pitzhanger Manor in Ealing. And yet the programme is about the cultural education of young people who inhabit those places. How does art and culture engage them?
Audience/User Engagement
Audience and user engagement is not something that applies only to outdoor arts and the discussion in Greenwich provoked ideas that are relevant to how arts and culture engages with a locality more generally. Outdoor arts depends on its audience to exist. If there is no audience there is no show. Outdoor arts attract more local audiences than art centres (according to statistics at the panel discussion). Often these are local audiences who would not attend other cultural events; witnesses to GDIF's show Deblozay may support this view. It is also central to site specific and promenade work. For example, in LIFT's show Turfed about the young and homeless, we are part of the action, either side in a traverse or lying on the floor gazing at the stars. The personal investment adds value, the art is co-created in that moment, with the audience adding their own unique perspective depending on where they are sited. AND's Connected Programme worked with the Innovation Unit to encourage arts organisations to co-design and co-create programmes of delivery with those people who will be engaging with them. The discussion in Greenwich gave the example of Derry-Londonderry 2013 where arts were adapted to suit the locality and mentioned the sensitivities around this process. Invariably this is about partnerships and the challenge of sustaining on-going relationships with audiences who have not engaged with culture before.
Partnerships
In the panel discussion, Dr. Beatriz Garcia, Head of Research at the Institute of Cultural Capital, noted the challenge of publishing evidence about 'partnerships', as its subjective nature runs against the abstract needs of research. In any place-based work, partnerships are crucial. Outdoor arts need partnerships to develop ongoing relationships with their audiences. The Art of Place-making works across a range of partners; education, health, regeneration. With the changes to the economy and the diminished role of local authorities, new negotiations and new skills are needed. Adaptability and innovation are at the heart of the Connected London programme. There is useful learning from the outdoor arts sector. How to create new narratives of place, how to engage new audiences and how to sustain those audience relationships through partners who are 'place-makers' to progress 'society from the spectacle.'
A New Direction will be hosting an event exploring place-based arts and culture on November 26th – details to follow.
---
About Connected London
A New Direction's action research programme and strategy for local areas in London. 'Connected' is a three-year programme (2012-14) with two years of action-research investment and one of transition or development funding. It is led by A New Direction, in partnership with the Innovation Unit and a number of London Boroughs and other cultural partners. Find out more here
Greenwich and Docklands International Festival continues this week.
For further information about outdoor arts go here
---
Like this blog?
We send out a monthly digest of all our blogs, news and updates - sign up here to receive straight to your inbox - www.anewdirection.org.uk/newsletter
You can also follow us at @A_New_Direction