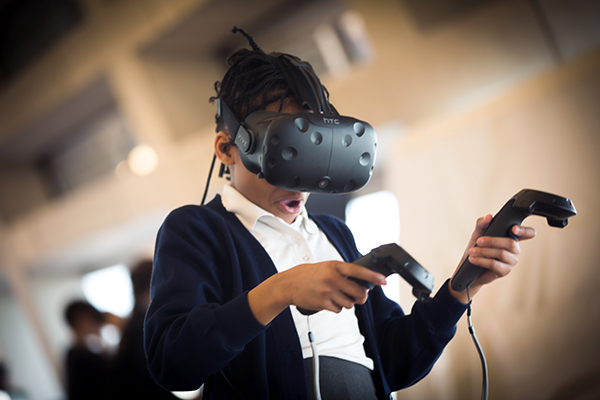 (Photo credit - Dawson @ London Connected Learning Centre)
London Technology Week is nearly upon us. If you haven't got it in your diary yet, then check out the website and make space in your week. This five-day festival, which runs from the 12 - 16 June 2017, is supported by London Mayor, Sadiq Khan and is a part of his commitment to ensuring that 'technology ...stands alongside finance as the 'heartbeat' of the capital.'
His plans for tech are ambitious and include the establishment of a tech talent pipeline' to ensure young Londoners have the digital skills they need to access jobs in the sector with particular schemes to reverse the under-representation of women in the industry. Connectivity, open data, infrastructure and the appointment of chief technology officer are also on his list.
And just to prove that London is a global technology hub, the following week (19-23 June) is London EdTech Week. This week of events, launched by EdTech Global, brings together ten leading technology organisations from the British Educational Suppliers Association to TES Global, Nesta and Google for Education to showcase, debate and discuss the future of education. There is a good selection of events programmed so far by the lead organisations but the platform is 'open and collaborative' and the edtech community has been invited to organise and upload its own meetups, product demonstrations, networking events, parties and panel discussions. So, keep an eye on the website. and check out the 'open' events on the schedule as it's likely to get pretty packed.
For those awaiting news of Arts Council NPO applications at the end of June, these technology events are timely. For the first time, digital featured largely in the application criteria and recipients of grants will be encouraged to create a digital policy and plan. This is no simple task. Technology is complicated and ever changing and it requires a level of specialism to use it effectively, productively and, if working with children and young people, safely and responsibly. There is lots of great practice out there with arts and cultural organisations using to it engage, communicate, create, share and disseminate but there are others, possibly many others, who are struggling to make the best use of what's available.
So, what's the solution? Well, this blog is possibly the start of a solution. A New Direction intends to create a new network and programme of events to share practice, to learn and disseminate. The network will bring together cultural organisations with schools, educationalists and technology specialists to help move practice on, avoid costly errors and develop strategies that enable and develop. If this sounds useful and you want to share practice or learn from others then watch this space. More news about this will follow post the NPO announcements.
So, back to London Technology Week and London EdTech Week. There are over 300 events in various venues across the capital over the two weeks. You can fork out £3500 to take an innovation 5 day MBA as part of London Technology Week, but if that blows your budget then switch the search filters to 'free' you'll see there are plenty of sessions on offer.
Here are a few that are worth a look...
From London Technology Week
Edtech2020 - Where next for education, skills and learning?
(Tuesday 13 June 12.00- 7.30pm)
This symposium, set up by Microsoft and EdTech UK. will share what's next for education, skills and learning across London & the UK. The event willl debate and showcase the key trends, strategies and technologies that are going to be driving change in the classroom over the next 3 years.
Dragon Hall Tech Day
(Monday 12 June 5.00-9.00pm)
Gather up some of your young people and get them over to Dragon Hall for this event targetted at young people aged 8-25. Test and evaluate some of the latest tech including 3D Printing, Virtual Reality and Robotics.
Disruption Reconsidered - Exploring how emerging technologies are impacting the way we do business and the way we work
(Thursday 15 June 4.00-7.00pm)
This session provides a great overview of new technologies and the impact they are having on our working world. From big data and AI to wearables and social hacking, this session, organised by Kemp Little, looks like a good introduction.
From London EdTech Week
Fuel the Future
(Tuesday 20 June 10-2pm)
Many schools are embracing cloud-based services such as Gsuite and Microsoft 365 for their ability to enable better collaboration across the school community. Google for Education leads this session which is hosted by Barclay Primary School in Leyton. It looks at the impact these services have had on teaching and learning and will debate what the classroom of the future might look like.
Old School, New School: Technology, Textbooks and Teachers
(Thursday 22 June 7-9pm)
If you're interested in developing classroom content and want to know more about the opportunities and issues around the creation of digital materials then this event, programmed in partnership with the London Book Fair, looks useful. The panel will debate the place of technology in the classroom for best pedagogic outcomes; how educators can harness the best of what's on offer and blend with traditional resources; and the trends, challenges and opportunities for publishers, tech providers and learners.
And don't miss out just because you can't attend any of the events. Follow the twitter feeds @LDNTechWeek and @edtechweekldn - watch the live streams, and check out the various blogs. A lot of people will be commenting, documenting, sharing and discussing all that is going on over the course of the two weeks. So, sign up and join in - actually or virtually - but don't miss out.

---
Julia Lawrence is Deputy Director of London Connected Learning Centre. She is an Apple Distinguished Educator, a CEOP Ambassador and an Online Safety Mark Assessor for the UK Safer Internet Centre. She co-led the team that won Education Technologists of the Year in 2015 awarded by the Association of Learning Technologists.

Follow Julia on Twitter @julaw79