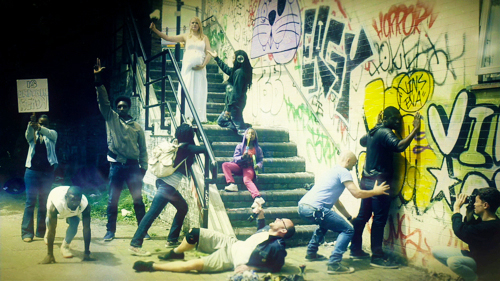 (Image from Truce Triptych via Eelyn Lee Productions website)
The talent and creativity of young people involved in the creation of Truce Triptych will be recognized this week as the piece has been selected to be part of an International Arts and New Cinema festival.
The short film, which was commissioned by A New Direction as part of their Headstart Programme, and connected to the Truce Arts project, delivered in partnership with Creative Intelligence Agency (CIA), was inspired by Old Master paintings, three slow-moving tableaux images appear depicting scenes of conflict and resolution on the streets, at home and in the workplace.
It was filmed in East London and the images feature young people playing various roles including a young pregnant mum representing Justice and a smart young man battling with a politician at the doors of a local Job Centre. These evocative images employ both photographic and film-making techniques, challenging the audience to see different things in them on each viewing.
The project was under the direction of Eelyn Lee, young filmmakers and photographers from A New Direction's Headstart who worked alongside filmmakers at Eelyn Lee Productions and photographers Tim & Barry to create this extraordinary piece of moving image work.
The screen of Truce Triptych will take place on Thursday 6th of December at the Palais de Tokyo in Paris. It will also be fully available to watch on Eelyn Lee's website from the 10 December 2012.
The short film is part of the Rencontres Internationales Paris/Berlin/Madrid 2012 Festival, which every year presents - through screenings, exhibitions and premieres - a very interesting and international selection of films, videos and multimedia. It gathers 150 works from 40 different countries and this year is taking place from the 30 November to 8 December.