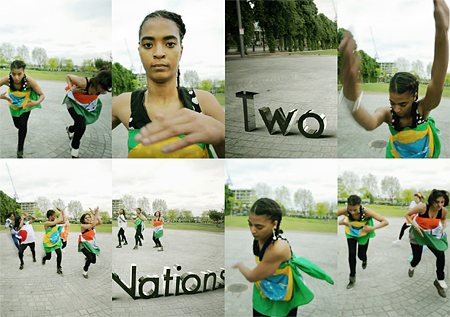 On Thursday 21 June, we gathered at Free Word for Two Nations - a big discussion presented by Radio 1's Gemma Cairney, looking at 'where you come from, who you cheer for, and what it says about you'.

These days there's no obvious 'test' for being British. We all have stories that weave in and out of each other that have somehow brought us to this place here, now, to this tiny corner of this amazing city.
Young Londoners from A New Direction's Headstart programme, presented an evening of poetry, debate and film.
"But you never forget the ties that bond you to the seamless comforts of another haven,
It's a love for two nations.
But it makes me feel no different."
Kim Nyamhondera, Headstarter / Two Nations

Take a look at the video produced by Headstart's young film crew (working with Eelyn Lee Productions), and download the overview with interesting quotes, facts and questions that you can use to think about who you'll be cheering for this summer...
video:
Download Two Nations Information Sheet (608.82 kB Pdf)
(You can use #2Nations if you'd like to contribute your own thoughts to this discussion on Twitter.)