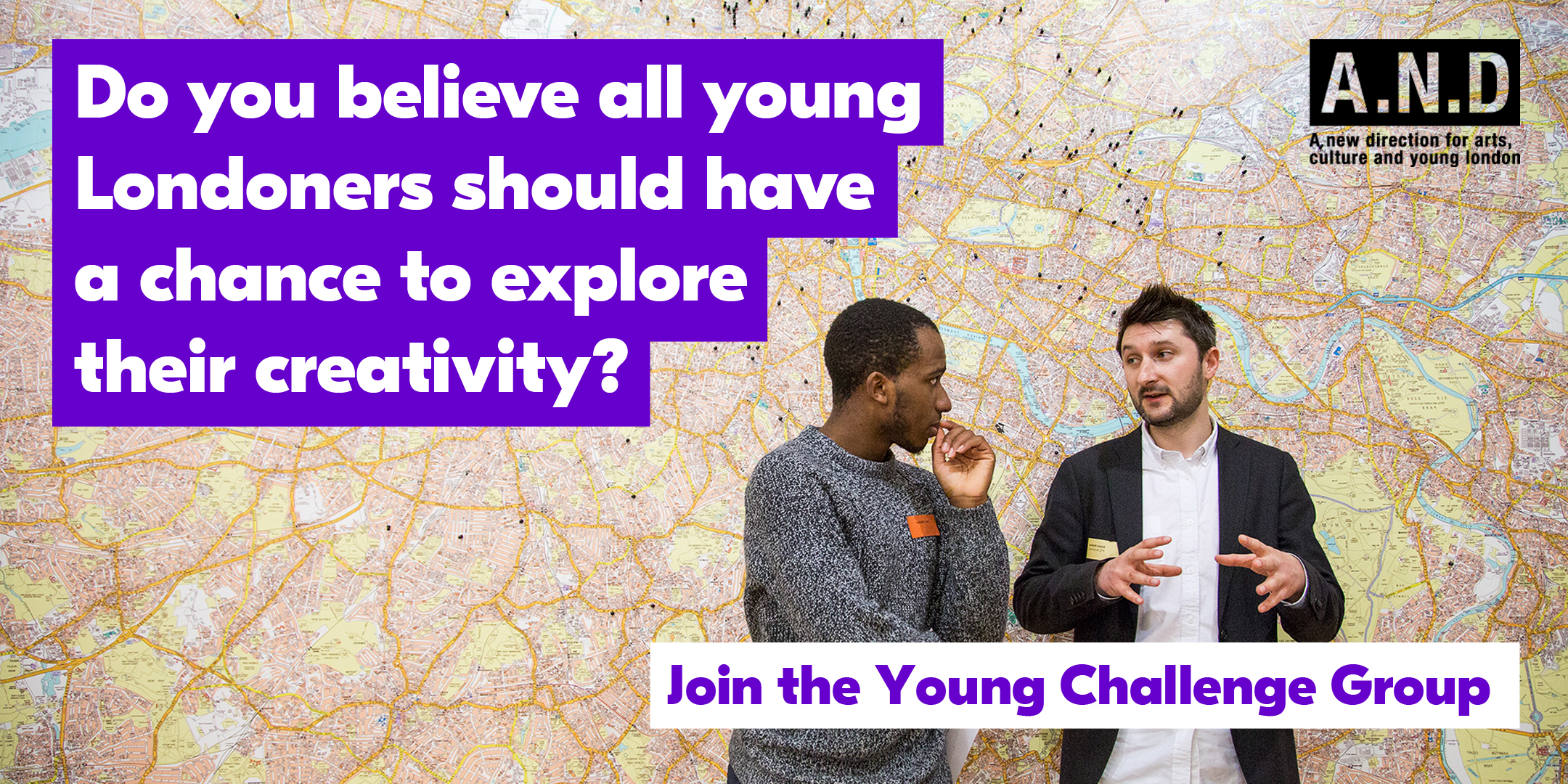 We are looking for a team of 12 young Londoners to join the Young Challenge Group (YCG) for the next phase of Challenge London.
The YCG is the youth advisory and advocacy group for A New Direction's Challenge London programme. Young Challenge Group members are champions of creative and cultural opportunities for young people, who advise us on investments we make as part of the Challenge.
Through Challenge London, A New Direction will invest £900,000 in new initiatives that will enable new or different creative opportunities for children and young people across London, and, as part of the Challenge Group, you can have your say on which initiatives get selected.
The YCG will meet approximately once a month, and we're asking for a commitment for the first year of Challenge London (May 2018 – April 2019).
If you're interested in being part of the YCG 2018 please submit the online application form by midday on Wednesday 25 April 2018. We'll let you know the outcome of your application by Friday 4 May.
A New Direction are committed to our opportunities being accessible to all young Londoners. If you have any access requirements or need the application form in a different format, please get in touch with Hasina on hasina.allen@anewdirection.org.uk or call on 0207 608 2132.
Being part of the YCG will give you the opportunity to:
Experience being 'on the inside' of a large-scale arts and creative programme

Be part of one or more sessions with a visiting speaker or specialist from the arts sector

Visit and learn more about projects made by, with and for young people across the city

Have new experiences and the chance to make a real difference to the creative and cultural opportunities for young people in London

Develop your team working, planning, presentation and networking skills

Help plan and deliver an event relating to the Challenge

Click here to download the full YCG role description
What is Challenge London?
London has secured a worldwide reputation as a cultural powerhouse and it is often claimed that London is the cultural capital of the world. But despite London's global position and this enormous potential, not all young Londoners are able to explore these rich creative and cultural opportunities. Too often how we take part is dependent on wealth, geography or luck. We don't think that is fair.
Challenge London, led by A New Direction with funding from Arts Council England, is trying to change this. Challenge London is about ensuring that all children and young people in London can develop their creativity and play an active part in the culture and heritage of the city.
The journey so far
I think the Young Challenge Group was a great experience, I feel more confident for doing it. I think you had a lot of challenges to engage us and it was a unique experience
This has made me believe that young people need to be involved/considered through every aspect of the project when public money is being spent on community outreach.
Feedback from Young Challenge Group members, 2015-2018
The 2015 – 2018 YCG were at the heart of the Challenge. Between 2015 – 2018 members of the YCG:
Read through funding applications for the Challenge and sat on interview panels;

Attended meetings and networking events (including an event at the House of Lords!);

Learnt about different career options and funding streams in the creative sector;

Ate a lot of pizza;

Visited Arts Council England;

Planned and ran their own event at City Hall as part of the WAY (Who are Ya?) Festival in 2016.

Together, we invested just under £900,000 in 12 programmes. The programmes worked across half of London's boroughs, raised matched funds of over £915,000 and worked with over 10,000 young people.
You can read more about what the 2015-2018 YCG got up to here and here.
You can also find out more about the programmes that received funding through Challenge London between 2015 – 2018 here.