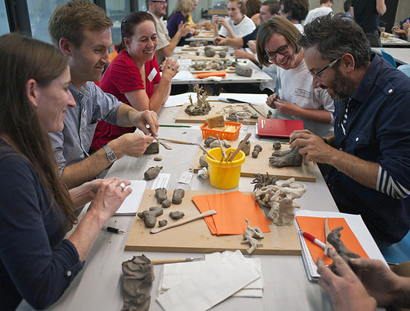 From 2010-2013, artists Clayground Collective led CPD sessions in 11 UK cities with teachers wishing to introduce clay skills to their schools. Teachers urged them to gather evidence as to why clay, 3D and hand skills are important to wider seeing, thinking and learning. Some teachers were having a hard time arguing the case for resources with school leadership.

Linguistic anthropologist Shirley Brice Heath, Professor at Stanford and expert in literacy development, advised Clayground she had noted a sharp decline in creative handwork among primary school children in the States and a corresponding decline in ability to discern visual details in illustrations of maps and graphic designs.

In the search for knock-on effects, enquiries with Heads of Departments of surgery in the US revealed: "medical students today have no sense of how to use their hands in diagnostic work, for they have come to rely on technologies as their diagnostic tools. These young people have difficulty seeing and comparing critical details that are there to read in the reports." Medical educators in the UK reported similar gaps in students' capacities. Anecdotal evidence indicates knock-on effects too in fields such as architecture and engineering. Manual and artistic skills are too often sidelined in favour of the academic.

Thinking Hands?
In response to these requests, Clayground held a symposium in September entitled Thinking Hands? exploring the role of hand skills' development in seeing, thinking and learning, organised in partnership with A New Direction, University of the Arts London and others including British Ceramics Biennial and Canal & River Trust, Camden Libraries and Arts Council England.
In putting Thinking Hands? together, Clayground's aim was to begin to address the imbalance between the manual and the academic in schools. They brought together perspectives from surgical and medical education, fields obviously dependent on fine motor and observation skills, neurophysiology, and ceramic design. The role of hand skills is also coming into question in traditional craft fields. With 3D printing, why do we still need to develop hand skills and knowledge of materials if, as is popularly supposed, you can produce things at the press of a button?
Experts repeatedly emphasised knowledge gained through the hands is integral to seeing, thinking and learning.
Mike Eden, artist and specialist in 3D printing, stressed these 'seductive boxes of tricks' do not replace anything that has gone before. He described making as building a relationship with a set of tools, including 3D printers, until their use becomes embedded enabling expression and realisation of ideas. 3D printers cannot be seen as standalone assets. They must be integrated with hand skills and deep knowledge of materials if the learning they can offer is to be effective.
Eye surgeon, Bruce Noble, used drawing as a tool for thinking and rehearsal throughout his surgical practice. Using a pencil enabled him to think a problem through, to imagine a solution, represent it in a cartoon strip, which then became formalized and represented in a textbook for teaching purposes. One drawing explained everything more effectively than 100 videos or pages of written description. If you draw or make it, you remember it and can describe it to others.

Neurophysiologist, Roger Lemon, illuminated what goes on in the brain when planning and executing a movement. Movement is dependent upon the sensory tactile feedback you get from the hand and other senses. The hand is not a motor structure but a sensory motor structure working in partnership with cognition. There are ten times as many channels of information feeding back from your hands to the brain as there are channels going out from your brain to your hands. Feedback or "sensory re-afference" happens every time you move, handle a tool or explore a new surface. We move, not to move the world, but to generate sensory feedback, called haptics.

Use of the hands changes the way we think. It allows us to think problems through, rehearse and remember actions, respond to the materiality of the world. Working with materials opens up differences in quality and characteristics that help refine focus of attention. As these differences are noticed, accurate description is required hence contributing to development of vocabulary. Hand skills help develop the acuity of vision and attention necessary in literacy and language development, understanding of volume, weight and real world 3D problems. Fingers and head alone are not enough.
We were really happy to get very useful feedback comments from teachers taking part in the seminar, including the below:
"It was very useful. The science behind using our hands is important to know as more and more people are losing these skills, as they aren't deemed as important. With a logical, scientific argument head teachers would be hard pressed to ignore how important these skills are." Chris Macleod, Head of Art, GEMS Hampshire School, SW3
"I wrote up my notes and circulated them. The art co-ordinator is going to run a clay workshop for parents and we will share some of the findings from the course. Many of our parents want their chlldren to go into the medical professions, so now we have evidence from specialists and research to back up what we have been saying about the importance of the arts, especially 3D work." Jean Durr, Highlands Primary School.
The full report of the symposium is available on request. The symposium was held to test whether another, larger scale conference along the same lines might be organised in the future and to gather material for inclusion in a handbook for educators in formal and informal education wishing to introduce or develop clay skills. Please contact A New Direction if you would like to be kept in touch with developments.
---
Surgical Educator, Roger Kneebone, and Duncan Hooson, Clayground Co-Director discuss here what clay skills can teach surgeons.