Building Partnerships
We present 'The Value of Partnership' and 'Creative Schools London' - resources and examples to help schools build effective partnerships with creative and cultural partners.
The Value of Partnership
A New Direction Associate, Sarah B Davies, asks 'What is the value of partnerships between the education and creative/cultural sectors?' in this study drawing on our experience through the Creative Partnerships programme (2002-2011).
Download 'The Value of Partnerships' by Sarah B Davies (322.67 kB Pdf)
You can also download 5 accompanying school partnership examples via the download links to the right of this page.
--------------------------------------------------------------------------------
Creative Schools London: Six Stories of Creativity and Partnership
Six London schools talk to A New Direction about their experiences of being involved in the Creative Partnerships programme (2002-2011) how it made a difference to their school and why this approach is helpful in driving positive change.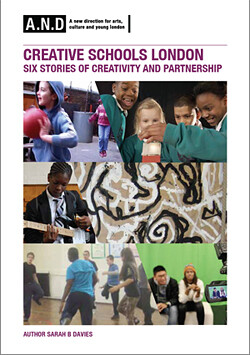 Talking about their progression since, they discuss the value of a creative approach across the curriculum for its benefits to staff, studentsand the wider community, and how they have managed to continue to maintain partnerships with creative professionals and organisations.
Highlighting specific projects and approaches, and the change and impact that these had, otherschools can use these six pieces as inspiration, and starting points for their own explorations of creative approaches to teaching and learning, and of building effective partnerships with thecreative and cultural sector.
Download 'Thomas Tallis School - Creative Schools London' (266.31 kB Pdf)
Download 'Stormont House School - Creative Schools London' (226.65 kB Pdf)
Download 'Lauriston Primary School - Creative Schools Londo (320.31 kB Pdf)
Download 'Islington Arts and Media School - Creative School (219.19 kB Pdf)
Download 'Gallions Primary Schools - Creative Schools Londo (268.34 kB Pdf)
Download 'Columbia Primary School - Creative Schools London (305.11 kB Pdf)