Steve McQueen Year 3
An epic portrait of the future of London - this vast new artwork is one of the most ambitious visual portraits of citizenship ever undertaken in one of the world's largest cities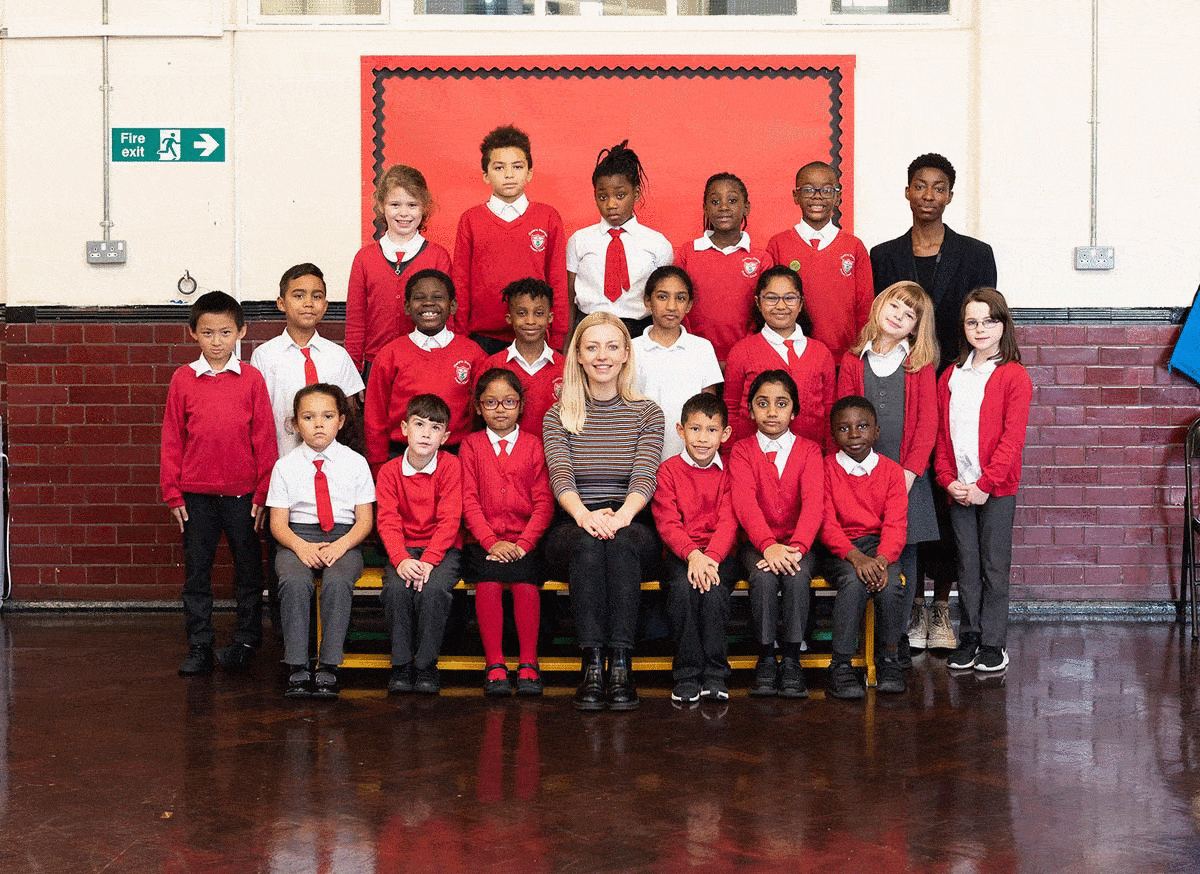 Year 3 Class Photograph. © Steve MᶜQueen and Tate
Steve McQueen Year 3 is a partnership between Tate, Artangel and A New Direction.

About Steve McQueen Year 3
In September 2018, as part of an ambitious project created by London-born Turner Prize-winning artist and Oscar-winning filmmaker Steve McQueen, partners Tate, Artangel and A New Direction invited every primary school in London to be part of a giant collective portrait, capturing tens of thousands of Year 3 schoolchildren in a milestone year in their development. The photos would come together in a major new artwork as an epic picture of the city's present and an intimation of its future.
Year 3 is considered a milestone year in a child's development and sense of identity, when 7 and 8-year-olds become more conscious of a much bigger world beyond their immediate family. Steve McQueen's project captures this moment of excitement, anticipation and hope through the medium of the traditional class photograph, with rows of children sitting or standing alongside their teachers.
Ahead of the opening of Year 3 at Tate Britain on 12 November 2019, class photographs of Year 3 schoolchildren were displayed on over 600 billboards across London's 33 boroughs in a city-wide outdoor exhibition organised by Artangel.

Steve McQueen, Year 3. A partnership between Tate, Artangel and A New Direction. © Steve McQueen & Tate. Courtesy of Artangel. Billboard photographed in situ by Theo Christelis
If you encountered one of the #Year3project billboards, or have heard about the project via press or social media, you will have heard about us - A New Direction, the creative education specialist organisation that helped engage schools in this monumental and unique project.
What role have we played in Year 3?
We have played a key role in the delivery and realisation of Year 3, working alongside our partners Tate and Artangel. We have been instrumental in realising the scale of the project, taking responsibility for engaging schools in photography sessions across all London boroughs.
Our experience, relationships with, and in-depth knowledge of schools across London has been essential to making this project work at scale. We understand how schools work and what they need, and have worked to support them at every point along the way to ensure an exciting, safe, positive learning experience for the schools and pupils taking part.
We worked with partners to shape the offer to schools, and collaborated with legal and safeguarding specialists to ensure a robust approach to safeguarding and consent
We promoted and endorsed the opportunity to schools
We developed a website and booking platform to register schools, and support them through the photography booking process. The website was recognised as 'Highly Commended' at the 2019 Digital Impact Awards

We obtained permission and parent/carer consent from schools for both the in-gallery exhibition and outdoor exhibition
We produced learning materials and resources to enrich the experience and connect to learning in the classroom
Browse the resources here
We provided the team of photographers and workshop leaders with professional development and support to enrich their experience, and ensure positive experiences in sessions. You can read blogs about their experience of working on the project below:
Photographer blog 1
Photographer blog 2
We co-ordinated the photography; producing call-sheets for a team of nine Tate Year 3 photographers to visit and photograph schools across London (60-80 school visits a week, over 10 months)
We also kept track of numbers and monitoring data
We delivered a programme of in-depth themed workshops for schools
We delivered a programme of training and support for schools selected to take part in the outdoor exhibition
We organised and ran two teacher CPD events and teacher Private Views

Educational value and relevance

Year 3 has been a unique opportunity for everyone involved to do something new, strategic, bold and different with a huge number of pupils. The vision for this project is artistically adventurous and culturally inclusive, resonating entirely with our approach to creative learning.

A New Direction has worked to ensure that the project connects with schools – developing learning resources to ensure a wider relevance to the project, and making links to the curriculum and pupil's wellbeing.

We believe that the curriculum needs to be broad enough to embrace the arts and to reflect and be inclusive of all children.

Many teachers have spoken about this project as a way to "empower children to feel more confident and have a sense of pride towards themselves and the local school community," and for children to "celebrate difference and unity."

This chimes with education research that continues to explore the benefits of cultural learning; from personal and developmental aspects such as confidence building, team-working and social connectivity, to the increase in transferable skills and knowledge.

While our resources have provided PSHE, Citizenship, Literacy, Art and Design activities, their principle focus is on starting a wide educational conversation about art and identity, and art as a powerful prompt for braver conversations about how we view and explore the world.

Integrity and pupil voice

We have worked to ensure that participating pupils' feel valued and heard as part of the programme.

Through supporting the team of Tate Year 3 photographers, and delivering a programme of creative workshops to support the photography sessions, we have worked with schools to ensure a valuable learning experience, and that children's thoughts and opinions are valued, heard and shared.

Practitioner support and development

We have provided professional development for the Tate Year 3 photographers, ensuring they were equipped to go into schools and facilitate meaningful experiences with pupils.

We have also worked with and supported a team of ambassador schools to be workshop leaders and resource content creators.

Teachers can download a range of free resources featuring PSHE, Citizenship, Literacy, Art and Design activities which explore art and identity, and art as a powerful prompt for braver conversations about how we view and explore the world.

A New Direction has worked with all partners to ensure a rigorous approach to overseeing the collective responsibilities we, as organisations, have to the tens of thousands of pupils taking part in the project.

We take this responsibility incredibly seriously and have worked tirelessly to ensure our values and high standards have been upheld across the partnership.

For more detail about how we managed consent across the project, please email us.

From November 2019 to January 2021 (extended from May 2020 due to the coronavirus pandemic), the Duveen Galleries at Tate Britain will be taken over by Steve McQueen Year 3 - a vast artwork featuring thousands of the photographs.

This artwork is Turner Prize-winning artist and Oscar-winning filmmaker, Steve McQueen's most ambitious contemporary art projects to date. It is also one of the most ambitious visual portraits of citizenship ever undertaken, in one of the world's largest and most diverse cities.

In light of coronavirus, timed tickets must be booked before visiting.

VISIT the Tate website for more information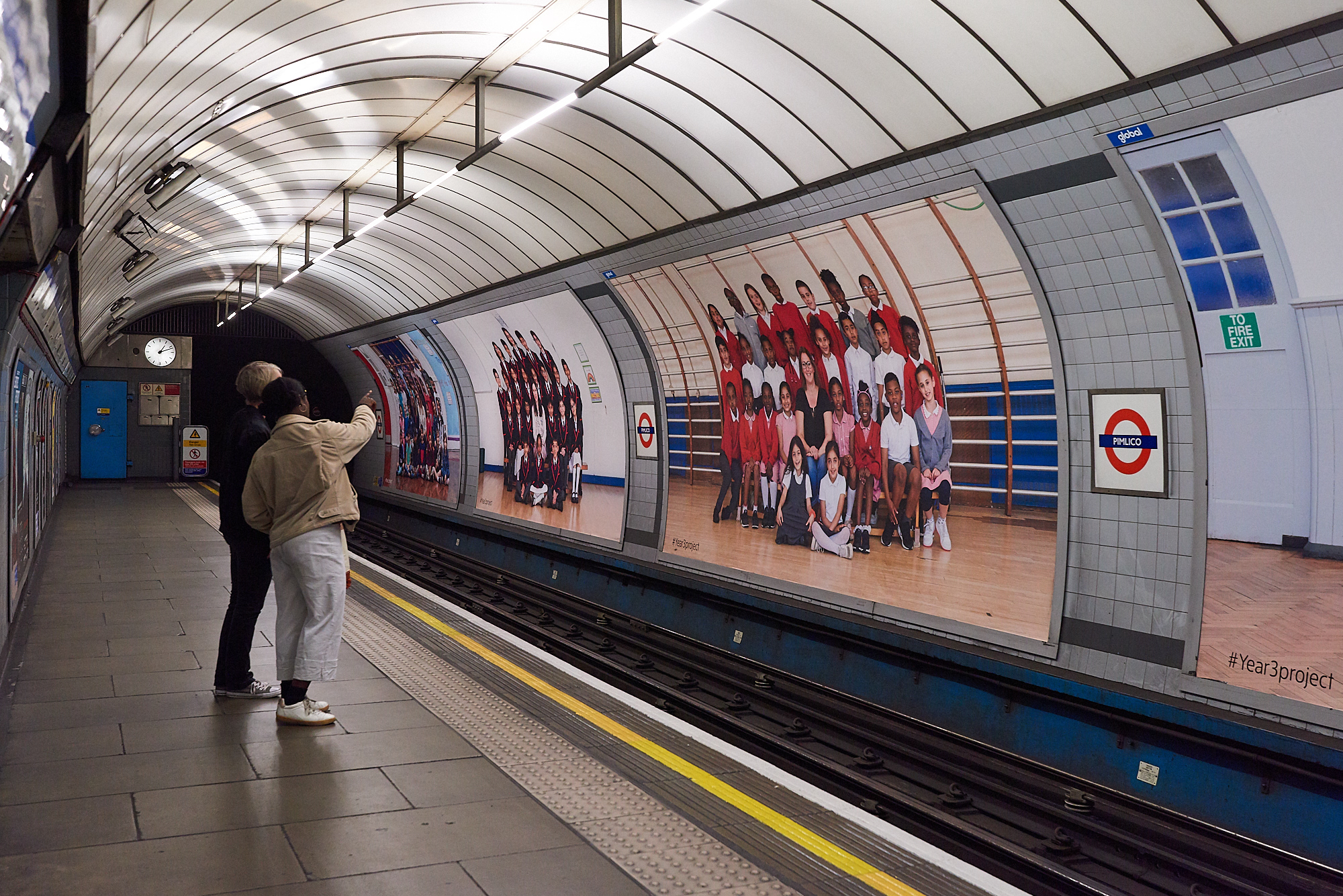 Steve McQueen, Year 3. A partnership between Tate, Artangel and A New Direction. © Steve McQueen & Tate. Courtesy of Artangel. Billboard photographed in situ by Theo Christelis.
Partnership and future commissions
One of our strengths as an organisation is in partnership working with organisations to add value and ensure smooth behind the scenes planning and delivery, leading to the best possible outcomes for schools, children and young people.
A New Direction is always keen to discuss how we can support, advise and potentially partner with organisations on the planning and delivery of large-scale programmes and projects.