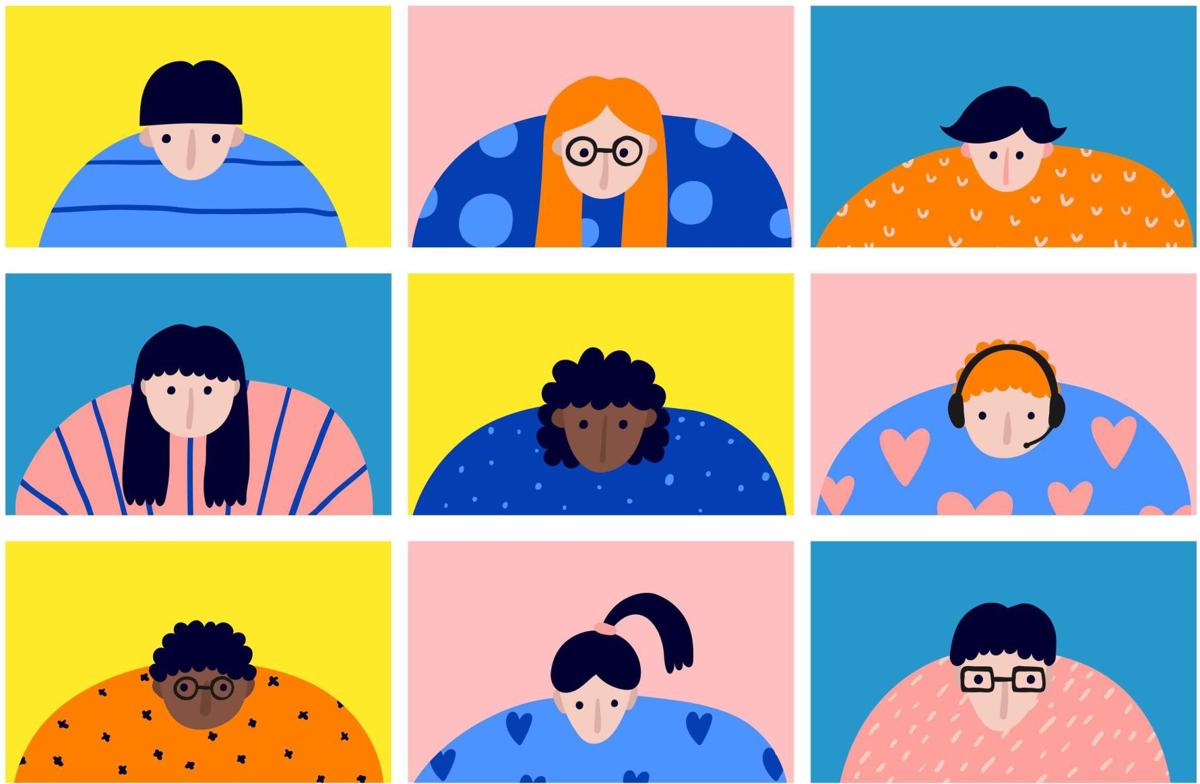 Image credit: Shutterstock
Like so many in our sector, when the pandemic hit, we had to reimagine our participatory projects for an online space and, unexpectedly, as a digital programme. With funding deadlines extended, but still fixed, stopping our We Belong project was not an option, particularly as we were working with some of the most vulnerable young people in our society who were in the greatest need of connection.
So, we had to completely transform a programme we had imagined would be delivered in person. There are plenty of Zoom activities and games out there which have been adapted for online sessions, however there isn't very much guidance for structuring complete projects online. Here is an insight into what we learnt on our journey to create a one week digital residency during half term, including our top tips for creating participatory programmes in the digital sphere…
1. Get interactive
Choose the platforms that will allow your group to get interactive and actively participate. Online sessions need to be more than just a group video call. Just as you would make an in-person session dynamic and varied, think about how you can do the same for an online session.
We chose to use three main tools to get interactive: Mural, Padlet and Jamboard. We also commissioned an artist to create a landscape for the group which would be used as the backdrop for all our sessions; the container for our communal space and the springboard for our ideas.
The Mural landscape provided a stimulus for the participants to explore and a place to add their own artwork. It was full of different types of environments, textures, colours. Hidden in the landscape were clickable links that were either connected to the content of sessions or were just there for fun. This made the space alive from the very beginning. Each participant had access to the Mural so they could explore this during the sessions, and in their own time.
As the days went on, we added the young people's art to the Mural. This kept the space alive and growing as they saw their ideas become the clickable links in the space – just as you might add artwork to the walls of a studio space.

We also used Padlet as both an individual 'notebook' space for everyone and for session guides. Everyone had their own Padlet, including participants and artists. It was their own space to curate. It became the way that participants got to know one another and shared their work. We also made sure that each individual Padlet had some opening questions on it to prompt responses, so that the space was already 'live' when they were first opened.
2. When interaction gets out of hand...
We also used Google Jamboards throughout as a way for all the participants to actively be engaged. They are great because everyone can access them so easily, no logins needed, and they're super quick to create. We put our daily schedule on a Jamboard, which could be seen as participants entered the room, at the beginning of each day. It also contained our opening check-in question, a riddle, and an invitation to doodle.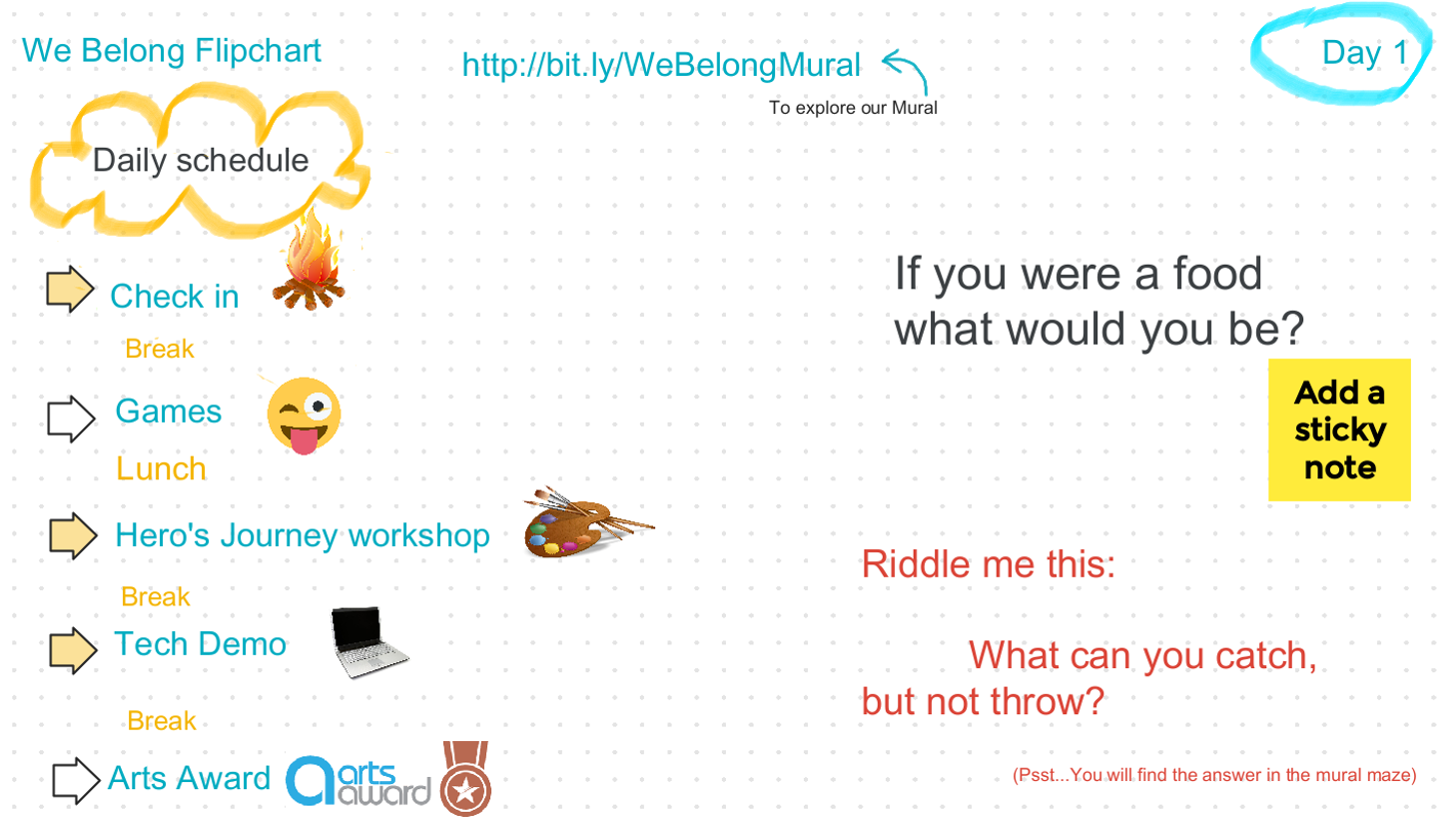 A Jamboard gives everyone the chance to (anonymously) add to the page by writing, drawing or adding images. While the opportunity to be part of a collective doodle was brilliant fun, it also instantly spiralled out of control! When we introduced the pages, they were a hot mess of scribbles, images, and text. Things were deleted, and the page was taken over.
In hindsight, we didn't give any boundaries about how to engage with this and we should have been very clear about the rules of the co-created space. The same goes for the chat function. Be upfront about the rules of engagement.
3. Build in time at the beginning and end of each day
We noticed that the check-in and check-out was just as important as it is when we're in the room together, if not even more so. Although this will take longer than in real life, it is worth doing – especially if you have, as we did, a fluctuating group of participants, artists, and support staff each day. It's valuable simply to hear who is in the room and how they are showing up each day.
We created a campfire within our Mural landscape for daily check-ins and check-outs. Everybody's name was on a cushion around the campfire, which was then screen shared so we could clearly see who was present and who's turn it was. Even if they didn't want to turn on their camera, they could speak or type into chat. We also put the names of those who were not present that day at the side of the campfire so we could still feel their presence, even though they were not in the circle that day.
4. The desire to connect is strong
Regardless of whether you're working in the room together or online, participants want to connect, chat, make friends and have a laugh. Sometimes the most valuable part of any participatory project comes in the break times – and that's when the real work happens. The challenge with working digitally is how to encourage those moments of connection without it being forced or awkward.
It was surprising how quickly the group felt comfortable to connect with each other. We had anticipated that they might be a bit shy, but even at the very first break it was clear they were all hungry to talk and get to know each other, with or without the adults in the room.
It was a balancing act for us. We want to enable interactions to happen, just as we hoped it would if we were in the room together, because one of the aims of the programmes was to reduce loneliness. Yet from a safeguarding point of view, we had a duty to keep participants safe and so had to have an adult in the room throughout. We kept the main room open during break times with adults present but camera's off – the challenge was then getting back to the session when conversation was in mid-flow!
5. Make time for tech troubleshooting
With so many new platforms being used it is vital to take time at the beginning to lead a session that is just about the tech. This is a chance to make sure everyone can log in (not as straightforward as it sounds) and provide a walk-through of each platform. This instructional session needs to be slow, clear, and will probably need a lot of patience!
We found that it was a long, slow – and at times painful – process, as we were trying to firefight the whole group's individual problems one by one. 25 people all with their own technical difficulties and all in their own space! We decided to get it out of the way on the first day, but not first thing. Instead, we had an energising opening session, before quickly moving on to the tech session.
It was essential that by the end of the first day all technical troubleshooting had been resolved, because this meant the rest of the week every participant could engage fully. It wasn't the easiest session, but it meant that the tech ran much more smoothly for the rest of the week.
6. Don't make any assumptions about engagement
Lots of the participants chose to have their cameras off and not say anything or write in the chat instead. That can be really hard to respond to, especially when you have no way of reading their body language and gauging their tone of voice. It's easy to assume that they are not enjoying the session or aren't interested in participating.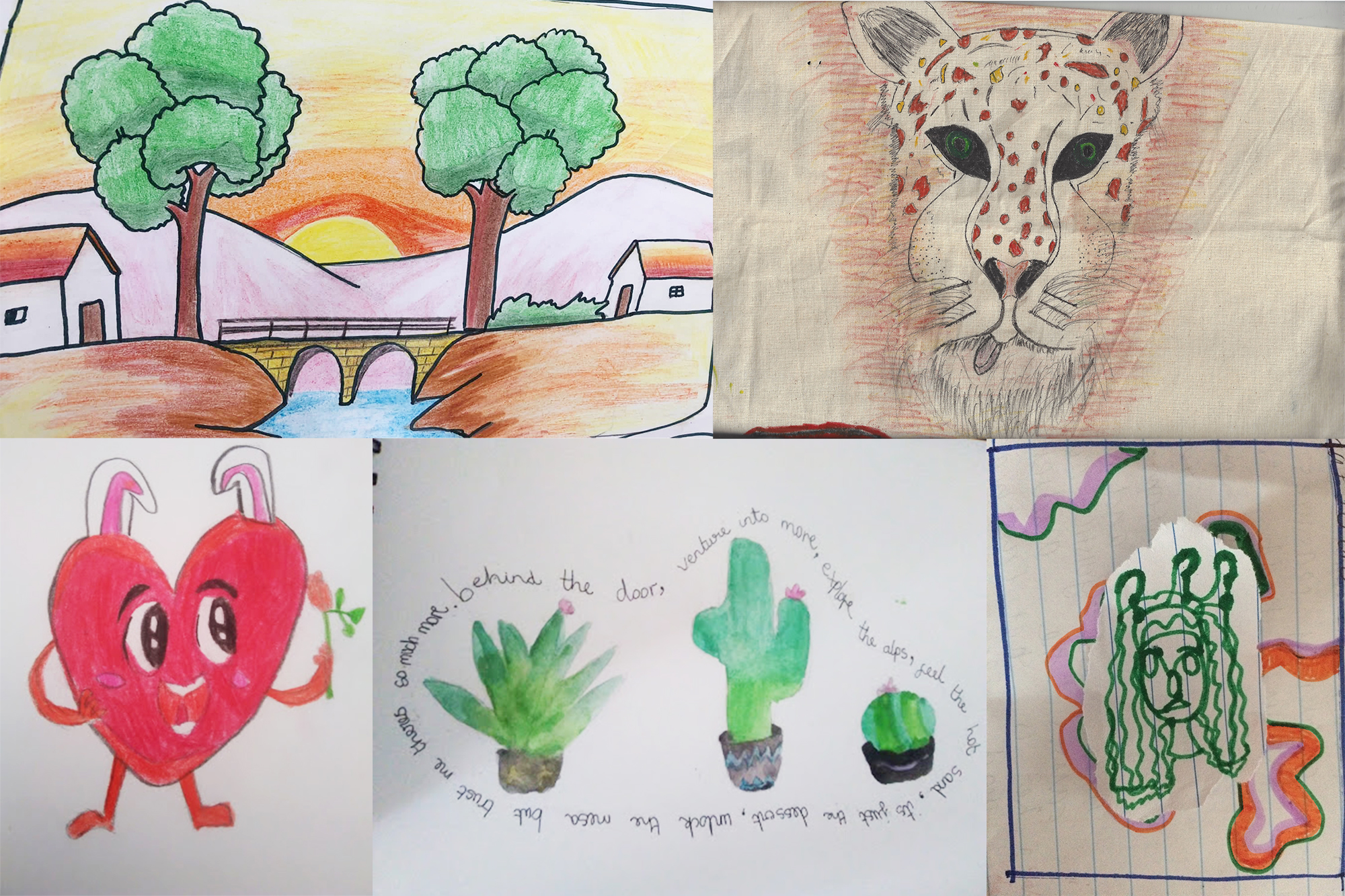 However, we quickly discovered that not being on camera or choosing not to talk doesn't always mean a lack of engagement. We had young people who had poor reception, were sharing internet, or were using a device that wasn't equipped for video/audio. It rarely had anything to do with how much they wanted to take part. In fact, because we were using Padlet, we were able to see that even those who were not making a visual or verbal contribution to the sessions were in fact still completing the activities and uploading their artwork. In the final sharing we were able to showcase all the participants' work, even though we had not seen or heard from some of them throughout the week.
You can see a selection of participants' work on the A New Direction website in our online gallery.
Browse the we belong gallery
We also found that those few who were reluctant to speak out loud or be seen got more confident as the days went on and felt comfortable to be more visible. We made sure that there was never any pressure to speak or be visible throughout the sessions. We also made sure we had members of staff looking out for participants who seemed to be struggling and were able to contact them directly to support them or follow-up with them/their carers after the session.
7. Time away from screen is so important
Being on a screen all day long is not good for anyone. We structured the week with one compulsory group workshop each day and then optional sessions, as well as including self-directed sessions where the young people completed their own artwork offline. This encouraged all participants to take responsibility for how much or how little they wanted to take part throughout the week.
We also wanted to encourage chill-out time throughout the week, so planned a daily wellbeing activity that would transition participants from the online sessions into the rest of their day. We had a Padlet which focused on wellbeing suggestions and also placed links in the oasis area of the Mural landscape which clicked through to mindfulness activities.
We also had 'screen-off' lunchtimes where the online room was closed to encourage everyone to have at least one hour away from their screen. We then opened the room slightly early before the afternoon session was due to start so the group could chat and settle in.
8. Collaboration is possible
We wanted the young people to not only create their own artwork, but also co-create with each other, just as they would if they were in a room together. The idea of collaborations between those who wanted to create with words and those who wanted to create with visual art came organically as a suggestion from the participants and we enabled this.
For this to work, it was essential for us to use a platform that could handle breakout rooms. The logistics of creating not only multiple breakout rooms but also the structures to include artists and support staff was an immense challenge, but so, so worth it! This was when our project truly took off and felt exactly like we were in the room creating together, rather than simply being an instructional session.
9. Your team is a treasure
The logistics around the whole programme were far more complicated than planning an in-person residency. There was a considerable amount of set up and planning beforehand which involved a huge team effort. We had a team of four artists, three producers and five virtual school staff, who attended team planning meetings and training – and this really paid off. We all had to be on the same page because in a virtual session any confusion is magnified.
Although we created a clear, detailed, and structured plan, we also had to leave room for flexibility to be able to respond to the changing needs of the group. It was incredible to work with a such a talented team who were able to adapt in the moment, but we were also careful to put the conditions in place to allow this to happen smoothly. This included detailed planning meetings, daily briefings at the start and end of each session, a 'virtual staff room' for breaks, and a team Whatsapp group so we could communicate in the background of every session.
With all these structures in place we were well placed to deliver a high-quality programme. There was just one final essential ingredient: trust. To achieve the desired level of engagement and collaboration, trust had to be paramount. Artists were working with small groups of participants in some sessions, individually and in pairs in others, and then there were sessions which were more open to respond to what the young people created, so we could not predict what would come out. It was a huge balancing act and every person had to be fully trusted to follow their creative instinct. It is a credit to the team that this was able to happen so well, and it really goes to show that preparation and communication is everything.
10. The gift of anticipation
In the lead up to the project we wanted to get the young people excited about the programme and encourage as many as possible to attend. We know that online activities do not suit everyone, and some may have been feeling nervous about attending. To help with this, we compiled and sent out Welcome Packs before the project began. These contained all the art materials they would need for the project, some inspiration in the form of books and artworks that we would refer to during the week, and some sweet treats to keep them fuelled during the sessions.
This was a practical pack designed to make sure that everyone had the resources they would need,d ensured the project was inclusive for all, and also served as a great tool for building excitement for what was to come. Who doesn't like receiving a present in the post?!
We also sent short introductory videos from the artists in advance of the sessions so that the young people could get to know them.
We hope this has given you a few pointers for your own digital participatory programmes!
---
Where next?