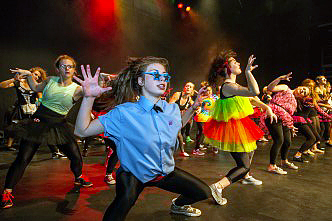 (Image credit: Trinity College London)
Each year, Trinity College London selects Good Practice Centres from a range of sectors, including schools, youth and community centres and the arts and cultural organisations. Over the course of the year, they work with them to share their practice and inspire others through a range of activities. The programme is entering its fourth year of highlighting the exciting work of Arts Award centres.
The 2014-2015 Good Practice Centre Programme
Trinity College London welcomes Good Practice Centre applications from current Arts Award Centres who can meet all of the essential criteria and at least one of the desirable criteria.
Essential Criteria
a current Arts Award offer and at least one previous successful moderation
plans to deliver Arts Award between September 2014 and September 2015
plans to expand your Arts Award offer to reach more young people in the coming year, or evidence of doing this within the last year
senior management support for your Arts Award offer
evidence of the impact Arts Award has on the young people who participate
nomination of a lead adviser, secondary contact and a media spokesperson for your centre
ability to meet the roles and responsibilities of a Good Practice Centre as laid out in the brief below
Desirable criteria
a creative/innovative approach to delivering Arts Award
offering progression for young people through different Arts Award levels
strong links with the community/other organisations
registration as an Arts Award Supporter (most appropriate for arts and cultural organisations)
Good Practice Centre brief

Trinity College London will be engaging Good Practice Centres in a number of activities across the year to share their approaches. They will contribute the following core activities:
a case study for use on the Arts Award website and publications
production of an adviser support resource for use on the Arts Award website
identifying opportunities to promote Arts Award to other settings not yet engaged in the programme. Promotional activities should take place on at least twoseparate occasions to two separate audiences
national press and advocacy work with Trinity and our partners where appropriate (eg providing quotes, taking part in photo-shoots)
an evaluation of the Good Practice Centre programme
a fee will be available for each Good Practice Centre, with payments scheduled throughout the year subject to completed activity
Applying
If you would like to apply to be a Good Practice Centre in 2014-2015, please complete the application form by 30 June 2014
Please contact the Arts Award Sector Support Team with any questions support@artsaward.org.uk or 0207 820 3383.
To find out more about Trinity College London's current Good Practice Centres and how they have celebrated their achievements, go here

---
Like this blog?
We send out a monthly digest of all our blogs, news and updates - sign up here to receive straight to your inbox - www.anewdirection.org.uk/newsletter
You can also follow us at @A_New_Direction