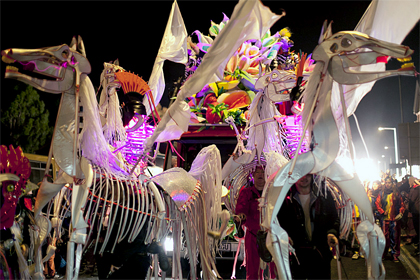 (Image credit: Great British Carnival)
Great British Carnival was a breath-taking event of dance, infectious music, performance and costume, culminating in the world premiere of The Carnival of the Animals: a magical twilight crescendo of costumed performers, 300 dancers, giant carnivalesque creatures and extraordinary illumination.

Over 50,000 people attended the carnival in the Queen Elizabeth Olympic Park on the 27th July 2014, and A New Direction supported the planning and development of education and learning activities at the carnival to embed Arts Award in the following ways:
Arts Award Supporter: The Great British Carnival became an Arts Award Supporter – promoting its free activities and programmes to young people undertaking their Arts Award. The carnival also developed a series of masks available on the day that children and young people could create to contribute towards their Arts Award.
Arts Award Silver: The carnival youth board, CarnivalXtra – worked with Lyrix Organix to achieve Arts Award Silver. The youth board organised and led various aspects of the carnival, from marketing, promotion, social media, performance and workshops; and Arts Award Silver was used to accredit and recognise the achievement of the young people that took part.
Arts Award Silver is a nationally recognised level two qualification.
Arts Award Bronze: The young volunteers supporting the carnival worked towards Arts Award Bronze as part of their training, development and involvement in the day.
Arts Award Bronze is a nationally recognised level one qualification.
Arts Award Discover: As a universal offer to children and families visiting the Great British Carnival, Arts Award Discover was mapped against the different parts of the carnival performances and workshop activities. Carnival log books and masks were created, allowing 90 children the chance to achieve their Arts award at the carnival, supported by their families and a small team of Arts Award advisers.
Arts Award Discover is an introductory level award for children and young people aged 5-25.
What were the benefits?
Increased awareness of Arts Award
For both organisations and individual participants Arts Award is an excellent way to recognise the achievement of children and young people.
Measurable outcomes
Arts Award provides clear and measurable outcomes for art and cultural projects, programmes and events. Through the Great British Carnival over 110 young people have worked towards an Arts Award.
Raised Profile
Accreditation is becoming increasingly important for young people, and funders. Through the direct use of Arts Award the Great British Carnival is able to clearly articulate the impact of specific areas of their work to other partners and funders.
Multiple Levels of Engagement
Thorough targeted and universal offers, the Great British Carnival was able to provide an inclusive and appropriate learning opportunities for young people to get involved at a variety of levels.
A New Direction worked with the Great British Carnival to develop their accreditation and learning offer as part of the carnival. If you have a project, programme or event that you would like support to map against Arts Award, please contact us
The Great British Carnival was organised by Artaha Productions. The youth element of the carnival 'CarnivalXtra' was spear-headed by a pioneering board of London's most exciting young change-makers, including: Allsortz Open Mic, Lyrix Organix, Bite The Ballot, A New Direction and the Mayor of London's Peer Outreach team. Together they create safe, relaxed and educational artistic and cultural engagement for all the family.
---
Like this blog?
We send out a monthly digest of all our blogs, news and updates - sign up here to receive straight to your inbox - www.anewdirection.org.uk/newsletter

You can also follow us at @A_New_Direction