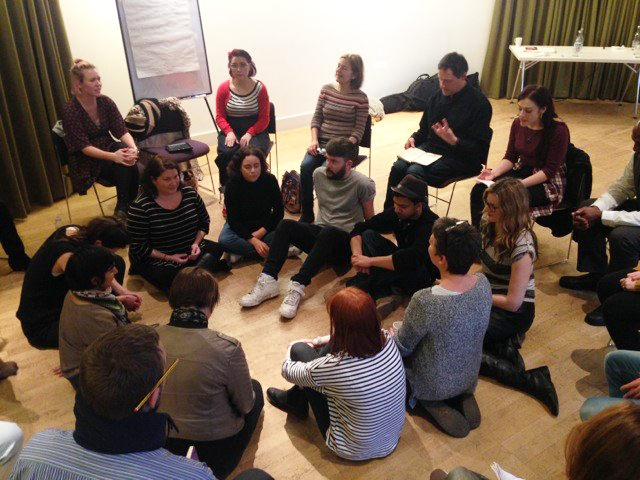 The morning session was led by award-winning performance poet Nick Makoha, who worked through a rapid-fire series of games and activities to demonstrate how to demystify poetry in the classroom and engage learners who might shy from words, whether spoken or written.

'It has to come from them, from inside,' advised Nick, who has worked with young people from across the UK. 'If they can share their own stories and their words, that's the first step to getting them connected with the craft behind writing and story-making.'
Nick often uses free writing as a starting point. This technique involves writing in a stream-of-consciousness way for a set period of time, without concern for grammar, spelling or structure. In the session, teachers were asked to select some words from their free-write that they found interesting. These were then used to create short poems, which some teachers read aloud to the group. Analysing favourite song lyrics is another tool Nick likes to use with young people: 'They often don't think about the words, but when we look closely they see they're carefully constructed'.
Musician Tara Franks led the afternoon session, using the words and poems created in Nick's session. Tara works with a range of young people – from toddlers through to sixth formers – yet uses similar tools to create music regardless of age. 'Quite a few people don't believe they're capable of creating music, but music begins with rhythm and almost everyone can create simple beats or rhythms using their bodies or whatever they have to hand,' Tara said.
In her INSET session, after some rhythmic warm-ups, Tara asked teachers to use the words and poems from Nick's session to create bespoke rhythms, substituting beats or sounds – whatever sounds teachers felt like making, whether whistles or shouts or actual notes – for the word themselves. Working in groups of 5-6, teachers combined their rhythms, sounds and words into unique devised musical creations. Each group 'performed' its work, and talked about the process of its creation.
Both Nick's and Tara's sessions focused on exercises and methods of drawing out interest in words and music, particularly from those children (and perhaps teachers) who don't feel they have any particular talent for these art forms. More about Nick and his work can be found at nickmakoha.com, while Tara's various classes, programmes and activities are at tarafranks.co.uk.
Don't miss out on the next INSET, book your place now
---
Sign up to receive a monthly round up of blogs, information and opportunities from AND.