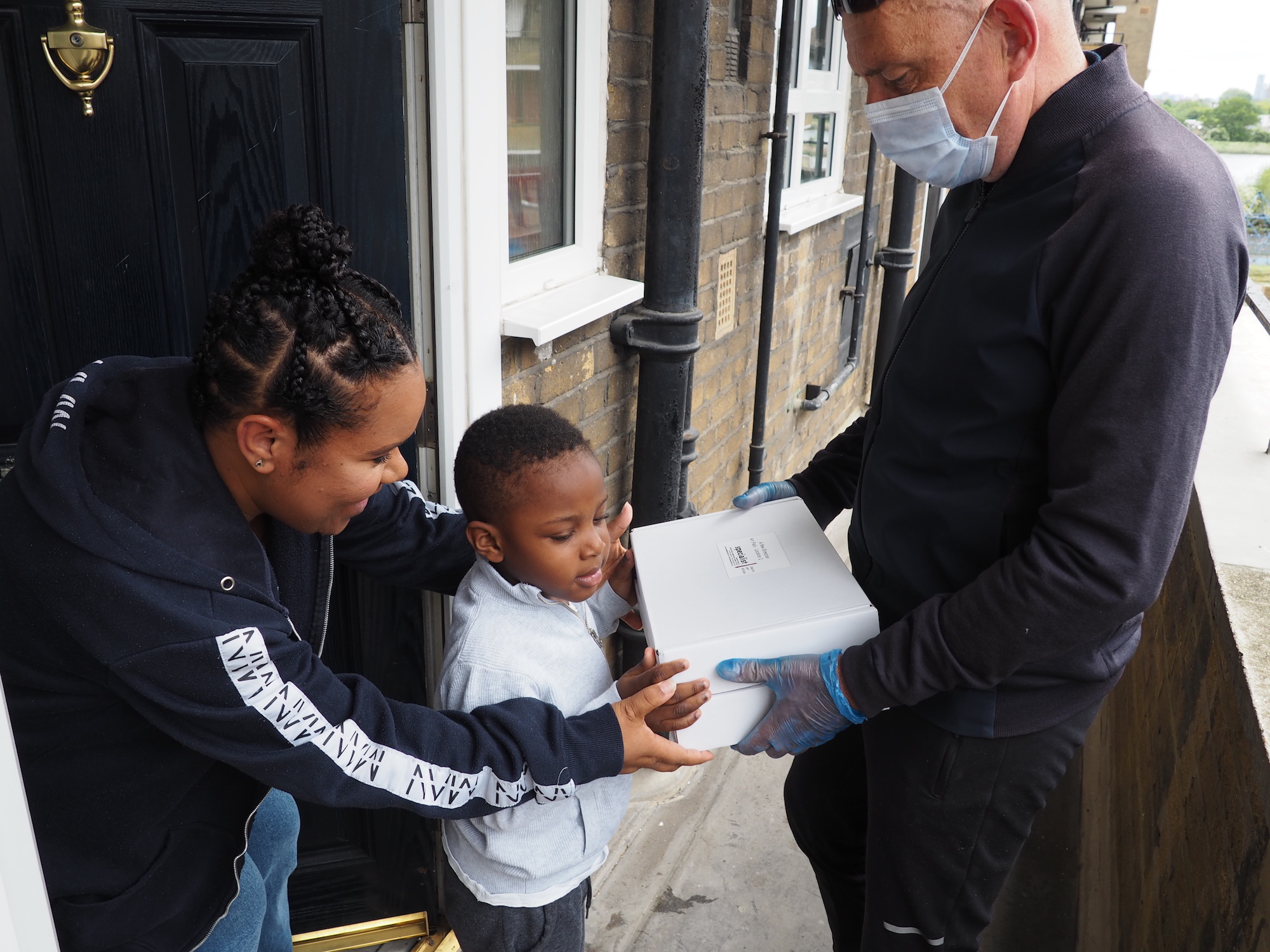 Image credit: Islington Play Association
A London-wide response to coronavirus has been launched by A New Direction. Through the distribution of Let's Create packs, we are working to support the creativity and wellbeing of children across the city.
The packs – supported by arts and craft teacher Andria Zafirakou, winner of the 2018 Global Teacher Prize – aim to keep children and young people engaged and creative during the Covid-19 lockdown, and ensure that children don't miss out on the health, wellbeing, and educational benefits of creativity while away from school. The packs include high-quality arts materials such as paints, pens and paper, along with learning resources and activities for children to try out at home.
To distribute the Let's Create packs across London to those most in need, A New Direction is working with Kitchen Social – a food provision programme run by Mayor's Fund for London – and Specialist Crafts Ltd. who are providing discounted art materials. Following a successful pilot phase which saw 300 packs delivered across Camden, Islington, and Hackney, A New Direction is now working towards distributing up to a further 6,500 packs to young people accessing Kitchen Social's food banks on a regular basis.
There are 700,000 children – or 37 per cent of all children in London – living in relative poverty after housing costs are taken into account (Trust for London, 2018). While a number of other charities work to ensure that these children remain safe and well during the coronavirus lockdown, the Let's Create arts packs programme is quickly and effectively providing additional support to improve their quality of life and mental wellbeing.
A staff member handing out Let's Create packs at Islington Play Association (one of the delivery sites) said, "one small child didn't want to wait until she got home – she told staff 'I want to start drawing now!' Her dad told us that she wants to draw all the time and that it was amazing to get such lovely stuff. Another child told us 'everything is in this box.'"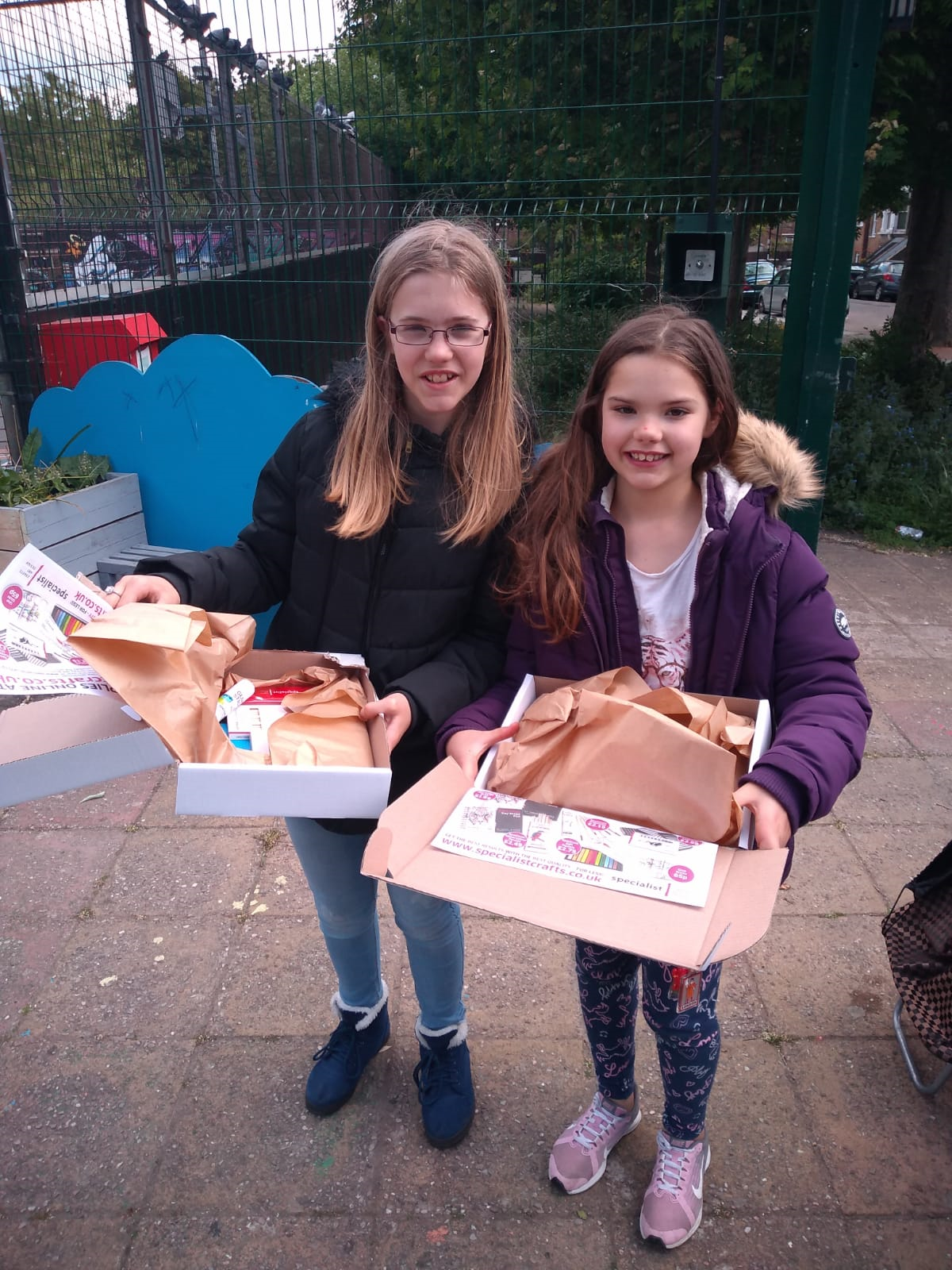 A New Direction is currently seeking funding and sponsorship to create more Let's Create packs, and reach more young people over the summer. If you or your organisation would be interested in getting involved, please email schools@anewdirection.org.uk
Let's Create packs are being distributed as part of a national effort orchestrated by Arts Council England, with over 25,000 packs being distributed across the country through Arts Council England's Bridge organisations and their local partners. This distribution will act as the first phase of the wider programme, which will roll out in the coming weeks. Arts Council England has been able to fund the Let's Create packs thanks to the National Lottery. Crafts Council and Art Fund have provided additional support.
Steve Moffitt, A New Direction CEO, said:
During these challenging times, it is more important than ever that we support our communities to be able to engage with, and participate in, the arts. For young people in particular, the arts offer a way for them to channel their emotions into something which is therapeutic and positive. As such, there is now a real need for children and young people in London to have access to creative art materials. The Let's Create art packs will support families who would not otherwise have these resources at home to use high-quality pens, paper, paint and colouring pencils to express themselves creatively.
Darren Henley, Arts Council England CEO, said:
Thanks to National Lottery players, we're helping children to lead creative lives during lockdown. We know that being creative teaches young people new skills, as well as increasing their overall happiness and wellbeing. These art boxes will help more children from every background get the chance to flourish despite the challenges they're facing right now.
With thanks to our partners: Arts Council England, Mayor's Fund for London, Crafts Council, Specialist Crafts, Berkley Homes, Hobbycraft and Camden Town Brewery.