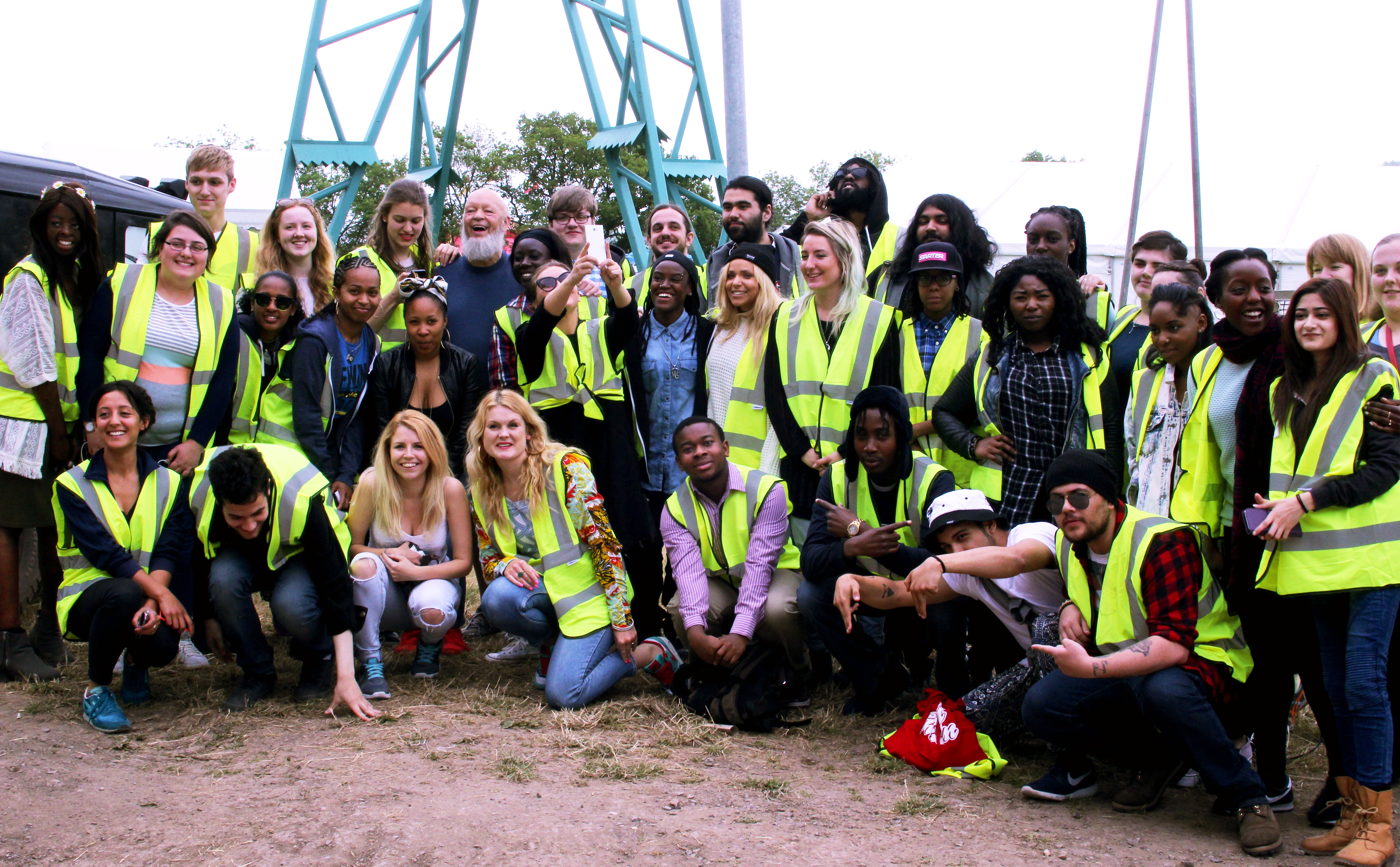 When I applied for this job (I'm a Producer working on the Mayors Fund for London Funded Creativity Works programme) I definitely didn't know that I'd end up hanging out with 30 young East Londoners in Paris and Jean Paul Gaultier himself at his Autumn 2014 Couture Show for the CW Fashion programme.
That was last year. And I was just coming to terms with the above.
Then this year's Creativity Works Festivals group meet the man behind arguably the biggest festival in the world. A once in a lifetime trip on a site visit to Glastonbury- with a private tour from Michael Eavis.
The group; 40 Londoners aged 18-24 with a passion for festivals and events have spent two week's training, in masterclasses, day boot camps and site visits with some of the biggest names in Festivals and Events (including those behind Lovebox, Shangri-La, The Rum Shack, Field Day, Southbank and Barbican) they've also delivered their own events at the Dalston Roof Park with our partners Bootstrap Campus and are currently undertaking temporary work placements, which will hopefully lead to paid employment in the creative industries.


A Big History…
After zooming down the motorway consuming litres of coffee, tons of baked goods and 2 hours of a Mean Girls DVD, we arrive at onsite. Michael Eavis gets on board the coach (which probably smells like 45 Londoners, Croissants and Haribo- sorry Michael.) He's as smiling, relaxed and brilliant as you'd imagine, and takes to the on –board microphone, as we drive around the sprawling, beautiful 8.5 mile site.
We are joined by the lovely Kaye, Maree and Debs from the festivals hugely successful Night time field Shangri-La who, even as well-known veterans are in awe of hanging out with Michael. He is Glastonbury festival, and has been, since its inception in 1970 (when it was actually called the Pilton Pop, Blues & Folk Festival, attended by 1,500 people and it cost a quid to attend - with free milk thrown in.)
In the first 2 years David Bowie, Hawkwind, the Kinks, Fairport Convention and T. Rex had already graced the stage. Now, with an attendance of 175,000 people. 100+ stages and 2,200 performances, and Kanye- it's vastly different.

Magical Mystery or Moody Blues?
Michael's still got time to give us a Q & A after the tour….And this is what we learnt:
- When people kick up a fuss about headliners' they don't like- it's actually not all band. "It's good media coverage!- 140,000 complaints- it's more of a compliment"

- There are 400 cows onsite , and neighbouring farms often rent their space out (which makes part of the Glastonbury site) but the cows aren't affected – they go offsite for a while ( to their own private party)

- That many of the sites fields have sentimental and historic names and meanings, including and 'William's Green' the field - named after Michael's grandfather ' he was a card'

- Michael LOVES the Moody blues. More than the Beatles….There you go.

-The hardest thing about putting on Glastonbury festival? Getting the licensing sorted with the council.

Creativity Works: Why?
The Creativity Works Programme is funded by the Mayors fund for London, and delivered by us, at A New Direction, and Create London. It works with groups of 18-24 year old Londoners, to give them access, awareness and support into the creative industries, which is a burgeoning industry, (with recession-proof growth of 10 % year on year) but populated by a high income, graduate, and white workforce.
Our aim is simple yet effective. A group of young aspiring creatives get sector specific training, networking, masterclasses and site visits, work experience and then support into local creative opportunities. These include Apprenticeships, internships, and jobs. So far we've worked with nearly 100 young people for Creativity Works, Fashion, theatre, Outdoor Events and Arts and Now Creativity Works festivals. Find out more about Creativity Works Here

What's Next?
The group is due to finish their work experience in the next week, and are applying for a variety of paid internships apprenticeships and jobs in the creative industries, music, and events industry. Many of the group are working on The Southbank Festival of Love, The Barbican Station to Station,Lovebox, and The Walthamstow Garden Party. They graduate on 21st July.

Our next programme Creativity Works: Panic! is focussed on learning more about music journalism, and media, and getting into the industry and launches soon. If you're aged 18-24 and from Tower Hamlets, Southwark, Lambeth, Islington or Hackney contact us to apply.