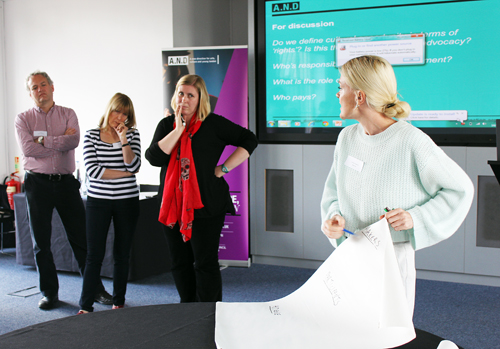 Teachers from schools across London joined us on 14 May at RIBA to engage in deep conversations and share examples of best practice.
The afternoon started with a presentation from Holly Donagh, Partnerships Director at AND, highlighting the history and context of cultural entitlement for young people. She identified its roots in the UN's Convention on the Rights of the Child (Article 31), its significance in the 1999 report by Ken Robinson, "All Our Futures" and the Henley Report of 2011.
Holly addressed issues relating to the idea of culture as a right for young people. The use of the word 'right' obligates the state to provide and pay for this entitlement. In recent years, there has been a political shift away from this idea and so it is less clear who is responsible for providing cultural opportunities for children; schools, parents, local authorities, government?
There have been a number of cultural entitlement initiatives in the UK in the last decade:
Find Your Talent (2008-2010), was an initiative that aimed to engage all young people In three hours of culture a week through arts networks and youth organisations rather than schools. The current Cultural Education Partnership Group (2012-2015) is testing models of integrated cultural education provision provided in localities, and, in Birmingham, the A Creative Future programme (2006 – Ongoing) is a local authority-led strategy aiming to increase children and young people's access to culture.
There are also a number of interesting international examples, such as Mocca (Amsterdam), a government initiative to ensure that 70% of schools adopted cultural education, Big Thought (Texas, USA), an education non-profit organisation that provides innovative learning programmes, and Kuopio (Finland), a self-sustaining Culture Path programme aimed at enhancing the social, emotional, and physical well-being of children through culture and art, by ensuring that every student has access to the city's cultural services.
For the remainder of the session, teachers engaged in facilitated conversations about cultural entitlement in relation to their school, identifying how their schools already engage children in culture as makers, participants, or audience members, and sharing successful strategies for cultural entitlement.

You can find notes on their conversations, and top tips below.
Download AND Schools Forum Cultural Entitlement Teacher Discussions
You can also download a guide to the activities used in the session.

Download AND Schools Forum Cultural Entitlement Activities
---
Like this blog?
We send out a monthly digest of all our blogs, news and updates - sign up here to receive straight to your inbox - www.anewdirection.org.uk/newsletter

You can also follow us at @A_New_Direction