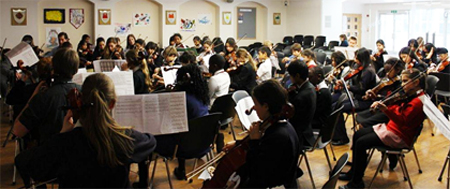 (Images credit: Ealing Music Service website)
The closest word for music in many South Asian languages including Hindi, the most widely-spoken and one of 27 official languages in India, is sangeet. The term not only includes instrumental music, vocal music and dance but also encompasses drama and even the art of speech. More and more hubs are offering other performing arts. What might this look like in Ealing?
This was one of the questions posed by our action-research through the Connected London programme. Other questions posed included how do we work better with schools and how do we work better at partnerships?
Working with Schools
Following a successful application to A New Direction (AND), Ealing Music Service (EMS) has over the past 18 months undertaken action research to understand some of the issues stopping schools from engaging in cultural activities for their children and to develop some sustainable and workable solutions. None of the reasons are rocket science.
From schools' perspective the following factors featured largely:
- Not knowing what's on offer or how to find out
- A preference for providers to visit the school
- Any funding available did not cover the real cost of preparation and staffing
- Curriculum and financial pressures
From the perspective of providers the following factors featured largely:
- Not knowing which member of school staff to contact
- The lack of effective relationships with schools to effectively analyse their needs
Partnership Working
With excellent support provided by the Innovation Unit during the AND sessions we were able to take a new look at partnership development. We wanted to challenge the concept of partnerships being devised on paper by project managers and to look at what happened when practitioners were given the time and space before the delivery dates to work creatively with a sense of play, ability to try out prototypes and then to formulate the nature of the project they wished to deliver. We discovered that while developing this working relationship takes time, it delivers a much more dynamic and ambitious programme that has the buy-in of all involved, including artists, musicians and school staff.
As with any effective lesson plan, we chose to focus on one main factor through which we sought to address all the other inhibiting areas: "To develop a cultural project that addresses the programmes of study of the entire primary curriculum". We are now working with a small number of primary school colleagues, visual artists and musicians alongside the Pitzhanger Manor & Gallery, designed by the celebrated architect Sir John Soane as his weekend retreat in which he entertained his guests, to develop a two-week curriculum takeover, Entertainment, that will deliver the entire primary curriculum but with a cultural focus. This will include visits to the school by artists and musicians as well as a visit to the Manor by the children. This way the school value the visit as it is part of a longer term curriculum offer.
Over the coming few months, this will prove to be a very interesting journey and, if successful, it will help further embed EMS at the heart of Ealing's School Effectiveness team in its support of schools to drive up standards.


Maximising the Potential of Music Education Hubs
As the lead organisation of the music hub and following a comprehensive restructure of its core team, EMS is now in a much better position to close many of the gaps that previously existed in providing a high quality music education to all children and young people. This has been mainly through developing excellent partnerships with a range of local and regional organisations and securing 17 pieces of additional funding during the first two years as lead organisation of the Ealing Music Partnership.
With the senior leadership team's experience in education ranging from music, drama, many instruments, including those of the South Asian tradition, and enterprise - and with 37 years of music education experience even among the 4-member admin team - Ealing Music Service is in a strong position to foray into the wider arts in the immediate future and possibly beyond in the more longer term. It is currently looking into submitting a Grants for the arts application to Arts Council England for an arts manager/practitioner to develop a comprehensive and sustainable arts offer for schools and the wider community.
From Music to Arts Hub
With a galaxy of cultural and musical icons that lived and worked in Ealing from playwright and novelist Henry Fielding to comedian Sanjeev Bhaskar – and with a number of cultural events and organisations from the Ealing Music & Film Festival to the Questors Theatre – EMS firmly believe that it is absolutely vital that children and young people of today are able to engage in some of the opportunities that have enabled these famous local people to contribute so much to the communities within the borders of this country and beyond.
If the United Kingdom is to remain a major player on the world stage, it is crucial that it enables its children and young people to engage with the best of what British cultural heritage has to offer as well as that of other nations. With unprecedented levels of pressure on schools to provide a world class education, Music Education Hubs are in a unique position to offer schools a wide range of high quality, bespoke arts and cultural services that will nurture well-rounded children and young people. This will in turn enable them to enter the job market better equipped to compete with their international counterparts.
To find out more about Ealing's work through Connected London, go here
---
About Connected London
A New Direction's action research programme and strategy for local areas in London. 'Connected' is a three-year programme (2012-14) with two years of action-research investment and one of transition or development funding. It is led by A New Direction, in partnership with the Innovation Unit and a number of London Boroughs and other cultural partners.
---
Like this blog?
We send out a monthly digest of all our blogs, news and updates - sign up here to receive straight to your inbox - www.anewdirection.org.uk/newsletter

You can also follow us at @A_New_Direction