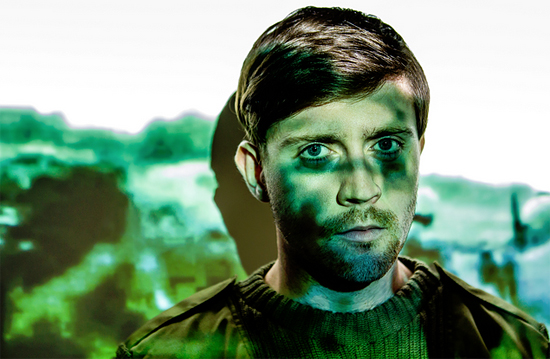 (Image from BeFrank Theatre Company)
A New Direction has worked with Joy Harris at the Service Children's Education (SCE) for a number of years, connecting students in British schools on army garrisons abroad to arts and culture as part of our partnership with SCE. The partnership is hugely valuable, as pupils of these schools are learning in cultural vacuums, disconnected from the rich cultural offer and opportunities that their fellow pupils back in London have at their fingertips. SCE's work connects them, and helps them learn and deal with their perhaps unconventional school and family life in postive and creative ways.
Over the past 5 year, together we have delivered many dynamic projects and partnerships that have been hugely embraced and enjoyed by pupils, parents, staff and teachers, and it was my privilege to be invited by Joy, to a performance of Do we do the right thing? by the BeFrank Theatre Company in Southwark - a production that next year will be going to Germany for a week, to be performed for the Service Children's Schools.
As a precursor to what those pupils will experience, and at this timely moment of reflection and remembrance in the centenary year of WWI - I would like to share with you my reflections of what was a hugely emotive, and enriching performance.
---
The play looks at remembrance by giving a voice to the insightful stories of the people of a small Wiltshire Market Town. Royal Wotton Bassett, paid tribute to personnel killed in Iraq and Afghanistan during April 2007 to August 2011, the community of this small town honoured three hundred and forty five dead, on one hundred and sixty seven different occasions.
A timely reflection, on the 100th Anniversary of the start of World War I and as hundreds visit the moving vision of the poppy's at the Tower of London, how will we and do we remember the soldier's of our generation?
The play never felt like it directed me to a poisons or political perspective, rather it presented a personal choir of stories. Stories that shed light on a subject that is hard to discuss or even reconcile in ourselves. I was one of the hundreds who walked the streets in London in protest against the war, and one of the hundreds who was lost in thought at the Tower of London this week.
The simplicity of the production captures the honesty of the work and the real value of the stories being told. There was layers of video and sound that seamlessly added dimension to the personal memories being shared, from a heartfelt conversation between bereaved parents, to a questions of dignity raise by a pub landlord, forced to reflect by the towns involvement. They use 'verbatim theatre', having never heard of this before I've seen two plays this year using the technique and it came into its own here. Recording of the actual interviewees are played in the actors ears during the performance, so that they repeat word for word, the intonation, the hesitations and captured the natural rhythms and generational differences in how we tell our stories. So much is said without words.
It was moving and thought provoking and everything that good theatre should be. I couldn't stop thinking about it, talking about it, wishing everyone I had even know could see it and could then talk to me about it, because I want to know… how we remember the stories of our family, of our time and how we acknowledge the individuals that face the conflict and complexities of war today. And how do we support their families?
Early next year the play will be going to Germany for a week, to be performed for the Service Children's Schools. The very thought of this made me hold my breath, imagining seeing and hearing these words as a child and with a father serving. This work has integrity and I am sure it will be key to opening a door to conversations and a way of understanding that we are all looking for, great theatre can do this, and it's good to know it's out there.
For more about Do we do the right thing? click here
Read this blog about one of our SCE projects
---
Like this blog?
We send out a monthly digest of all our blogs, news and updates - sign up here to receive straight to your inbox - www.anewdirection.org.uk/newsletter
You can also follow us at @A_New_Direction