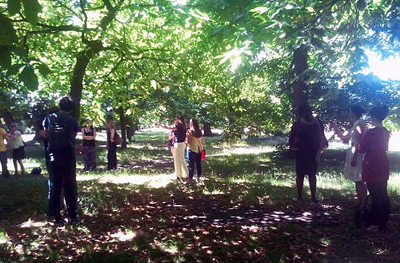 (Image caption: Teachers investigating tree health in Royal Parks Greenwich, as part of a Greenwich Curriculum training session)
A recent post opened with "Story and narrative are at the essence of how we make sense of the world. Art is unique in its ability to forge new narratives about place. In Greenwich, the cultural assets of the World Heritage Site (WHS) are all around and yet the ingredient of place is not just about the buildings".
This conveys the value and ethos of our WHS partnership between museums, arts organisations, universities and schools in Greenwich, supported by A New Direction. The magic ingredients of the place are really its people, from its historic royal residents through to its thousands of diverse working people who have shaped it in the past. In the Learning Group of the WHS, our work focuses on drawing out that magic in future generations who may then protect its outstanding heritage and help it thrive with their creativity. If they fly off to spread their skills elsewhere, that's all the better.
We are committed to UNESCO's principle that if people understand the relevance of heritage sites to their own lives, they will be motivated to join in protecting them. If local school and university students take ownership of Maritime Greenwich we hope they will bring it to life for others.
Creative learning is essential in this process of bringing the place to life. Working with organisations like Greenwich Dance, Trinity Laban and Ravensbourne, and creative approaches in the museums, learners can explore places with all senses open, appreciate their aesthetics and imagine them in the past and future. The three other approaches are:
Enquiry-based learning, following deeper paths of questioning and research, in Sciences, Geography and History.

Social learning for citizenship, supporting collective meaning-making about local, national and global dimensions of the site and its wider community.

Place-based learning with challenges to apply their skills to improving place, heritage, ecosystems and community.
To put this into practice, we have identified two priorities by talking to education staff at Royal Borough of Greenwich:
The first is to respond to the new National Curriculum with resources and training for a new Greenwich Curriculum.
We are creating a coherent set of topic challenges all relevant to the cultural offer of WHS organisations, including Royal Museums Greenwich, the Old Royal Naval College and Royal Parks. These challenges, plus background information, will be in a published toolkit. It supports the goals of the London Curriculum but, where this only targets KS3 students, we are encouraging Primary schools to participate as well.
This summer, we held a series of three training days aimed at co-ordinators in History, Science and Geography, and then the Arts and Literacy. At these events, we inspired teachers to design their own Greenwich Curriculum challenge projects. Some schools, such as James Wolfe Primary, are already embarking on ambitious whole school cross-curricular projects. In another example, Invicta Primary's pupils are working together to curate a school museum, wild habitats for their new building and a science expo with their solutions to future problems. They are sending tentacles out to local parks, museums, experts, other schools, and wherever they can find inspiration relevant to their topics. Their children are taking an active role in collecting knowledge, forming questions and solving problems.
The second priority is to support Greenwich schools to raise aspirations at Key Stage 5 through two projects.

We are creating a training resource and workshops on enquiry skills, using local resources. The numbers of students taking Extended Project Qualifications has doubled nationally in four years. EPQs can be completed through a dissertation, or through self-led fieldwork, or a substantial creative outcome. Greenwich schools and colleges need help to enrich students' choices of topics, to be more relevant to their place and their lives. The resources will also encourage students to take Arts Awards and to improve their independent study skills more generally.
The second project for KS5 (and KS4) is called Your Future in Place, opening up ideas about careers and study routes in placemaking. The three universities and cultural partners have a wealth of practitioners who can demonstrate opportunities in architecture, design, creative communication, tourism, heritage, buildings conservation, environmental management, film and film sets, town planning and much more. We plan to hold an event in March where students will actively participate, interviewing staff and creating presentations. We will collate them into one tool so that these future opportunities can be shared with other young people, careers advisors and teachers.