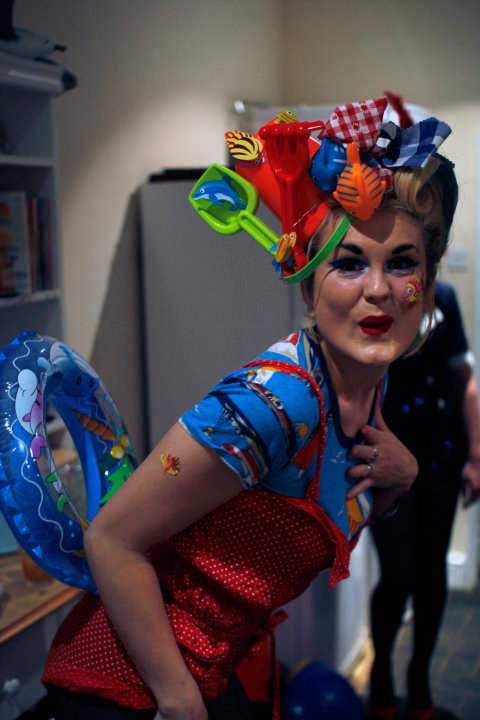 1. How long have you worked at AND, and what do you do here?
I've worked here for 2 years managing the Creativity Works Programme. It's a Mayors Fund for London employability programme which provides groups of young adults with hands-on crash courses, mentoring and work experience in the creative industries. We've delivered 6 so far.

2. What are you working on at the moment?
I'm programming Creativity Works Fashion 2016! This is our second fashion programme, and we have a group of 12 brilliant individuals. They've attended and worked at London Fashion Week, made 3 garments using different techniques, and had a variety of masterclasses from top industry professionals. Now they're just about to start a month's work experience, meet their mentors, plan a film to showcase their portfolio and plan their graduation show. It's all go!

3. Where are you from/where did you grow up?
I was born in south London and moved to Hastings and did some growing up in both I guess, they've changed so much for the better since the 90's I think. I quite miss the sea though.

4. Favourite part of your job, and highlight from your time here?
I love working with young adults who are passionate about what they do. People are always a joy to work with because they always surprise you. I can never guess who they'll become, and just how much they can achieve.
Highlight: taking 35 young adults to Paris for the Creativity Works Fashion 2014 to meet Jean Paul Gaultier at his couture show, and with Jean Charles De Castelbajac for a masterclass at his studio.
5. What do you enjoy doing outside of work?
I love car boot sales, and yoga (not at the same time!). I'm also a producer, singer and performer in an electronic pop project called LAXMI, and in a sound art collective called Breathing Space.

6. What's the best cultural event you saw in London last year?
I took part in an event at the Royal Academy of Arts where we dressed the staircase and turned it into an instrument. It was a performance called 'Herd' with Breathing Space. We had loads of really loud gongs and goat bells and ran them around the building, and we strung cymbals from the bannisters and bashed the building with sticks. It felt revolutionary and refreshing to make loads of noise in a traditional arts institution that we'd never worked in before.

7. If you weren't doing this job what would you be doing instead?
See question 5!
8. What did you want to be when you grew up when were a child?
Jem the pop star. Remember her? She's outrageous.

9. What's your party trick?
I can do this really weird thing with my tongue which I've never seen anyone else do.... No, wait, I can explain.
10. If you could have any superpower, what would it be?
To vaporize greed.
11. If you could have 5 people round for dinner – anyone from history, dead or alive – who would you have?
My brothers, sisters, mum, grandma, Grace Jones, Bowie, Jaques Brel, Emmeline Pankhurst, William Shatner, Beth Ditto, Dolly Parton. Sorry, more than 5, but how good would that be!
12. If you could be any animal, what animal would you be?
A leopard.

13. What's the best piece of advice you've ever been given?
Keep turning up and doing what you love no matter what, and always try to turn up with a smile.