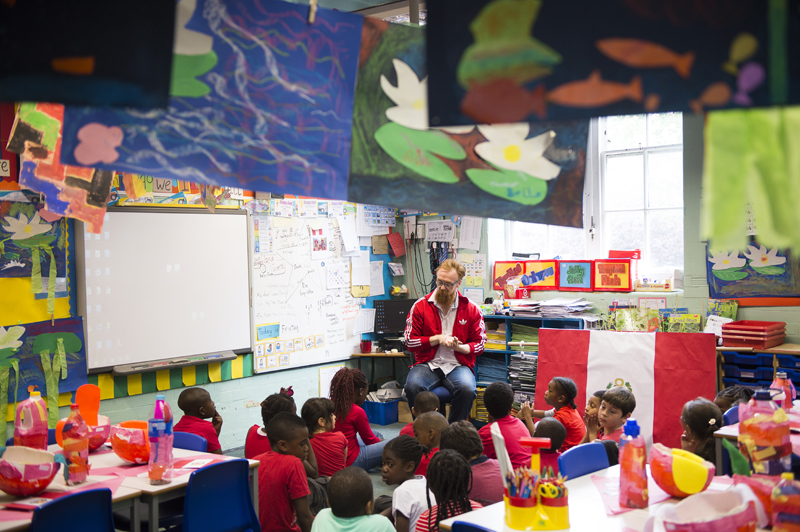 On 14 September 2017, the European Network of Observatories in the Field of Arts and Cultural Education (ENO) / UNESCO held their international conference focusing on Perspectives of Arts Education and Sustainable Development. Founded in 2015, ENO connects knowledge centres across Europe in order to facilitate the exchange of research findings and innovative practice. Their aim is to stimulate research in arts and cultural education and support the development of arts education within the framework of global UNESCO-policies and guidelines for education, culture and sustainable development. In addition to providing an international forum for discussion via conferences and meetings, ENO has established an online research database and a yearbook to share research-based knowledge on arts and cultural education. As new partners in the English observatory, alongside the University of Nottingham, AND were excited to hear about the wide-ranging research and projects that our European colleagues are undertaking in this area.
Established in 2015, the UN's Sustainable development agenda Transforming our world: the 2030 Agenda for Sustainable Development, addresses the challenges of ending poverty, protecting the planet and ensuring prosperity for all through 17 goals (SDGs) and 169 indicator-based targets. The agenda represents a shift away from a sectoral approach to a holistic paradigm in global policy, emphasising new modalities of participation and collaboration among citizens and the private and public sectors.
So, what might be the role of culture – and more specifically cultural education - in working towards the SDGs?
Colleagues from the Danish Cultural Institute usefully framed this question by highlighting how the agenda directly addresses the role of culture in both its general framework and via a number of its targets. The introduction to the goals, for example, emphasises the need to respect cultural diversity and pledges members to foster intercultural understanding, tolerance, mutual respect and pledges member states by acknowledging the natural and cultural diversity of the world. There are also specific mentions within goals. For example, Goal 4, which relates to ensuring inclusive and equitable quality education and promoting lifelong learning opportunities for all, includes the specific target of promoting a culture of peace and non-violence, global citizenship and appreciation of cultural diversity and of culture's contribution to sustainable development, whilst a target within Goal 11 highlights the need to strengthen efforts to protect and safeguard the world's cultural and natural heritage.
A number of the case studies presented by ENO members throughout the conference exemplified a variety of interesting and innovative ways in which projects and research on cultural education are directly tackling these issues. Others looked more broadly at how cultural education can play a central role in supporting citizens to understand issues of sustainable development and empower them to work towards the goals in a conscious way. Below we've highlighted a small number of examples of this interesting work.
---
Germany: UTOPIA TOOLBOX
Overview: UTOPIA TOOLBOX is an interdisciplinary, international art project consisting of people from a range of different professions united by the belief that creativity is the only resource that can solve our global crises. The project aims to develop creativity as a central human ability in participants and in others. It's range of projects facilitate intervention, installation and practical action in many areas of life: society, politics, art, science, economics, medicine, philosophy, spirituality.
Who runs it? Initiated in 2010 by Juliane Stiegele, the network of partners now includes the University of Michigan, School of Art and Design, Ann Arbor USA, Aalto University, School of Art and Design, Helsinki, FIN, and the Goethe Institute.
What's involved? The project includes the UTOPIA TOOLBOX Container: a real container on the road, it is a mobile 'Ministry for the Future', hosting talks and activities based on the key questions such as, 'what do you really want?' 'How do we want to live in the future, individually, socially, globally?' And, above all, 'what can you do today to take a step closer to your Utopia?' It works both within formal education spaces (primarily universities) and as a free department in the middle of society. Since 2014, UTOPIA TOOLBOX has had a permanent home in Augsburg where it delivers conceptual and practical work, meetings and events.

---
Finland: ARTSEQUAL
Overview: The ARTSEQUAL research initiative examines the arts as public service with equality as the starting point, and explores how the arts can meet the social challenges of the 2020s.
Who runs it? The initiative is financed by the Academy of Finland's Strategic Research Council, and coordinated by the University of the Arts Helsinki.
What's involved? The initiative consists of six research groups that are reinterpreting the traditional position of the arts in Finland by regarding them as a basic service that should be available equally for all. From the perspectives of equality and well-being, the project produces new knowledge on how already existing arts services can be developed in order to enhance citizen creativity and communal engagement. The project will propose policy recommendations to support political decision-making and consolidate new arts services.
In one recent example of work,
Comprehensive School: Finland's Largest Cultural Center
,
ARTSEQUAL
argues that Finland's comprehensive school system can become Finland's largest cultural centre by engaging in closer collaboration with arts and cultural education, on a cross-sectoral dimension. Based on the understanding that whilst arts and cultural education is offered in art schools, children's cultural centres, museums, arts institutions, and libraries, it is only comprehensive schools that reach all children and young people and so are the most valuable site for equity and inclusion of cultural education. Their vision includes supporting professionals from arts and cultural institutions to enrich school culture by participating in the arts education offered in schools during the school day and by introducing new practices to schools. They also argue that cultural equality can be increased by offering extracurricular arts and cultural activities in schools immediately after the school day, making them easily accessible to all pupils.
---
Portugal: 10x10 Project
Overview: An action research programme bringing together artists and teachers to apply innovative teaching practices in the classroom. Using cooperative and creative teamwork, the programme aims to promote teachers' critical distance by developing and reflecting on a series of micro-pedagogies in the classroom.
Who runs it? Fundação Calouste Gulbenkian (FCG) and Science Programme (PGEC)
What's involved? The programme, which includes a residency for teachers and artists, pedagogical experiences in schools, and a series of 'public lessons', investigates the ways in which teachers may learn from those attitudes and behaviours that are seen as integral to being an artist including curiosity, risk-taking, commitment, concentration, respect and participation. Rather than focusing on the delivering of arts education, the programme focuses on broader learning exploring how contemporary art practices may contribute to making the curriculum relevant for students by relating it to their own experiences or inspiring them by the adventure of learning.
---
Finland: Art Testers
Overview: Starting in Autumn 2017, Art Testers aims to provide young people across Finland with an opportunity to experience art which they may not otherwise access.
Who runs it? The Finnish Cultural Foundation in collaboration with the Association of Finnish Children's Cultural Centers.
What's involved? Each eighth grade student will be provided with an opportunity for two free pre-arranged visits; one taking place in their own province or nearby area and the other in Helsinki or elsewhere in Finland. Ahead of their cultural visit, pupils will receive advance information on the performance, artists and the art form, and during the visit they will learn about what working in the arts involves and what happens before a performance is ready. Following their visit, the pupils will be able to review the experience - sharing their thoughts, ideas, emotions and opinions via an open-channel available to the public. This information will offer unique insight into young people's attitude towards art and what kinds of works appeal to them, as well as operating as a mass review platform. Including the teachers, the project aims to reach almost 200,000 individuals.