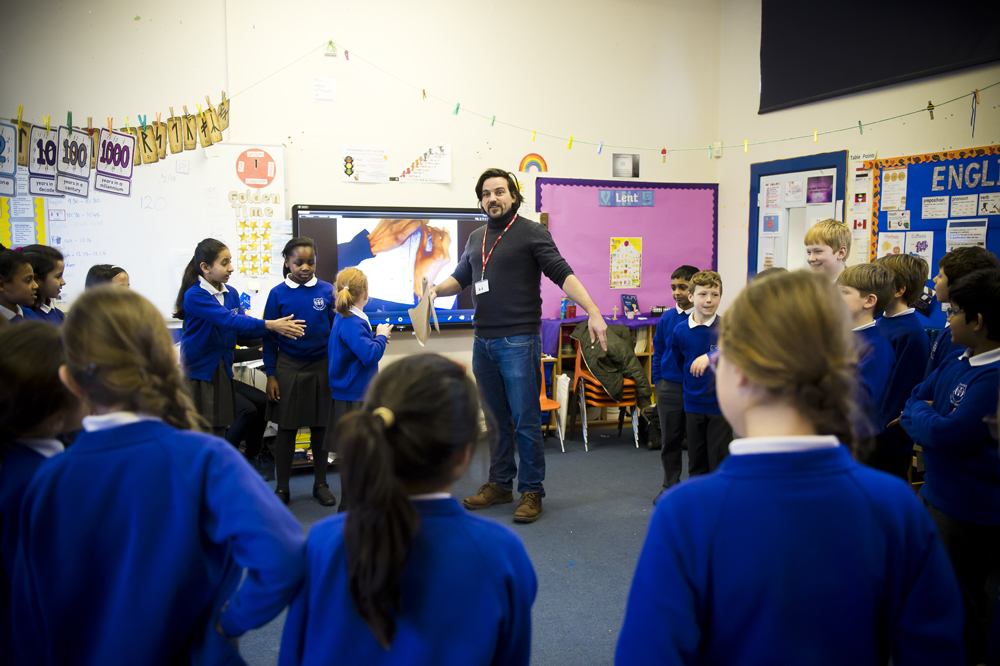 Being a cultural leader means being the go-to person when it comes to knowing the landscape in which cultural and arts education exists. It's not enough to know what works or doesn't work in your classroom or school. To make a powerful case for the value of the arts in modern education, we need to have a broader perspective and, just as importantly, we need to know where to look for it.
The tool we used to explore 21st Century teaching and learning - the topic of the second AND Cultural Leadership Community (CLC) session this year - was a PEST analysis, the acronym standing for Political, Economic, Social and Technological. We might add another P for Pedagogical, as much of our discussion focused on how trends in other areas are driving change in how teachers teach, and how learners learn.
P is for Political
Mere weeks before our session, the government appointed a new education secretary, Damian Hinds. We all wished him well, though several of us noted that he's the fourth education secretary in as many years… not exactly a recipe for consistency.
But in the spirit of knowledge being power, we discussed how every new political leader represents a new beginning. The key is to be informed - in the instance of our newest education minister, we unearthed this recent speech to the Education World Forum in which he spoke powerfully about the need to prioritise and reinvigorate 'soft skills', which so many employers say will be key to the future economy. The links between soft skills and the arts are well established by report after report. So, a new education secretary; a new chance to inform his thinking and policy-making... or at least, a fresh opportunity for teachers to use his words to start a new conversation within their schools about the value of arts and cultural learning.
There are positives on a global level, too. Pisa – which creates a kind of global league table for national education systems – is strongly considering factoring 'soft skills' into its rankings, adding it to maths, science and literacy. We all know that the arts and culture develop these skills simply in the doing, so this could be another opportunity to reinforce the potential for the arts to not only add value to education, but to drive that value straight into the future.
E is for Economic
'How to do more with less' has been a theme for many CLC participants for some time as school budgets are repeatedly squeezed, with the arts often first on the chopping block. Quite a few of our CLC teachers buy their own arts supplies and are forced to justify their arts work by taking on non-arts roles. Conversely, others enjoy well-stocked cupboards and strong SLT support. The difference between one extreme and the other seems to be a complex mix of demographics, leadership, and school/community perceptions of what constitutes a good educational experience.
What no one disputed was the negative impact of cuts on the teaching profession: workloads increasing, duties fragmenting, mental health and well-being an increasingly common concern, and all of it leading to high attrition rates, particularly in teachers relatively new to the profession.
Our economic conversation was the hardest of the day, with optimism sometimes in short supply. But glimmers of hope are close at hand - case in point, the extraordinary West Thornton Primary Academy in Croydon, an Ofsted Outstanding school with a challenging socio-economic intake yet with a resource-rich arts and culture programme.
Schools like West Thornton are often good at exploiting existing networks and resources, like A New Direction's ANDtogether website, which lists an ever-changing menu of cultural opportunities and resources for schools. Another fairly comprehensive website, though mainly aimed at primary schools, has both ideas and links to grants and crowd-funding possibilities that might spark ideas more broadly.

S is for Social
In these early years of the digital century, schools deal daily with complex issues around pupil access to social media and on-demand information. "The main issue I see among my students is insularity, even isolation, and a lot of that is driven by digital technology," said one teacher. Perhaps it's no surprise that the UK recently appointed its first 'Minister for Loneliness'. Yet this is also a global problem, as recent studies underscore.
Increasingly, social issues like loneliness, gender fluidity, and well-being are placing more pressure on teachers to deliver complex pastoral care - particularly in schools whose socioeconomic catchments include large numbers of families without resources to deal with them. "A lot of our families are just trying to put bread on the table and don't have the time or the tools to deal with these issues," said one CLC teacher.
Here again is a potential platform for starting new conversations about the value of the arts and culture, not least through all-party reports like this one published last July showing the clear and positive links between the arts and well-being. If teachers are going to become the primary gatekeepers for the mental health and well-being of the next generation, they need more training and support. How can we better make the case for ensuring that the arts and culture are front and centre in that dialogue?

T is for Technological
Mini-drones, holo-lenses, talking robots – what once was the domain of science fiction was, in fact, on display for thousands of educators to buy at this year's BETT showcase, which was happening at the ExCel Centre the same week as our CLC session.
'Ed tech' is a huge business and the UK is a global leader. There were no avowed technophobes in our group – though one teacher quipped, "my most useful piece of tech is still a piece of laminated A4… indestructible, never needs repair." There were, however, some probing questions:
In a world of increasing technology-driven isolation (see Social), is putting even more technology in the classroom really the key to better learning?

If the future of education is about being on the cutting edge of technology, will there be Haves and Have-Nots? Hot education trends like flipped learning are often built on ed tech, but will all schools be able to keep up?

How can teachers be properly prepared for the changing role that technology implies for their classrooms, in which knowledge-delivery is personalised and digitised, with teachers more as facilitators than leaders?

How can overworked and often underfunded teachers stay informed of trends and possibilities in ed tech?

One answer to the last question is to sign up to next year's BETT: it's free and features whizzy kit galore to test, play with, and occasionally take home. Less experientially there are also fascinating and comprehensive reports like this one from The Education Foundation that neatly outline and explain future ed tech trends.
We'll end with this short but apposite from Jack Ma, self-made founder of Alibaba, aka China's version of Amazon (though many think Alibaba will ultimately be bigger). How can cultural teaching and learning benefit from, and even shape, what's coming our way not only in the Technological but also the Political, Economic and Social realms? Now there's a cultural leadership challenge!


---
Image credit: Our Lady Immaculate, Kingston - photographed by Roger Brown for A New Direction