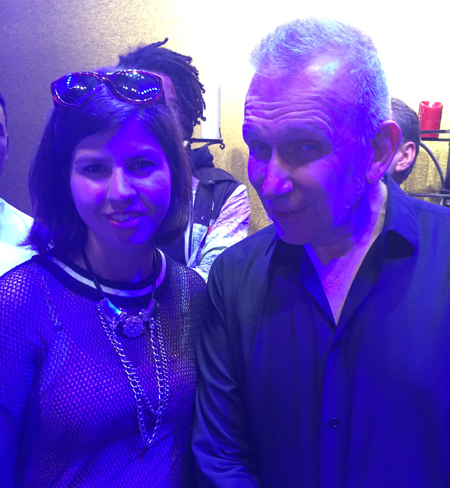 The day started with the whole group meeting at St Pancras station, looking our best and ready to board the Eurostar train (who actually sponsored our journey to Paris). Before we were due to board we had a quick photo-shoot scheduled for Eurostar. From the start of our day we felt as though we were receiving preferential treatment, akin to being treated as celebrities.
Bonjour Paris!
We arrived in Paris greeted by rain and clouds, much like the weather in London making us feel right at home. The first stop on our schedule was a tour of the Jean-Charles de Catelbajac studio JC/DC as he is otherwise known has designed for Beyonce, MIA and even the Pope.
His studio was very much reflective of his character and clothing, decorated by pop art inspired furniture and interior from combat print sofas to the caricature chairs. However, amongst the otherwise contemporary interior the original wood beams stood out, perhaps alluding to his aristocratic background as a nobleman.
One of the highlights of the trip was the tour of the Jean-Charles de Castlebajac's archive, true to his reputation as an eclectic designer, all his clothes were unique and playful which felt as if you were walking into a dressing up box. In the archives there were also clothes that were worn by celebrities who he had designed for, including a navy blue embellished jacket worn by Beyonce!
The man and his Hat
After having a nosy round his studio we were finally able to meet the man himself. He had much to teach us about a career in fashion from his own experience as a designer, from branding, marketing and the business of copy writing. Interestingly, he also told us about designing for the Pope where his vision was to dress the Pope and the rest of the Vatican in bright colours. He worried about his colour scheme as the colours he had chosen were sometimes associated with the homosexual flag. The Pope however, did not mind and told him "there is no copy-write on the rainbow".
One of the most physically noticeable things about him was his obviously badly constructed hat that had a hole through it and a badly drawn red line around it. We were intrigued why a man of his status would wear such a hat, once he started speak however, it became apparent that this hat was a literal metaphor on his stance on fashion. That everything in fashion is an accident and pointed to the asymmetrical skirt he said which had derived from a skirt like others that were perfectly symmetrical. His own inspiration was based on an accident as he travelled through the English countryside and became intrigued by a man wearing traditional tweed and wool attire with bright neon pink rubber gloves, this motivated him to create pieces that were just as playful with convention.
Next stop - The Jean Paul Gaultier fashion show
After a 'quick' change of our shoes and a little fix of the make-up and hair we were ready for our moment in the spotlight and with our black envelops in hand we walked into the guarded building passing the onlookers and press. For once it was nice to be on the other side of the fence.


Let the show begin
We took our places at the fashion show with some of us seated and others standing and enjoying the free champaign. We started people watching - mainly for celebrities. We were lucky to be able to meet CL of Korean girl group 2NE1 who is also the muse of Jeremy Scott.
The show began with a gothic theme as the first model's head appeared to be illuminated and cult-ish background music played. Known for his use of different or 'controversial' models, the first model to open the show was very mature but equally as stunning. Equally innovative he had Eurovision winner Conchita Wurst close the show.
The clothes all looked phenomenal, we were very lucky to be able to appreciate all the detail and work that had gone into the garments from such close proximity.
Conversing with Jean Paul Gaultier
There was an opportunity to meet, speak and of course take pictures with Jean Paul Gaultier. After hours of greeting people and being interviewed by press you would think that he would be tired, instead he was very accommodating and pleased to see us all as he recalled that we were the 'Hackney/Barbican' lot.
I was personally able to have a conversation with him about his inspiration for the show and collection. I asked him if there was a narrative to the show, as the show started very gothic and dark but concluded with an angelic long white dress with chiffon wings. He said not intentionally, but he did reveal that his inspiration for the collection started with the fact that he likes vampires, and that this influenced him on his colour scheme.
When I explained that my favourite piece was the silver jumpsuit made out of Swarovski crystals, he informed me that it is "always about the paradox" creating garments based on street style with rich and expensive materials not commonly used in that type of clothing.
He was a very gracious host until the very end and even agreed to sign some of our manuscript for the show.
You never know....
Proving that you can never have too much luck, the biggest surprise came in the form of seeing an unexpected person on the Eurostar. As we were on riding the train, some slouched ready to go home others enjoying a drink after what had been an overwhelmingly amazing day, we heard the news that Anna Wintour was aboard the same train, with some people having actually met her at the bar. Luckily for us other elites had already taken all the private carriages forcing her to be on a normal carriage and affording us the chance to meet her.
Like Cinderella the magic could only last so long before the time stroke signalling the end. Whilst it was a fairytale that came true, it is however, just the start before we progress into our careers.
---
Like this blog?
We send out a monthly digest of all our blogs, news and updates - sign up here to receive straight to your inbox - www.anewdirection.org.uk/newsletter

You can also follow us at @A_New_Direction